22.01.22 Meet the Trustees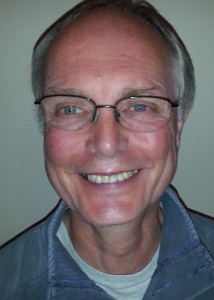 My interest and involvement with Africa is longstanding. When people ask me 'from where?', I say it comes from two sources, both connected with my home town of Liverpool. Firstly, as a child the Liverpool Echo listed ships sailing to and from the port and in those days their destinations were commonly in West Africa, and I was prone to looking up places/countries in my atlas. Secondly, and it gets worse, I was a train spotter and Jubilee class steam engines, going in and out of Liverpool Central Station, had evocative names such as 'Basutoland' and 'Nyasaland . Out again with the atlas!'.
Predictably enough, after getting married Christine and I worked as teachers in Nigeria and Northern Rhodesia (by then Zambia) – also names on the locomotives. I then worked for many years in children's social work, becoming its Head for the Moray Council. After retirement, we went to work in Tanzania (yes, you guessed it, one of my trains was called 'Tanganyika') as 'conventional volunteers' but realised we could do so much more by becoming founder members of Busega Scotland. This is now our life and passion. It's in our blood, inspired by the Tanzanians we work with and the supporters of Busega Scotland.
Christine Carney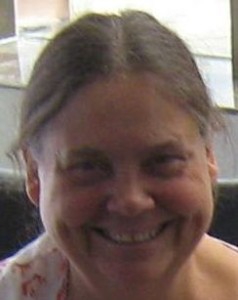 As I think of my involvement in Tanzania and Busega Scotland I hear myself asking," How did I get to this point"?
Somehow all of my life seems to have been preparing me for the challenges faced in supporting vulnerable children and families in Busega. My adult life took me through spells of being a youth and community worker / teacher / full time mum of three/ support worker/union steward and manager of learning disability services. Returning from 5 years teaching in Africa in the early 80's I involved myself in the Fair Trade Movement and Christian Aid work. African issues were always part of my consciousness. With retirement came the opportunity to return to Africa. I thought I could use my skills, do a little work and enjoy myself! When I met the Mayega Orphanage children for the first time in January 2014, I was compelled to respond to their obvious needs. They were hungry. As a Christian , how could I do anything else?
Jenny Wallen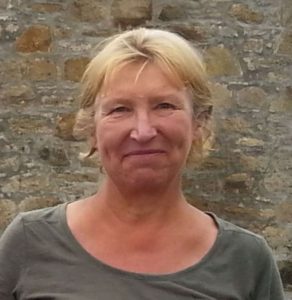 Hearing about Busega Scotland coincided with recent retirement from teaching in Moray. I felt I might have something to offer, as improving educational attainment to enhance life chances has been central to my career . I first visited Tanzania 42 years ago (!) wet behind the ears with idealism. I taught in Kenya after graduating and have always felt connected to East Africa. Having known John and Christine for many years, and realising the very direct contact they have with the projects they are involved in, I am delighted to be involved.
Cenzo Main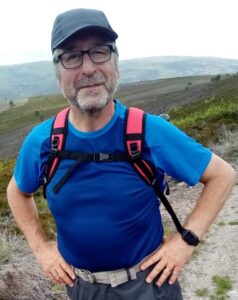 I first became aware of Busega Scotland when Christine and John visited my workplace to give a talk. At that time, my daughter was working in Egypt and when we visited I had the privilege of getting to know some local children. I was curious about their lives, their culture and how this contrasted with young people I was working with at home as a youth worker. When I heard the Busega talk the same thoughts ran through my head and I was hooked! It was a natural thing to become a trustee and another change in my life has occurred – long distance fundraising walks. Over the last five years I have managed, along with other supporters, to do a Kiltwalk in Edinburgh, the Speyside Way, the Moray Way, the Great Glen Way and, last year, the John Muir Way – 134 miles across central Scotland. This year it should be the Cateran Trail in Perthshire. Join Busega Scotland, learn about Africa, raise money and get fit!
Chris Banks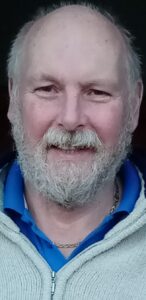 I have been a trustee with Busega Scotland for the last 4 years and serve as treasurer. I am able to bring these financial skills to the benefit of the organisation after a career as an accountant. I retired last year. John and Christine approached me to join the board being aware of my financial background but little did they know that I was born in Tanzania! I am the only Tanzanian on the board of Busega Scotland and would like at some time to travel back to the country of my birth. Working with the charity gives me a real connection with Africa. I am a keen playing member of Garmouth Golf Club and used contacts there for Busega Scotland to host a fundraising concert with local musicians. We hope other events may be possible as the presence of Covid reduces.
Anne Grant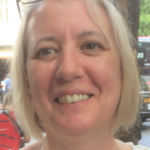 I am a trustee for Busega Scotland and work full time for Scotland's biggest children's charity, Aberlour Childcare Trust. I am also Moray's Project Linus Co-ordinator and details of this are included below. I am a member of Speyside Quilters, Longmorn Women's Institute and Quilts For Care Leavers. I met my husband when I was 15yrs old, we married when I was 19 years old, and we celebrate our 35th year of marriage this year.  We have 3 children and 6 grandchildren who are all a blessing and joy to us.  I like being near or in water and like walking or cycling in forests and have bushcraft skills. I like music and would like to join a choir but I can't commit at the moment. In 2014 I had the honour of being awarded the British Empire Medal for services to young people in Moray.
Project Linus UK is a volunteer organisation. We aim to provide a sense of security and comfort to sick and traumatised babies, children and teenagers through the provision of new home made patchwork quilts and knitted blankets.