It is the half way point for this autumn's charity shop in Lossiemouth. The first week has been very beneficial in financial terms, with sales amounting to £820. All our volunteers are amazed by the generosity of people donating stock. Quite literally, we can have more to sell at the end of the day than at the beginning. We provide a very useful service to customers, and in recycling still serviceable items.
However, the highlights of each day come from chatting to folk visiting the shop. Volunteer Mike McClafferty met a retired PE teacher, who used to teach at his secondary school in Glasgow. One couple asked if we had a coat for their dog who was feeling the cold. No coat, but a particularly small t-shirt seemed to fit the bill.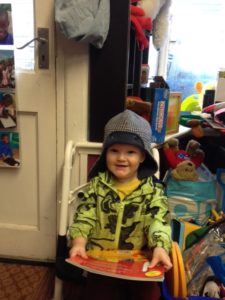 Angus visited with his mum and dad. Our 'toy department' fascinated him and he settled down with the book 'What the ladybird heard'. Shortly afterwards, we sold an ice axe to a photographer who buys his props in charity shops. Somewhat worryingly, he said it would be useful for Halloween photos!
Our favourite story, is of a little girl who arrived with her dad and asked if we had anything she could use as a hammock for her rat (the rat having 'eaten' the previous one)? No hammock, but a  beret will be pressed into service. However, the general consensus was that the delinquent Mr or Mrs Rat will eat this also!!