01.12.19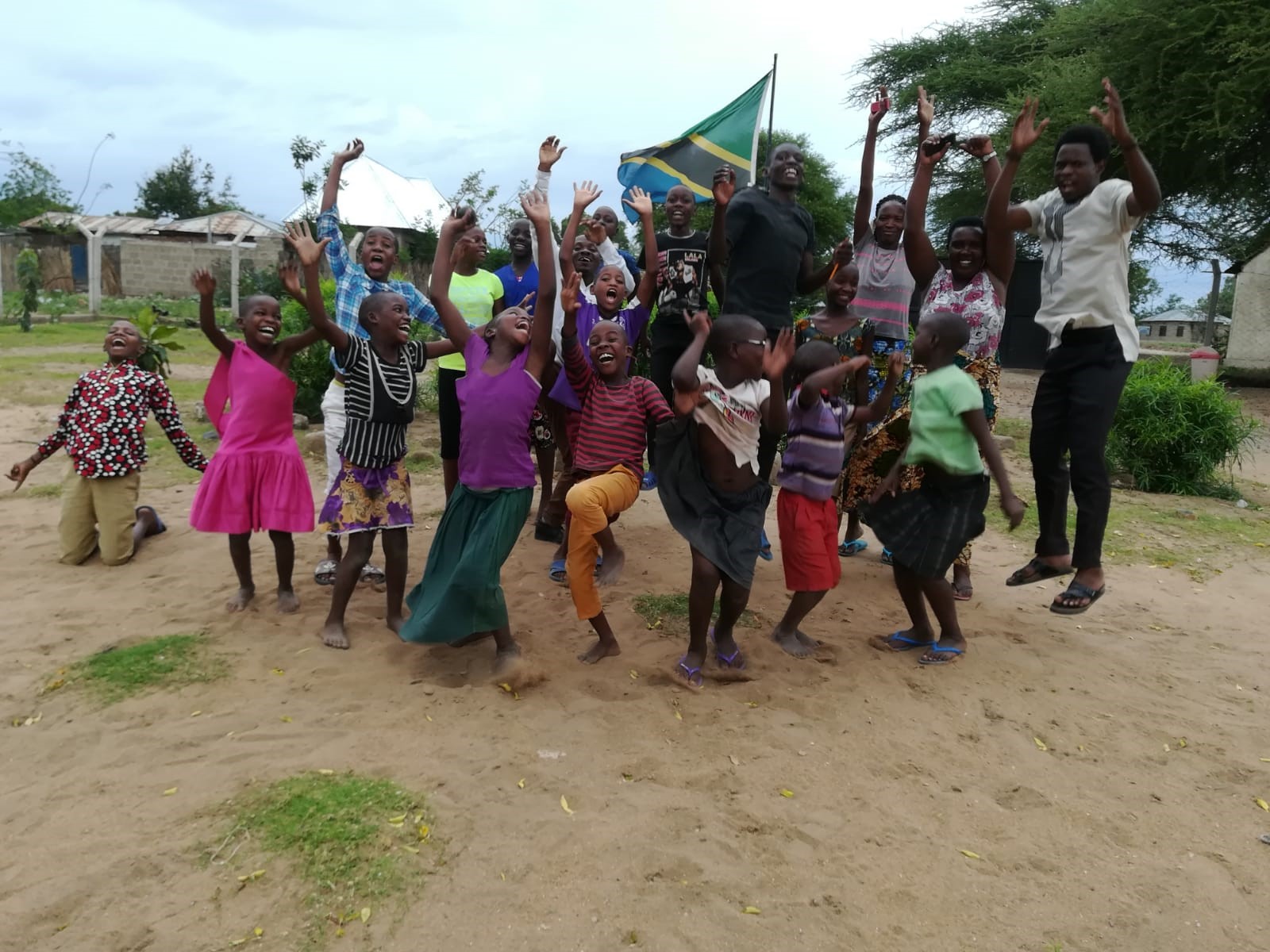 Christine suggested I while away some airport waiting hours by writing something for the website. So this is reflections from Kilimanjaro and Addis Ababa on my way home.
Earlier this year we sent two reading schemes (Oxford Reading Tree and Ginn) donated by Lhanbryde Primary School, to Mayega Primary School and Mayega Children's Centre. We'd also sent a lot of other teaching materials, books and worksheets, over the past 2 or 3 years. I felt it was time to see how they were being used.
The primary school, just across the "zebra" from the children's centre, has over 900 pupils, 8 teachers and 8 classes including a 120 strong nursery. It had no reading books. I saw my job as being to organise the books to make them readily accessible to the teachers, then work out how they could be best used in such overcrowded classrooms (average 3 or 4 to a benchdesk, average 110 per class). They must have thought I was mad; we're going to teach reading with books with no words (the beginning of the Oxford Reading Tree), we are going to read the pictures …….but everyone was far too polite to say so.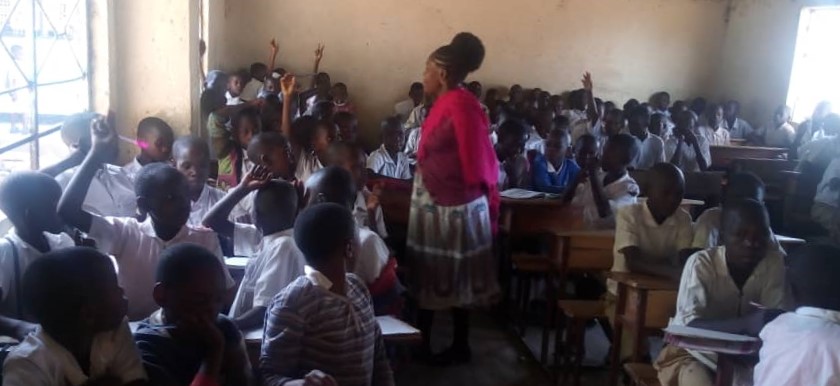 The traditional teaching method is the whole class copying exercises from the blackboard (chalk stocks permitting), listening to the teacher, and completing exercises from the limited number of textbooks.
The way the ORT is structured lends itself perfectly to a bilingual language lesson, where the more familiar language, Kiswahili, is used to tell the story, and careful questioning elicits the target language, English, through guided response. Stage 1 books have no words; Stage 2 introduces written text which is carefully structured and graded. I think it'll work, and I might go back in a few months to see if it does.
I suggested, for the reading scheme sessions, the class could be arranged into 5 groups, one of which would do guided reading with the teacher, one would do follow-up work from the reading session, and the rest would do their own work. Reading sessions should last 10-15 minutes out of a 40 minute lesson. This would enable all students to read and do follow up on one book a week.
The teachers' level of English varies, but they will use Kiswahili for the storytelling, with the written text in the books being the target language. If they can stick to the scheme and the aim of covering a book a week, I feel confident that reading and thinking skills will improve, and hopefully everyone will enjoy the experience.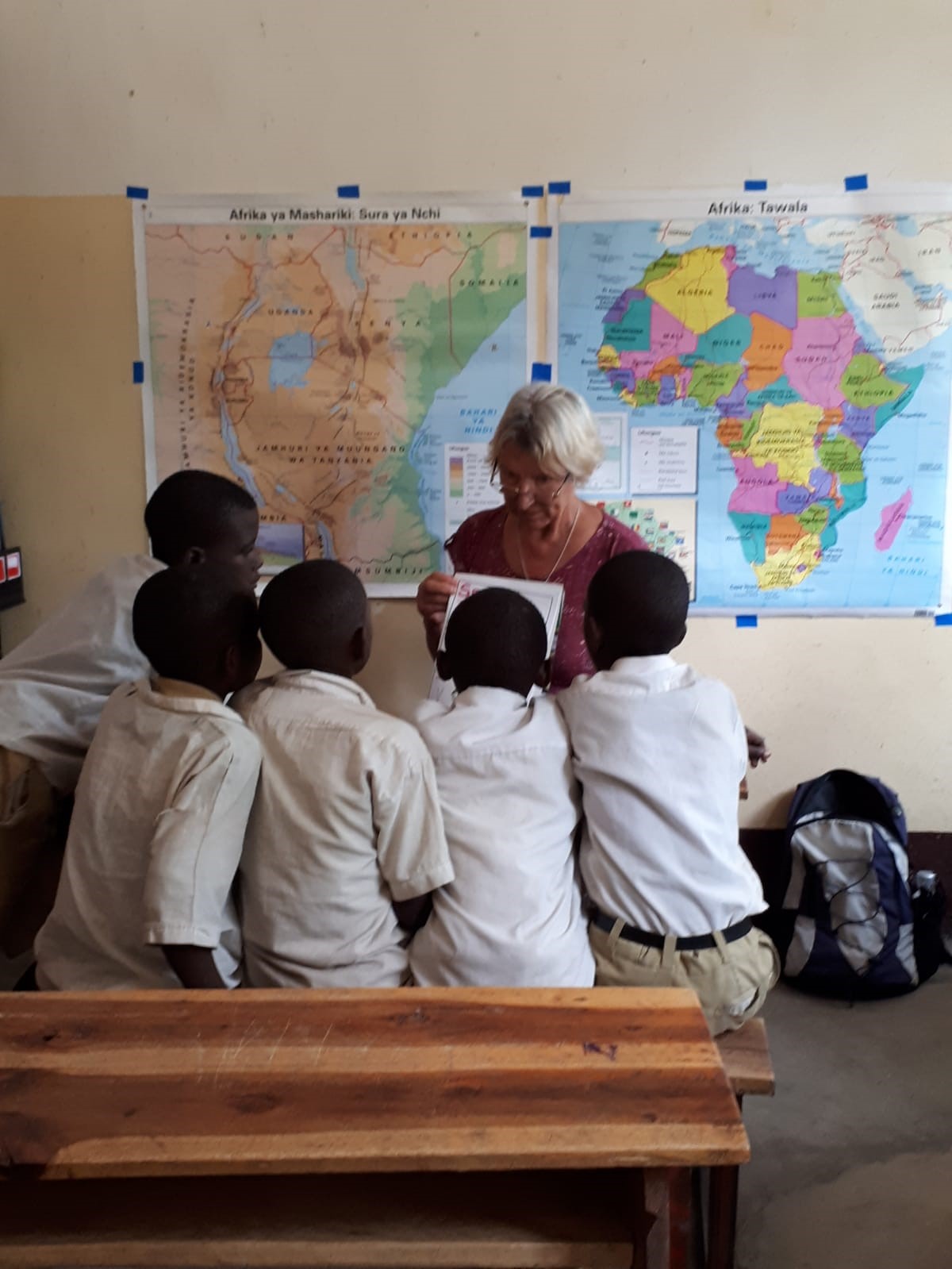 The teachers and students have responded well, given that it's a very different way of working. The new library Busega Scotland set up with books (and shelving) from Lhanbryde and also other donations has a small selection of English and Kiswahili books ( there are no other primary school libraries in the district), and the children have enjoyed coming to practice reading, to study, use the dictionaries, listen to a story and colouring pictures , all new activities for them. Long may that continue.
Tanzanian education faces many challenges; lack of investment in buildings, resources, and most crucially teachers. Morale is low among the staff, not surprising given the low wage and poor working conditions. The government has identified that reading skills are very poor nationally, inevitable given the lack of books! Teachers are waiting, not necessarily optimistically, for a much needed injection of funding into the system. Meanwhile Mayega has a fledgling library and a reading scheme. Better than nothing. The Ward Education Officer thought it looked good and would like it rolled out across his 6 schools; great idea, if we can find another 6 unwanted reading schemes and the money to get the books to Busega, followed by a teacher familiar with the schemes with time to kill. If a school or ward do well in school league tables, they can benefit by being allocated government money for school improvements, like water or new toilets.
The staff and students have been totally charming, courteous and unfailingly welcoming. They do a great job in difficult circumstances. English is their third language (after their mother tongue, which is mostly Kisukuma, and Kiswahili), and when they reach secondary school all subjects are taught in English. The important exams are at the end of Form 4, i.e after 4 years of secondary school. Students need to get a Division 1 or 2 in order to progress to Form 5 and 6, i.e Highers or 'A' levels. The national pass rate for Division 1 or 2 is 2%.Talk about challenging; I liken it to me doing my entire secondary schooling in the rudimentary French I learnt at primary school. With a Division 3 or 4 you can go to teacher training college to become a primary school teacher, or to an FE College if you can pay the fees. But it has been decided to keep English as the medium for secondary education; the feeling is that if they swapped to Kiswahili it would restrict people's ability to communicate with the outside world.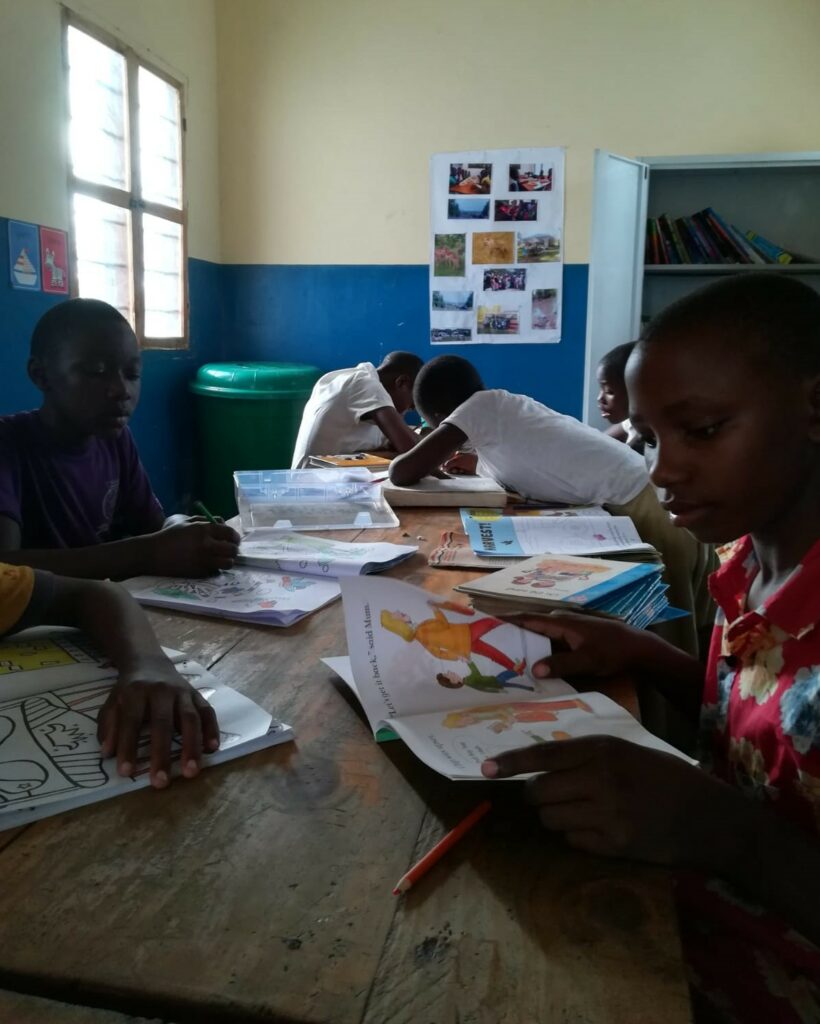 The Children's Centre at Mayega is thriving. There are of course hiccups and issues along the way but the current 20 children and 6 staff are like one big happy family. They have a classroom session every day of between an hour and 2 hours.This is run by the dynamic Teacher Reni and assisted by Teacher Emmanuel who is also the patron at the centre. They have a well stocked teacher's cupboard,(thank you Lhanbryde) and a children's library which is always open and has a mixture of fact and fiction as well as games and colouring books.
I was lucky to be there on the 16th November for the Big Mayega/Busega 5th Birthday Party. It was a great occasion with plenty of singing, dancing and drama, and of course wonderful food provided by Leah and her team of cooks.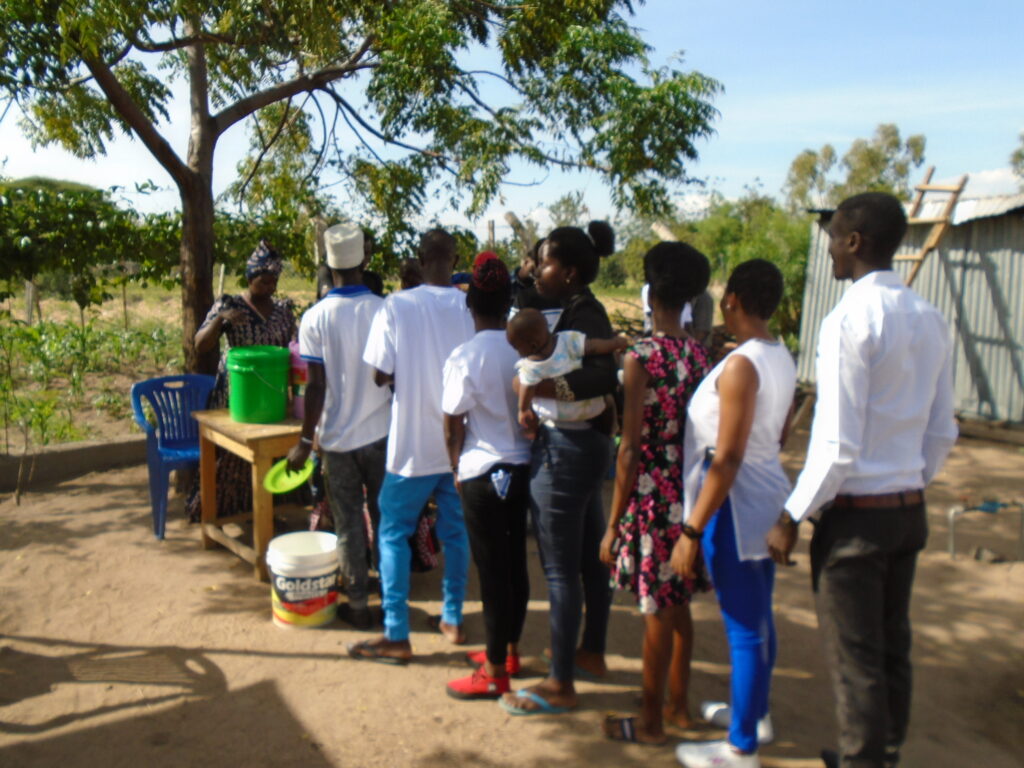 We had a big world map showing where all the world parties had taken place, along with photos of children past and present. Many of the older children came back for the party, and the welcome they received from the current children was heart warming, reinforcing the family atmosphere of the centre.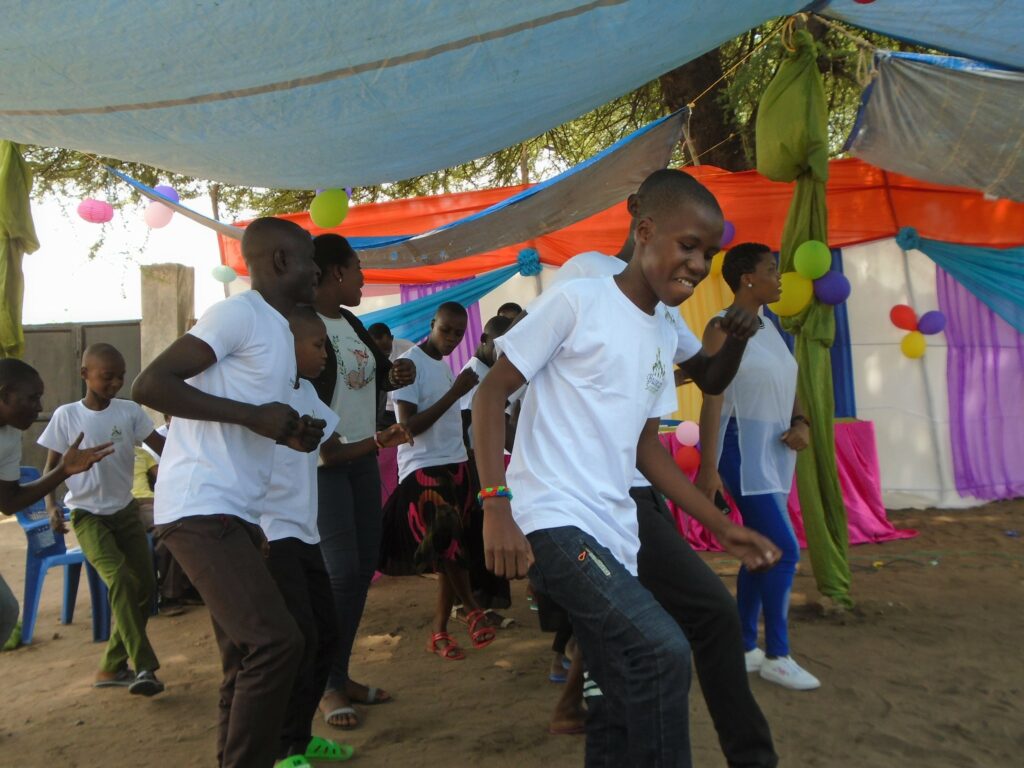 There are plenty of challenges facing these children. They are getting a great start at Mayega and I wish them all the best. I miss them enormously. On my second day in Mwanza,I was asked "what are your first impressions?" I replied "People are very resilient and resourceful when life is tough". They really are, and incredibly good humoured .
28.10.19
Volunteer and Busega Scotland Trustee , Jenny Wallen , was introduced to the Mayega Primary School children by headteacher , Ernest Damiano. Jenny will be working with the staff and children to implement a new English reading programme that was donated by Lhanbryde Primary School in Scotland.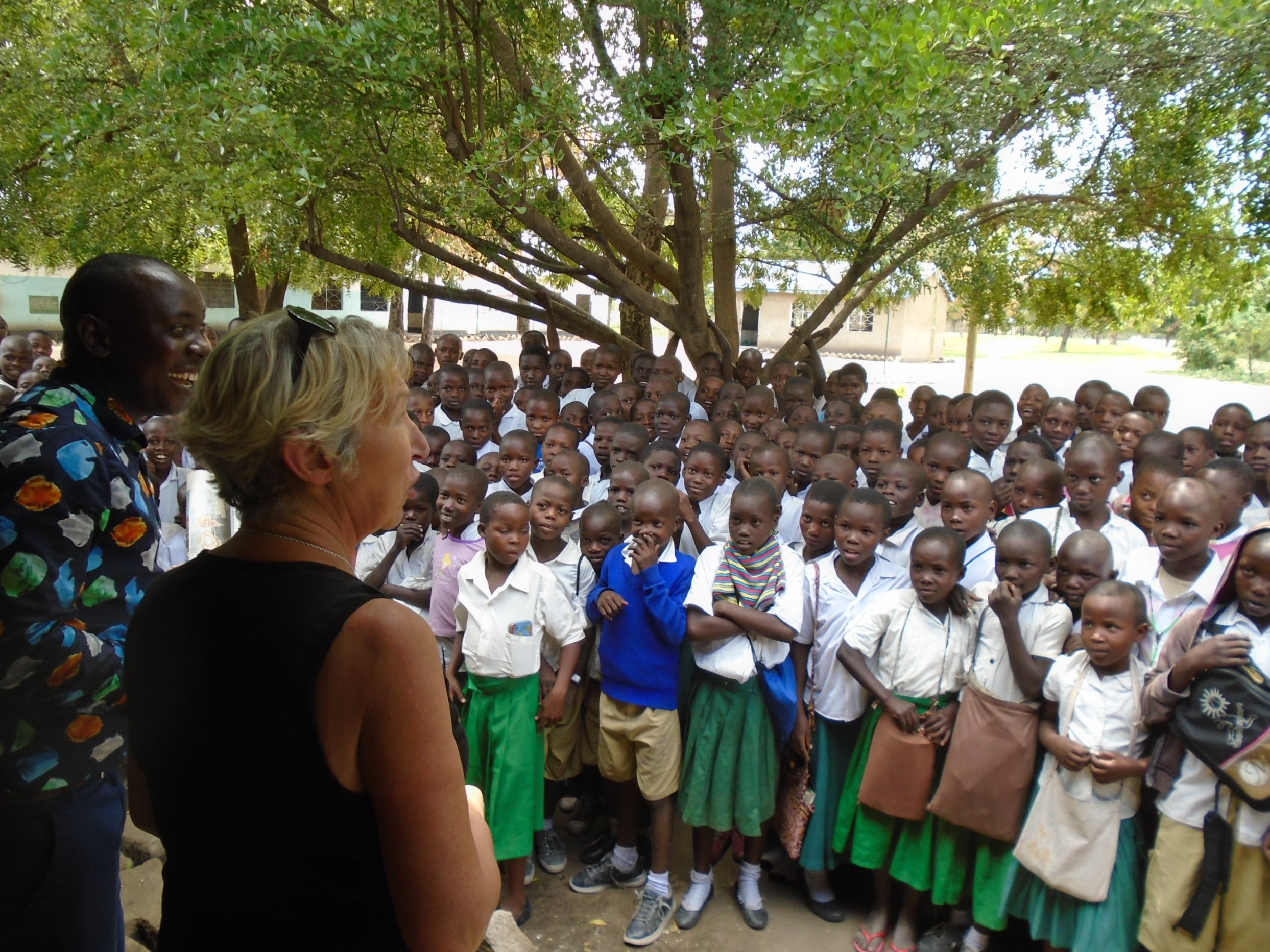 8.10.17     Reflections on our return visit to Tanzania – Debbie and Robin Hill – September 2017
We are now back from our month in Tanzania, having enjoyed better weather and living conditions than in 2014. It was great to renew our friendships with Rev Gadlord Deuli and his family, and Julieth Godwin.  We were also very happy to meet again with Alphonce Kagezi, who, together with Julieth, continues to run the preventative project in Igombe, and he seems in much better health these days.  They all work so hard on behalf of the children and families supported by Busega Scotland.
Since our last visit Tanzania has elected a new President, Dr John Magufuli, the son of a peasant farmer, who is a former school teacher and industrial chemist. He has driven forward a programme to build and improve roads across the country, and we noticed the effect of this in the shape of the construction of a dual carriageway linking the centre of Mwanza to its airport, which has sadly just resulted in the destruction of the building where Rev Deuli's congregation worshipped.   President Magufuli has spearheaded a campaign to clean up his country, and this is certainly obvious in some areas, although there is no evidence of rubbish collection or recycling. All children now receive a free education, and there is reportedly some additional funding for health services.  However the level of spending on health and social care remains abysmally low.  For instance there is just one state-funded qualified social welfare officer for the whole of the remote rural district in which our Mayega Children's Centre is located.  She has no transport, and no access to either preventative or family support services or foster homes.  The only residential children's homes are those provided by organisations like ours, funded outside Tanzania, mainly by Christian denominations in Europe and North America.
Village committees are supposed to support families who are struggling to look after their children, but our experience was that it is almost impossible to reunite children with their families once they had arrived in an emergency at our children's centre. There is no system of making any payments to members of wider families to look after them, as they are struggling to provide enough food and clothes etc. for their own children.  Busega Scotland is well aware that it is very important to build good relationships and provide some extra facilities for the other villagers in Mayega, as it is now clear that the children at our Centre may have opportunities which are not available to those living at home with their families.
The youngest dozen or so children at our Centre attend the nearby primary school, and they were delighted to receive gifts of sports equipment funded by donations from Lhanbryde Primary School in Moray. We were very pleased to meet with Ernest Damiano, the new head.  He had also just received the news that his school will soon be supplied with mains electricity, as will our Centre, and we all met with Mohamed Yamlinga, the District Water Engineer who told us that the village will receive piped water within the next few weeks.  Mr Yamlinga is very keen to involve the villagers in nominating the facilities they need, and the school is eager to build a new toilet block to replace the present one.  We are amazed at how much pride the villagers take in ensuring that their children are well turned out, considering that they currently have to collect their water by hand from Lake Victoria, which is at least a twenty minute walk from their homes.
Busega Scotland is raising funds to provide standpipes and septic tanks etc. for our Centre, the school and the village, and also for a vegetable garden which will be attached to the Centre. We met with Phil and Jan Vandenberg, who had already provided advice to Valerie and Arnold Barrow about how to establish this facility, once the water supply is connected. We costed its construction, and briefed the staff about making compost.  The hens' manure will help the vegetables to grow, but the garden will need to be fenced in order to stop the hens (and local goats !) from eating the produce themselves.
Since our last visit we have managed to produce the Taking Care/Protective Behaviours material (which has been developed in Warwickshire during the last twenty years) in an online format, through Thare Machi Education.   This charity produces preventative interactive lessons which are translated into many different languages.  Seba Amon, the Saturday English teacher at Mayega, has translated our lesson into Swahili.  During the week he is employed as a primary school teacher in Mwanza, and he is very keen to encourage schools in the city to teach the lesson.  He introduced us to the head of a Canadian-sponsored progressive school which doesn't use corporal punishment, unlike many of the state schools. They are keen to use the DVD and we hope that a network will develop.  We used the lesson with the newer children at Mayega, and they were able to understand, with Seba's help, how they could protect themselves, by identifying adults whom they could tell if they were being abused.
Busega Scotland is working in partnership with CODEHA, another NGO, and Bukumbi Hospital, located in the northwest corner of Misungwi District in the Mwanza region, to launch a preventative programme in Chole, a very isolated rural community adjacent to another part of Lake Victoria, to reduce the prevalence of diseases such as malaria, typhoid, cholera, hookworm and bilhazia. The medical staff will screen residents for the presence of these diseases, and will treat those afflicted. Busega staff and volunteers will work alongside them to present the Thare Machi lessons on such topics as clean water and how to prevent diseases.  We have supplied them with rechargeable DVD players, as this community has no electricity.
As in 2014 our visit provided us with insight into the day to day challenges faced by people living in one of the poorest countries in the world, and we greatly admire how its citizens cope with medical and economic adversities on a daily basis. For instance, during our last week a young female member of Rev Deuli's church succumbed to AIDS, after a long illness.   Whilst Rev Deuli was comforting her family and conducting her funeral, her younger brother also died.  On the same day the matron of our Children's Centre was rushed into hospital with a severe case of malaria and typhoid, and he had to arrange for immediate treatment, for which our charity paid.   The Centre is 100 miles away from Mwanza.  Rev Deuli and his family also support about ten young people who have moved on from Mayega to college courses and jobs in Mwanza since our last visit.   We were extremely impressed at the progress they are making, supported by donations, and we can confirm at first hand that every contribution to Busega Scotland, however small, directly benefits Tanzanian children and families to improve their life chances.  We shall continue to support Busega Scotland in its long-term work in Tanzania.
————————————————————————-
Robin and Debbie return to Tanzania in August 2017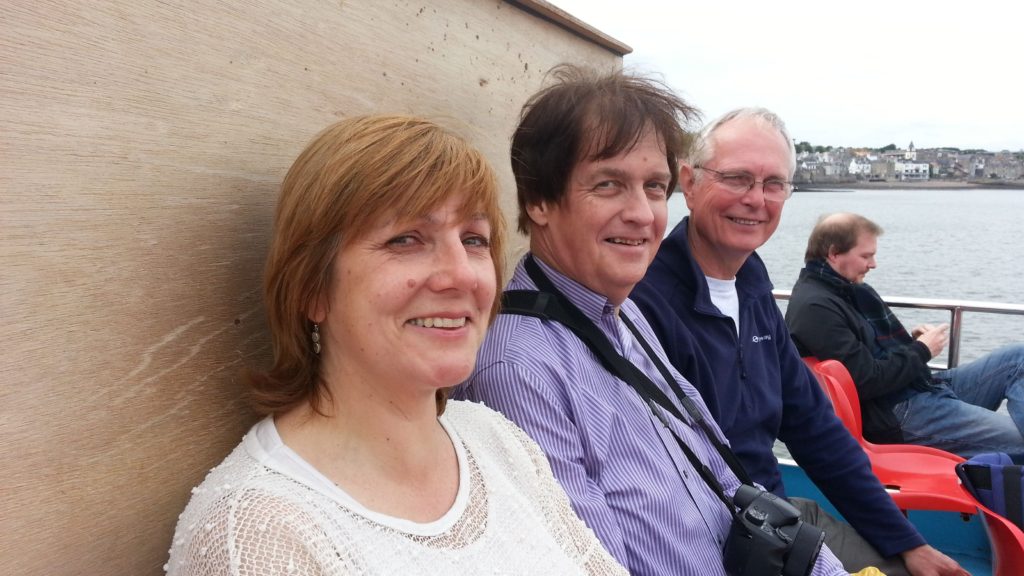 After almost three years away from Tanzania we will shortly be returning to Mwanza, and have recently met with John and Christine Carney to discuss our programme. We have followed the progress made since our last visit and are delighted that networks have been strengthened and communication improved during this time. We are looking forward very much to renewing old friendships and also making new acquaintances.
At Mayega some of the teenagers we met at the Children's Centre have moved on to employment or further education and there are now some younger children at Mayega whom we have yet to meet. We are also looking forward to seeing the impact of other changes, including:
– The fence around the orphanage is now in place, helping the children to feel more safe and secure.
– A Saturday teacher has been appointed to work more directly with the children, especially to improve their English.  We have asked him to translate a DVD which we have produced into Swahili.  This will build on the skills we taught the children at Mayega on our last visit, to help them keep safe from bullying and other abusive behaviour.
– Julieth Godwin, now Assistant Project Leader, also visits regularly to assist with life skills/health education.  We have also accessed some DVD's in Swahili which are being used to teach these topics.
Additionally we have learned that a water supply will soon reach Mayega, and that there are plans in hand to establish a kitchen garden to grow vegetables, using fertiliser from the resident hens !   We are looking forward to delivering additional games, books and equipment for sports and craft activities. We are in touch quite regularly with Valerie and Arnold Barrow and we shall look forward to continuing their work with the children.
We are also looking forward to meeting Alphonse Kagezi again, and hearing about the progress made by the women's group in Igombe. A new Family Support Project has been developed at Chole since our last visit to Tanzania, and we shall be evaluating its progress, including the use of a health care facility at Bukumbi Hospital. This is currently free to registered group members through an insurance scheme financed by Busega Scotland, after which the villagers will gradually assume responsibility for payments.
Robin and Debbie July 2017
===================================================================
Valerie & Arnold Barrow, who live in Suffolk, undertook their third 'volunteering visit' to Tanzania in January/February 2017. They are members of the Stowmarket Salvation Army Corps and for many years have supported missionary work and other projects, mainly in Africa.  For each visit to Tanzania that have had the financial and prayer support of their church members, family, friends and neighbours – who have recognised the special needs of the children and young people in Mayega & Mwanza.  The following is a 'thank you letter' sent to their supporters, setting out their main activities and explaining how the funds they received were spent.
**************************
'Thank you letter from Valerie & Arnold Barrow – Volunteering in Tanzania 26 January -23 February 2017'
Dear Friends,
This is our third visit to Tanzania, a poor country which faces many challenges, in common with many of its neighbours. Most of the country was a German colony until the end of the first world war when it was 'taken over' by Britain, prior to gaining its independence in 1961.  We are told that in the period leading up to 1961 there were many English people living in Tanzania but the present situation is very different, certainly so far as the Mwanza area is concerned.  Two of the 4 new children recently admitted to the orphanage had never seen a white face – and one young child on a dala dala (local minibus transport) rubbed Valerie's arm trying to make it black like her own!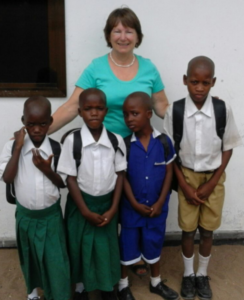 As in previous years we came to Tanzania with an agreed full work programme, much of which we have completed. But in line with previous experience, new tasks get added and new challenges have to be met.  Without wanting to write at too great a length we would like to provide a brief summary of what we have been able to achieve.
Mayega orphanage – our key focus each year is to support the orphanage, the children and the staff. On our first visit we found that there was barely enough food for one week – and so our provision a week later of four months' supply of basic foods was warmly welcomed.  Our expenditure is recorded later in this letter – but we were concerned about the massive increase in the price of the basic foodstuffs – maize, rice and beans.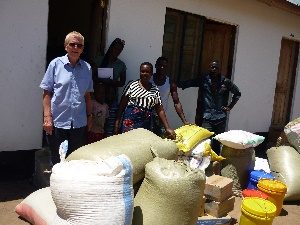 In January 2016, the cost of these three items for 4 months was 1,241.000 sh and a year later the cost was 1,658,000 sh, a 33.6% increase – and of course this does not take account of the 10%+ reduction in the value of the pound sterling.  During our time at Mayega we undertook a wide variety of tasks, with Valerie heavily focusing on arts & craft activities with the children, using skills that in some cases had lain dormant for many years!  Arnold encouraged the older children to read English material, a skill which is important for their equivalent of GCSE's and especially for higher education.  Additionally, we did a cost-effective evaluation of the hen project, carried out repairs to the hen enclosure and tried to resolve a bat problem, these creatures having made their home in the attic of the dormitory.  But perhaps of greatest importance was our effort to ensure that the correct legal procedures had been followed for the 4 young children recently admitted to the orphanage – seen later with their school uniforms.
There are now ten ex-orphanage residents in higher education in the Mwanza area and Busega has a commitment to support them until they complete their training and are in employment. Five of the boys are in their second year of a motor vehicle vocational training course and are about to go out on practical placements at local garages, for which they need their own tools.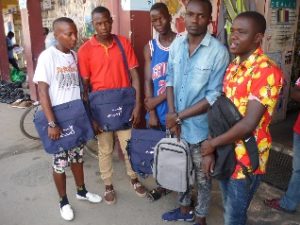 Having brought bags for each boy from England together with goggles and an adjustable spanner – we purchased locally a hammer, set of screw drivers, feeler gauges and set of combination spanners for each boy. We should note that we were only able to buy the combination spanners because David Brett & Colin South of 'Christians Abroad' gave a donation of 100 dollars (£80). Additionally, we funded accommodation for six months for 3 young women students, visited each of their colleges, paid certificate fees for a secretarial student and wrote a progress report on a trainee teacher for her Swiss funders.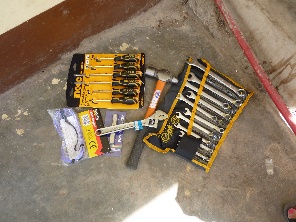 In brief, some of our many other tasks included:
Assisting student Kabula to prepare a CV for job applications
Promoting a plan to employ a part-time teacher to assist the young people at Mayega to improve their English language skills
Paying for school uniforms for the 4 new children at Mayega, without which they could not commence school plus health check costs
Supporting Malesa, who required an operation to remove a lump from his head and paying for a post-operative doctor's check and medication
Meeting with MP for Busega District, who offered advice and support for our work in Tanzania
Progressing a plan to bring running water to the orphanage, which will be jointly funded by the District Council & Busega
Funding
We were thrilled to receive donations from our church, family, friends and neighbours totalling £2,650 and to this we have added the donation of £80 from 'Christians Abroad'. We used these funds as follows (transport costs included):
£
4 months' food, toiletries & cooking oil for orphanage                1,230
Additional equipment and fresh fruit for Mayega                          289
Tools and support of motor vehicle students                               225
Items from UK (tools, first aid kit & craft supplies)                            70
Uniforms, medical costs for 4 new orphans                                           61
Mwanza student accommodation & exam fees                              102
Malesa's post operation costs                                                   17
Further donation for 10 weeks' food for Mayega                         736
       Total: £2,730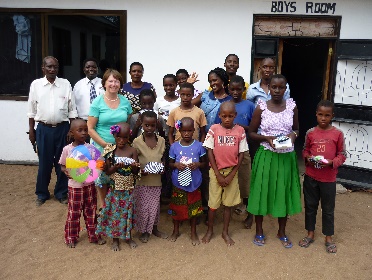 In this report, we should give much credit to John & Christine Carney, based in Scotland, who lead the Busega Project. Their energy, commitment and dedication to the future of the Tanzanian orphans is truly inspiring.
Finally, thank you so much for your support – without it, none of the above would have been possible.
With love and best wishes from Valerie & Arnold Barrow
————————————————————————————–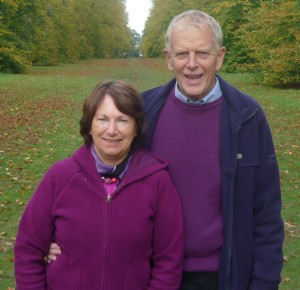 We will be spending the month of February 2016 working as part of the Busega Team.  This will be our second visit, having spent a similar period based in Mwanza in February 2015.  In agreement with John and Christine Carney we have a busy work programme to complete, spending time at the orphanage in Mayega, supporting the young people who have now moved on the college and undertaking other development tasks.  We are of course self-funded regarding travel and accommodation – but the project in Tanzania depends heavily on funding from the UK.  Over the past few months, with donations from members of the Stowmarket Salvation Army Corps (in Suffolk), family, and neighbours, over £2,000 has been raised.  There has been considerable interest in and support for our work in Tanzania and the generosity of our friends, some of whom have little to spare, has been overwhelming.  Many have promised to pray for us daily and we therefore feel confident that with the Lord's help we will be able to 'make a difference'.
Valerie and Arnold Barrow
Over 60's meeting in Suffolk with Busega Scotland volunteers
Valerie and Arnold Barrow spent last February in Tanzania, undertaking a programme of work at the Mayega orphanage and various other Busega projects. They belong to the Stowmarket Salvation Army Church in Suffolk, members of whom have given generously to support our work with children and young people in Tanzania. On 8 September 2015 they accepted an invitation to talk to their church's over 60's group which meets weekly and is attended by sixty or more members. During the meeting, in addition to giving a Powerpoint presentation on the work of Busega, they gave a live presentation of a typical Tanzanian meal comprised of rice, beans and a fish head. Surprisingly none of the members requested the opportunity to sample the meal! A further part of the meeting was devoted to a quiz, testing the members' knowledge of Tanzania and the countries surrounding it. Finally the members were each given a tube of smarties – in which 20p's conveniently fit. They were shown a full tube which contains around £12 and were invited to save a few 20p's in the empty tube over the next few months to further support the work of Busega. On the day donations in the sum of £60 were received – a demonstration of the willingness of folk to support those for whom daily life in Africa is a struggle.
Valerie and Arnold
——————————————————————————————————————–
Valerie and Arnold Barrow getting ready to check in at Manchester Airport on 3rd February  for their 26 hour journey( including plane changes) to Mwanza. They take with them a host of skills and experience and a suitcase packed with donations for the children. They have a busy work schedule and we look forward to their personal updates on progress in the work of BCDSA.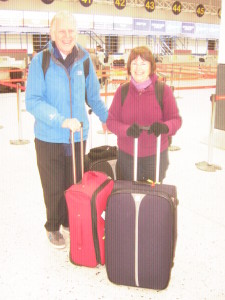 If you are interested in working as a volunteer in Tanzania please contact us for more information and an informal chat.
Valerie and Arnold are happy to introduce themselves to Busega Scotland . "From an early age Valerie has been heavily involved in caring for others, by visiting the elderly and infirm and supporting those facing difficulties.  In recent years, having retired from her employment with a local industrial firm, she has worked as a volunteer for Home Start, which provides support for families, with children under 5 years old, who are finding it difficult to cope.  Arnold's career has been within the criminal justice system, initially in the Probation Service and currently within the Parole Board, with a further period as a manager of Victim Support Suffolk.
Valerie and Arnold have had an interest in Africa for many years, having holidayed there but most significantly having in recent years spent time with UK workers serving in Uganda, Kenya, South Africa and Lesotho.  As members of the Salvation Army their interest in Mission overseas led them to lead a group from their Church on a visit to South Africa in 2011.  In Johannesburg they spent time with children in a number of junior schools and also visiting two townships (squatter camps), helping local volunteers to care for the elderly and unwell.  The group then spent the next week in Pietermaritzburg, supporting and leading services at a small church.
Since then Valerie and Arnold have been exploring opportunities to work abroad, aiming to fit this in alongside family and church responsibilities.  It was through the organisation 'Christians Abroad' that they were introduced to BCDSA and John and Christine Carney and since then discussions have taken place about an initial visit and how their skills might be used.  A programme of work has now been agreed and they will be travelling with the Carneys to Tanzania at the beginning of February 2015, spending the next month helping but also learning about the challenges faced by the organisation.  Arnold and Valerie are excited about the forthcoming visit and hope to make a positive contribution to the aims of BCDSA which include, 'enabling children at Mayega to develop physically, mentally and spiritually from birth to maturity' and 'undertaking a range of other community development schemes to alleviate ignorance, poverty and poor health".
Read about Robin and Debbie Hill's experience of volunteering with BCDSA Tanzania from  24th September 2014
Accompanied by BCDSA Tz staff we interviewed seven women at their homes in a fishing village called Igombe, on the shore of Lake Victoria, about 20km from Mwanza.  These women are bringing up families  on their own, following the deaths of the children's parents, mainly due to HIV/AIDS.  They had recently received micro-grants to set up small businesses, and to clear household debts.  We produced an evaluation report which showed the ways in which the grants had made a difference, e.g. providing more varied diets for their children, and money towards school uniforms and rental costs, as well as clearing some debts accumulated through changing family circumstances.  We also interviewed sixteen families in Igombe who were applying for grants to join the scheme in the future.
We contributed to a meeting in Igombe to assist with the formation of a health and well-being group, which was well-attended, both by the women who had already received grants and those awaiting them. This meeting also included village representatives and street chairmen.  The previous meeting had focused on issues such as education, health, nutrition and women's empowerment, with the aim of establishing peer educators to support families. Our evaluation report identified a range of topics that could in due course assist with the establishment of a self-help support group under the health and well-being programme.  This will be a significant future challenge, not least because very few of the villagers speak English.  A local student doctor contributed to our work, and we hope that he will remain involved.  We are now searching for English material which could be translated into Swahili to be used in Igombe.  We visited a primary and secondary school in the town; both are very heavily-subscribed and have few staff.
We also met weekly with the young people at the residential children's centre (mainly for orphans)run by BCDSA Tz at Mayega, which is situated 135 km east of Mwanza, near the Serengeti National Park.  Each week we met with about 25 young people and their care staff.   In a large group we discussed how they could keep themselves safe, using protective behaviours literature developed in the U.K.  We are in the process of arranging for some of this material to be translated into Swahili, so that it can be used in schools, other children's homes etc.  We also organised some outdoor games and were surprised to witness how competitive the young people were !   We heard them sing songs in Swahili, under the direction of Peter the Patron (male carer) at Mayega.  We also taught them a song in English, based on their recent trip to Serengeti .  They sang in their own language so much better !  We also met with the staff to draft a training programme in which they were fully included.  This will take some months to implement, but they were all keen to increase their range of skills.  Once again language is a major issue.
We helped to support a programme initiated by Christine and John Carney in which food supplies for the Children's Centre, including  flour, maize, rice, sugar etc, are purchased several months in advance at one of the large markets in Mwanza.   Meat, fish, fruit and vegetables are bought nearer to the orphanage.  We also oversaw the installation of a solar power system, funded by donations mainly from the UK, which now provides lighting for the dormitories, the staff quarters and the toilets.  We managed to ensure that curtains were fitted, and we also witnessed the arrival, on the same lorry, of door and window frames to help with the completion of a new building which will provide a kitchen, dining room/study area and store room when it is finished.
We also met several times with some former residents of the Children's Centre who are now studying or working in Mwanza.  These are supported by Rev Deuli, BCDSA Tz Treasurer, and his wife.  We attended their church services on the top floor of a block of flats near the city centre.
In order to carry out our work in the community we were accompanied by BCDSA Tz staff, which was very beneficial as English was not spoken by many of the adults and children whom we met.  During the few weeks we spent in Tanzania we felt that we gained a clear insight into daily life.  We were made very welcome by the people that we met and our time in Tanzania has made a lasting impression on us.
Debbie and Robin Hill