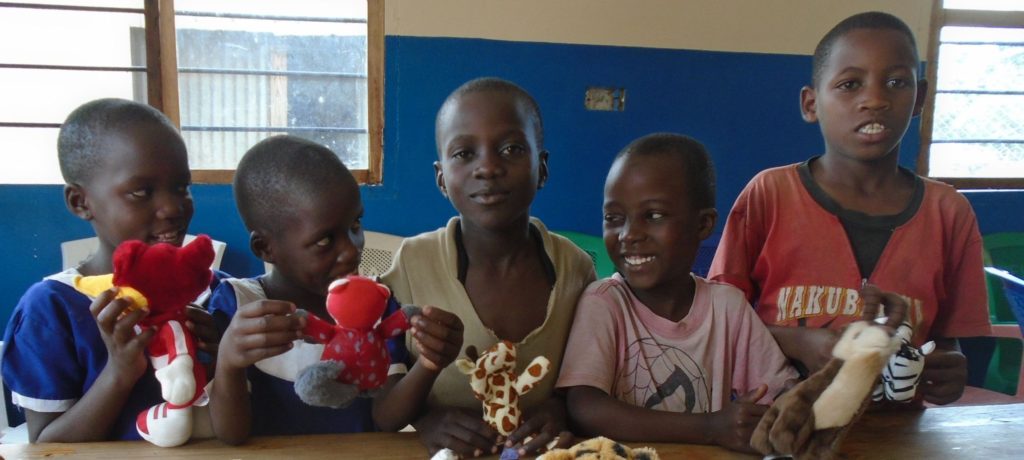 Tanzania 33
Mayega Children's Centre Report
It has been a time of highs and lows. The highs include a staff meeting with much achieved over the last month and plenty to celebrate but I am going to start with a low point. I need to write about it to get some perspective.
Rushing to an appointment with Busega Scotland Assistant Project Leader, Julieth, we stepped off a dala dala or small minibus. It stopped at the side of the road next to a storm drain, a U shaped, concrete culvert approximately 1.5 metres deep and 3 meters across. A couple of people were looking in the drain where an unresponsive child lay. I asked my companion what had happened as I could not understand the chatter.
"It's just a street boy", someone said.
"Come on", my friend said insistently. "It's just a child who needs help".
The culvert was full of mud and the child was lying awkwardly on his side. A man about 10 meters away was working in the drain, sweeping out the debris but he did not move to help. After a few moments a passing workman climbed down and picked up the boy roughly. Muddy and dripping, he was limp and appeared unconscious. The man carried him out of the drain and put him on the grass on the far side. He then walked away without speaking.
Julieth crossed the culvert to help him. She stripped the wet top clothes off him and fanned him down, trying to cool him and wake him. She asked people if they knew what had happened. We were worried he may have been struck by a car but people said no he had just fallen into the drain. I ran for water from a stall close by, hoping he had just fainted. It was oppressively hot at 31 degrees. A small crowd gathered, perhaps ten people and some gingerly crossed the culvert.
Thankfully he came round. First we cooled him with the water. He looked about 12 years old, small and slight. His hand cart was at the side of the road. As a street boy he earned a little money for food by delivering loads. The story was that he had been fooling around with another boy and was accidentally knocked into the drain. The other boy had run away as he was afraid. The injured child had scrapes to his arms and back but no other obvious signs of injury. I was worried about a head injury. Why had he been unresponsive? A young woman gave him 1000/- Tanzanian shillings – about 35 pence to buy something to eat.  The small crowd concluded that he was just hot and hungry. We allowed him to drink and asked him to rest in the shade. We told him we would be back shortly to see if he needed any help or to go to see a doctor. We returned a short time later and he was nowhere to be seen. The boy and handcart had disappeared. The worker continued sweeping out the drain.
It was just a street boy.
A few days later I was in the centre of Mwanza city. It was about 11 am and the street was busy with many street traders and workers going to and fro. On the pavement were five street boys, sleeping with their legs in small maize sacks. It gets cold at night. Other boys and girls were begging from cars as they stopped in the traffic. A larger sack, which I had at first dismissed, now obviously contained another child fully inside. The kids sleep close to each other because there is safety in numbers. Each child has their own story to tell. Some NGO's are working with these kids and there are government attempts to resettle the children but the programmes simply can't cope with the numbers.
When I consider the work of Busega Scotland at the Mayega Children's Centre, I know we cannot provide the environment we would want and we have only 21 children but I wonder if they would be sleeping on the streets of Mwanza tonight if they did not have the safety of a bed at Mayega.
Mayega Children's Centre Report
Volunteers Valerie and Arnold Barrow returned to Mwanza late January 2017 and carried out a very full work programme which included working with the District Council on the admission of new children to the centre. We had not admitted any children since our involvement began in January 2014 and wanted to be sure that both we and the council adhered to Tanzanian regulations.
This was fraught with difficulties as what the regulations demand and what is possible does not always match up. Social workers could not complete all the social enquiry visits they are supposed to make. The children come from many different villages and the social work department had no transport budget. We trust that the social worker did what he could and we certainly have more background information on the new children than we ever had on the older kids. At least these children will grow up knowing where they came from and the circumstances surrounding their admission to the orphanage.
Back at Mayega, the new children are settling in well. Since early February nine new children have arrived. The youngest is about 5 and the oldest is 10 years. None of the children have birth certificates. All of them were identified as particularly vulnerable. Some were living with elderly members of their extended family, having lost their parents one way or another.
Poverty is the biggest factor. Once the male breadwinner dies or abandons the family, as is common, desperate mothers send their children anywhere they think they can get food.   The new children spoke quietly of having no food. Their appearance seemed to confirm this.  They arrived with little more than what they stood up in. Busega Scotland is now doing what we can to provide for their needs and security.
Two of the children, Boazi and Gideon, in the blue uniforms below, have started nursery and the rest have joined the others at the primary school in Mayega.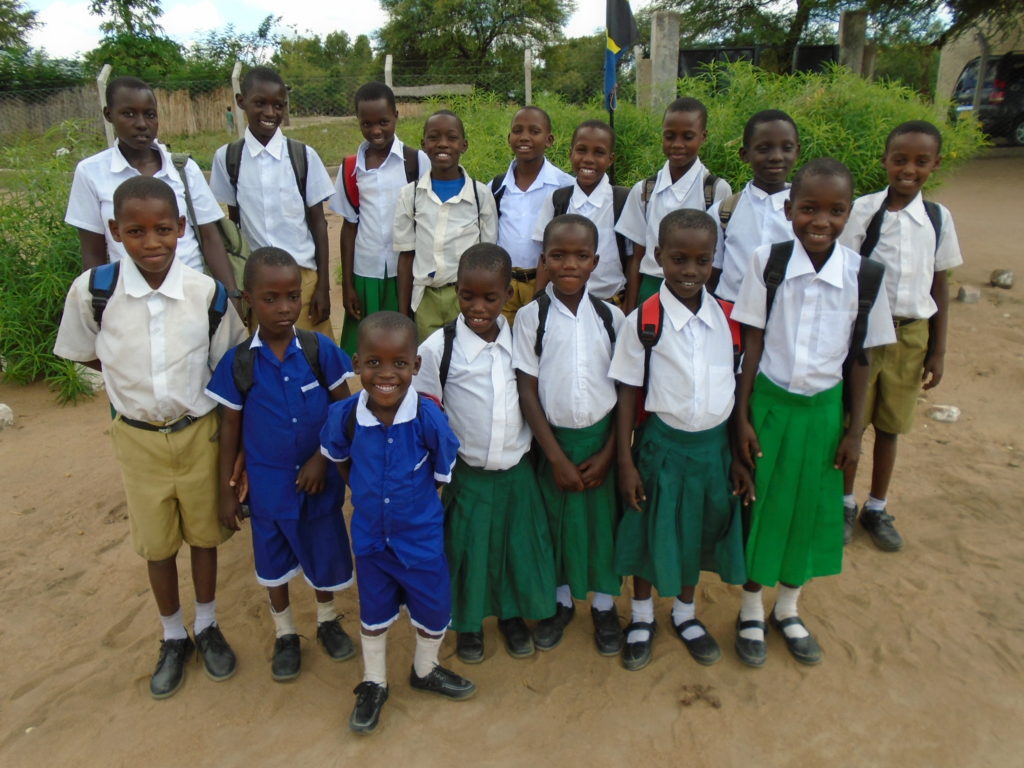 We are very happy to tell you that at last we have a Saturday teacher at Mayega. Mr Seba Amon first qualified as a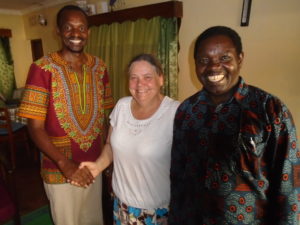 primary school teacher in 1993. After his BA in 2010 he taught secondary school English and History. In 2016 he completed a MA in Education and is currently employed Monday to Friday teaching English in a secondary school in Mwanza. We are delighted that he has joined the Mayega team with a focus on getting the children reading and improving their English.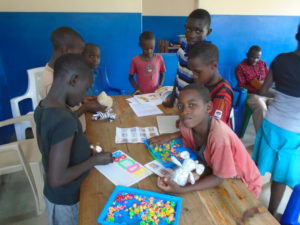 Julieth will assist him, listening to the children reading out loud, and will be responsible for planning an activity programme. We are trying to create a study culture. This is a 12 week trial programme, while we try to see what works for the children and the centre.  The new children will begin their Mayega life knowing that school work is important and can be fun. With so many young ones,  we have to redesign the activities to suit them. We also need to invest in new sports equipment suitable for them and replenish our craft supplies. With new clothes, shoes and bedding it has been an expensive time at Mayega.
The local schools do what they can for the children but are seriously under resourced. The children in nursery, primary one and two attend school for only three hours a day. The older ones are in school for four hours.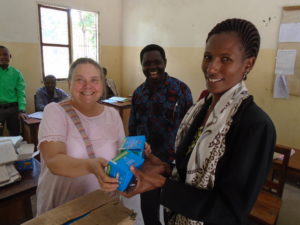 A recent visit to the Mayega Primary School was encouraging in that they had received more desks but the acting head teacher told us they still had no books.  The teachers were very welcoming. The primary one class this year has 149 children. There is one teacher and no teaching assistant.
One of the oldest teachers asked us if we could get some sports balls for the children. He said that the children have nothing to play with. We took a gift of a carton of chalk, bought with a donation from Lhanbryde Primary School in Moray. Let's hope we can find the means to support them further.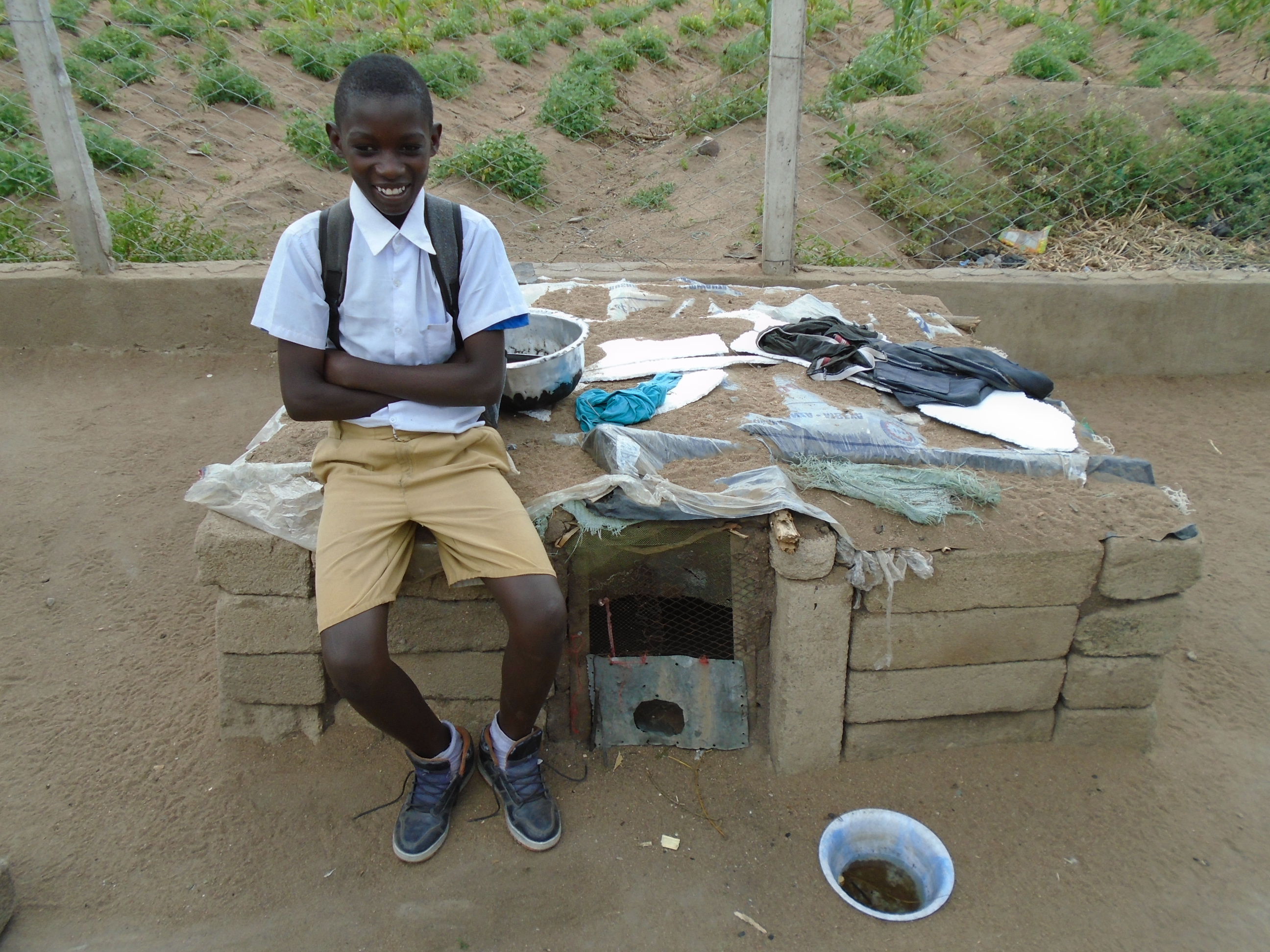 After school Pascali checks up on the doves. This is his doocot, which he made with some left over blocks that were used in the construction of the dining room. He keeps an eye on the doves and is always concerned if one is late arriving home. I don't know how this all began, as there have been doves around the site since we first arrived in Mayega. The birds come and go as they please through a small opening Pascali has made at the front of the "house". Children everywhere like to have pets.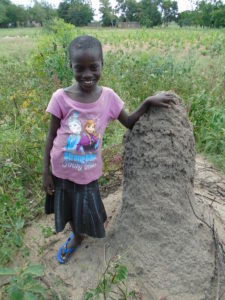 It is estimated that 80% of Tanzanians still work on the land producing some food for their families.  A poor rainy season has meant that many are hungry this year due to crop failures. There is sporadic rain but not sufficient quantity. At Mayega we hope to start a small vegetable garden when there is water. Meanwhile some of the girls enthusiastically got involved clearing a piece of ground for planting. For now we are just looking at measures to improve the fertility of the soil as it is too dry to do anything else. A termite mound in the middle of our patch is a good sign. The termites break down and mix the soil. We will be planting jack beans first. They will be allowed to flower and will then be turned back into the soil to improve its structure.
Peter and Nethanel, staff at Mayega will have the main responsibility for the garden but the children will also be involved, learning the skills they will need as adults.
With only four staff, the 21 children do their own chores, washing clothes, fetching water, making beds, cleaning and food preparation as well as keeping the environment clean. I must not forget looking after the hens!  Don't worry! There is also plenty of time to play!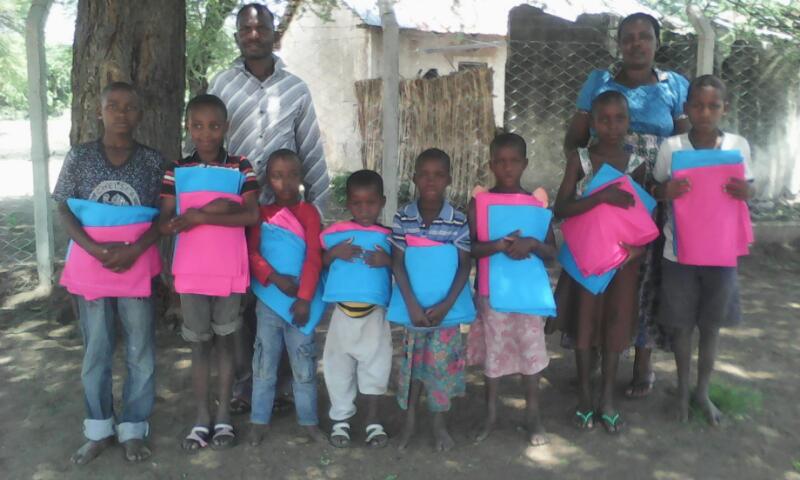 Finances
Since January 2014 Busega Scotland has taken responsibility for the centre finances and the lives of the children have been transformed. They have stopped worrying about where the next meal will come from and have the energy to play like children anywhere.
Children eat money and our finances are particularly stretched and we do need additional resources. It is not often that we are so direct with our requests for help!
If you can help, a regular standing order is a great way to support us. It is easy to set one up using the Busega Scotland account details below and a regular income provides reassurance and helps us plan our budgets.
Account Name: Busega Scotland, Sort Code: 80-22-60, Account Number: 14126960. Gift Aid forms are available.
Maybe individuals, families, groups, churches or workplaces can make a contribution so that together we can help the Mayega children help themselves. They have so much potential. Please help if you can. To talk to Christine of John please ring 07936 383800 or use email busegascotland@gmail.com .
We are also happy to tell you of some Tanzanian financial support.

Shrike Safaris is Mwanza-based Company established by Tanzanian Mark Madola James. Mark believes passionately in his responsibility to support local people, as well as providing first class safari experiences. The Mayega Children's Centre is just 10 miles from the Ndabaka gate of the Serengeti National Park's western corridor. This makes for a perfect 'fit' between the two organisations and a partnership agreement has been signed.
Mark said, 'we are delighted to 'give back' to our community by helping the Mayega Children's Centre. We will encourage our clients, to join with Shrike Safaris, in making donations to Busega Scotland and so directly benefit the lives of the children'.
In response John said, 'having the support of Shrike Safaris is very important to Busega Scotland, as it is essential for us to work closely with local organisations and for the children at Mayega to know that people from Tanzania, and all over the world, really care about them'.
Shrike are about to launch a brand new website and Busega Scotland will have its own web page and a 'donate now' link. The company itself made its first donation of £40 to support education at Mayega in March. Since then a further £120 has been donated. Thank you Shrike!
Here is something to think about; how about volunteering with Busega Scotland in Tanzania and then going on safari in the Serengeti with Shrike. In both respects an experience of a lifetime. John and Christine can personally recommend Shrike Safaris having travelled with them last year.
Water Project at Mayega
The patient building of a project to bring water to Mayega Children's Centre is frustratingly close to a positive result.
First the frustration; the water in the re-conditioned public supply system has reached the village of Chamagassa, about 2 km from Mayega. What are needed now are new pipes (the old ones were destroyed when the main road was built) and the £5,700 to have it installed.
Busega District Council has this responsibility, and its water engineer, Mohamed Yamlinga said, 'the funds are in our budget for this year but we are awaiting their release from central government'.
So, what next? Contact with the local MP, of course, to see if the blockage can be removed. If we can do that, and the pipes get to the Mayega gate, we have £500 from the Rotary Club of Elgin to help fix a standpipe in the centre. What a transforming moment that will be, as the children will then not have to trek to the lake for water, with all the associated risks.
So what is the good news; a standpipe is just the first step, as Elgin Rotary and the Rotary Club of Mwanza are committed to seeking Rotary International funding to have water storage tanks constructed and plumbed water going into the dormitories and a kitchen. As we have been told many times, 'elephants move slowly in Africa', but our jumbo project is on the verge of flowing a whole lot faster!
————————
Newsletter 32
20.9.16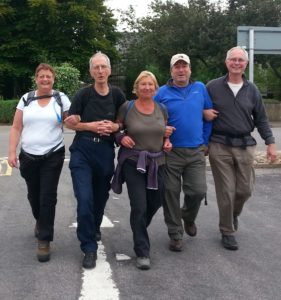 Hello everyone,
It wasn't easy but we've done it!
'Walk Moray for Busega' has conquered the Moray Way. The moment of triumph is captured in this photograph. 12 walkers participated, of whom 3 completed the full 95 miles (the other 9 didn't disappear but work commitments got in the way!). Check out the blog on the busegascotland.co.uk website.
Fundraising is going well, and if anyone wants to make a late donation then this is easily done through –
http://www.totalgiving.co.uk/mypage/johncarney
It's too early to say how much money has been raised but we are confident of reaching £3000, which is twice our target.
Many thanks to the walkers for taking part and to their friends, family and work colleagues for their pledges of financial support. We would particularly like to thank the Elgin staff of Turning Point Scotland and Aberlour Child Care Trust for their participation.
Meanwhile, John has recovered after several long snoozes!
Tanzanian Earthquake
An earthquake of magnitude 5.9 hit north-west Tanzania on Saturday 10th September, killing 16 people and injuring over 250. It was the worst earthquake Tanzania has experienced for over a decade.  While a magnitude 5.9 earthquake is classified as 'moderate', it will cause damage to buildings. On this occasion, over 800 houses were destroyed, or seriously damaged, making a large number of people homeless.
The impact has put severe strain on local health and welfare services. The epicentre was near to Lake Victoria and shock waves were felt in Mwanza, about 120 miles away, and in Simiyu Region, where the Mayega Children's Centre is situated. We have had no reports of casualties in Mwanza or Mayega and Rev Deuli has reported that everyone we know is absolutely fine. Most of the casualties were in the city of Bukoba.
Lake Victoria is in the Great Rift Valley, which sits on a geological fault line and that increases the chances of earthquakes occurring. Despite this, major earthquakes in the area are rare.
Mayega Children's Centre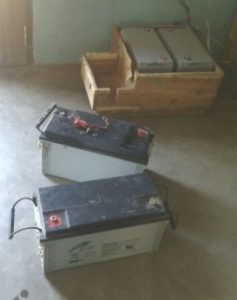 The original solar power system in the dormitories has been refurbished, with the purchase of new batteries and other parts.  This is the second time we have had problems with the system and we can only speculate about the reasons for this. One theory is that counterfeit parts were installed initially. Thankfully the lights are back on and the staff and children are very happy about that.
Rev Deuli visits the orphanage regularly and recently reported that all the children were well. We were pleased to read that some of the kids had travelled to take part in sporting activities with a neighbouring school.
The Children's Centre had a VIP visitor on 19th September when the new Busega District Commissioner popped in. He spent time talking with the staff and children and was happy with what he saw. He was keen for us to admit new children to the centre soon. John and I look forward to meeting him later this year and taking that agenda forward.
In our last newsletter we highlighted the challenges faced by the Mayega children at school. Improving educational attainment has to be a priority and at the Busega Scotland Trustees Meeting on 10th August, the decision was taken to fund a part-time teacher at the Children's Centre.
Jenny Wallen is Busega Scotland's newest Trustee. With a background in education, she is helping to shape the way forward. Over to Jenny …………..
Developing educational ideas for Mayega.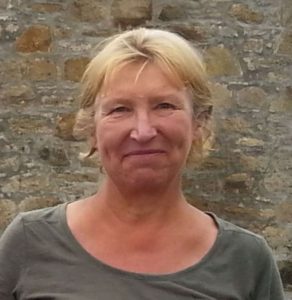 There is an anomaly in the Tanzanian education system that the government has been debating for many years. Kiswahili is seen as the unifying language for a country with over 100 different languages. English is seen as the language giving access to the wider world and therefore key to future progress.
After much research and debate the government has decided to keep the present system; primary school children are taught in Kiswahili with English as a discrete subject, and secondary school pupils are taught in English with Kiswahili as a separate subject. The problem is that many children don't have sufficient grasp of English to effectively access the secondary curriculum, and consequently fail to achieve a pass mark at the end of 4 years of secondary school. This appears to be true across the country but especially in remote rural areas.
At Mayega and at the local schools attended by the children, there is a general lack of suitable reading materials in both Kiswahili and English.
Christine and John have put me in touch with a Tanzanian teacher, Sebahene, (known as Seba) who is interested in the idea of collaboration to put together a bilingual reading resource for the children. We hope to be able source and produce readers aimed at different reading abilities.
It is hoped that either a Saturday teacher, or a holiday teacher, or both, can be employed at Mayega in the near future. The aim would be to encourage reading as a way to enhance language acquisition and thus educational attainment. Watch this space!
Moving-on Project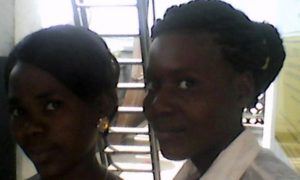 In Mwanza, college has resumed for Ester and Kabula. Sadly, Jane decided to withdraw from the Moving- on Project. Discouraged by failing to get a place at a nursing college, she decided that other courses were not for her. Local officials, social worker and a family member met together with Rev Deuli and Jane to try to ensure she was making a free choice. It's difficult to be sure but what is clear is that the transition from rural orphanage to independent living in the city is not easy.  Jane has returned to her home village and is under the care of her older brother who now has a job.
We are happy to report that Ester passed her exams, enabling her to move to the final year of the primary teaching course. Unfortunately 6 of her fellow students failed their exams and have left the college.
At Kalwande our 5 students are happy with their new safety boots. They send greetings to all their supporters and their 'advocate' Ellen Carney!

New Family Support Project
At a meeting of the Board of Trustees of Busega Scotland on 10th August it was agreed that a second Family Support Project be established at Chole, some 25 miles from Mwanza and on the shores of Lake Victoria.
The meeting based its decision on a two year review of the Igombe Family Support Project and a draft project agreement for Chole. These can be found in the reports section of the Busega Scotland website under 'Family Support Project – a cause for celebration'.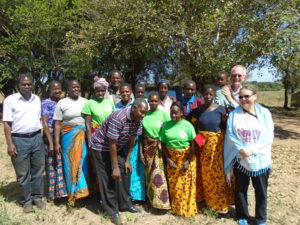 How will the Igombe and Chole projects differ? Igombe is based largely on the fishing industry while Chole will be agriculture based. In Igombe the women's group has been formed gradually by entrants to the project but in Chole there is an established group of 35 women. At the moment Busega Scotland is planning to fund the Chole project by loans to the women, using money raised by the 'Walk Moray for Busega'. However, we are preparing to apply for further funds that may allow women to receive grants, and then expand their businesses through a type of credit union.
What activities will the women in Chole undertake? Chole is a very fertile area close to the lake and, in the first instance, has great potential for vegetable farms. We expect most women to take advantage of our financial support and the practical help from our Tanzanian partners, Community Development and Humanitarian Assistance (CODEHA), to grow crops. CODEHA has provided a water pump, plough and oxen and this will be labour saving and extend the growing season.
We are very excited by the Chole project, as we further test out the Family Support Project model. It will not be without its challenges, including the transportation and marketing of produce, but with the commitment of the women, CODEHA and Busega Scotland ways forward will be found.
Blossoming relationship
John and Christine represented Busega Scotland at the Alba Place Open Day on Sunday 18th September. Alba Place is home of Aberlour Options – Moray, which provides respite services to children and young people with a moderate to severe learning disability and/or autism.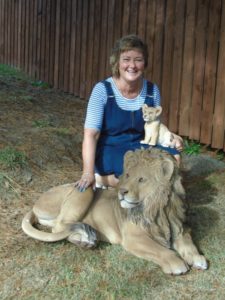 The Open Day was to celebrate a new activities garden that will entertain children and adults in a variety of ways. There is a ground level trampoline, play tunnel and roadway for pedal cars. Service Manager, Sheena Main, is much taken by the lions, but we are not sure how she would feel about making friends with this Serengeti lion!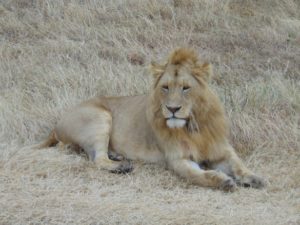 Staff from Alba Place took part in 'Walk Moray for Busega' and we have received many kind donations from their colleagues, family and friends. Both Alba and Busega Scotland are committed to developing the relationship, to our mutual benefit. John is close to commencing work as the chair of Alba's Moray Options fostering panel that will recommend new carers and review existing ones. John performed a similar role with the Moray Council for many years, and was 'recruited' into his new role by agreement between Sheena and Christine!
It is part of Busega Scotland's raison d'etre to support the community of Moray, our home area, and so make sure that we 'give as well as receive'. There are other developing examples that will be covered in future issues of the newsletter and on the website.
Charity Shop
Lastly a wee reminder for our Moray friends that the Busega pop up Charity Shop on Queen Street, Lossiemouth will be open from Saturday 24th September to Friday 7th October. Hope to see you there.
With very best wishes to all Busega Scotland supporters,
John and Christine
---
Newsletter 31     9.7.16
Mayega Children's Centre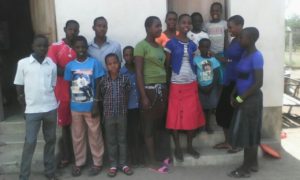 The children are all well and currently on a one month school holiday. Our two Form 4 students, Monica and Lukondiika continue to attend school for extra tuition in preparation for their exams. They have been interviewed about their hopes for the future and encouraged to work hard at school. They know the importance of the Form 4 exams. Their secondary school still has no science or maths teachers. At Mayega we have a long way to go in improving the educational attainment of the children.  With no study culture and scant human and other resources we need to make education a priority at the orphanage. There are no easy answers.
During our visits to Mayega we had mixed success in obtaining a mobile internet signal. This requires more work before we can set up a computer workshop on site. The ability to use a computer is a growing skill needed in Tanzania and may be a key to unlocking educational resources.
The children had a shopping trip to Lamadi on 23rd June. The boys needed belts for their trousers and everyone needed new sandals. There was also an allowance for each child to buy some clothes.
Technology
Thank you to everyone who donated mobile phones, cameras and computers for us to take to Tanzania. We had some trouble with the mobile phones as some were locked to British networks and could not be used. We are looking for another 4 unlocked mobile phones with email capability. We like to ensure that the students have the ability to contact Rev Deuli directly if they have any problems. Cameras do not last long in Tanzania as the shutters become clogged with dust in inexperienced hands. Another has been supplied for use at the Mayega Children's Centre. As reported last month a new tablet computer is in use at Mayega and two laptops are being held in Mwanza for use at Mayega as soon as planning for their use is in place.  A third computer has gone to Ester, our student teacher. It has been loaded with educational materials which will help her and her students on her next teaching practice.
Mayega Primary School Visit 3.6.16
Seven of the Mayega orphanage children currently attend the Mayega Primary School. This is a government school run by Busega District. Tanzania has many privately run English medium schools but not in rural areas. Mayega Primary is very close to the Children's Centre and it takes just 5 minutes to walk there.  The children have to cross the main road, which runs from Mwanza to Musoma and on to the Kenyan border.  There is a zebra crossing but the children have to be careful. Few drivers respect the road markings and there are many "express" buses travelling at ridiculous speeds.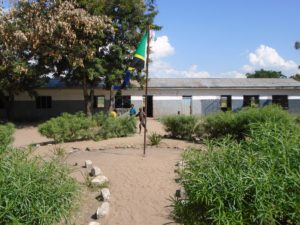 The school has a typical configuration with the classrooms laid out around three sides of the focal point, which is the Tanzanian flag. The school office/staff room is on the other side. The classrooms themselves consist of two long low buildings which are subdivided. The windows have ironwork but no glass or shutters. The roofs are made of corrugated iron and there are no false ceilings to dissipate the heat. Mayega village and the school have no water supply and no electricity. There is a toilet block some distance behind the main classroom block but I did not go there. During the rainy season water is collected in the deep concrete pit in front of the classrooms. There is no lid. It was empty.  Most of the time water has to be carried from Lake Victoria. That would take an adult 20+ minutes to walk.
The school day runs from 7am to 2pm. We visited after school had closed at 3pm. However, there were a number of teachers and older pupils around. The kids are usually in school uniform during the school day. They were keen to have their photograph taken and all piled into the Standard 7 (Primary 7) classroom.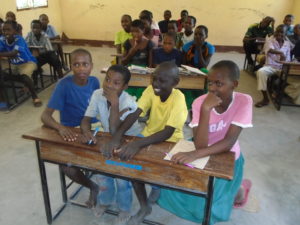 This classroom normally has 58 pupils aged around 13 to 14 years. The desks are designed to take three pupils and there were approximately 12 desks.  School desks are in short supply everywhere you go in Tanzania. The front page headline in a recent English language, Tanzanian 'Guardian on Sunday' newspaper was, "How many RC's and DC's will go?" The strap line was the "sad reality of desks and classroom shortages". President John Magafuli had ordered Regional and District Commissioners to solve the desk shortages by the end of June 2016 and their jobs are on the line. We did see some desks being manufactured on our travels to Mayega but this looked like a drop in the ocean.
The other English language Sunday paper, 'The Citizen on Sunday' had a viewpoint article which stated that the government had allocated less than one per cent of the new national budget on education, despite a declared intent to raise educational standards.
Life for the teachers at Mayega is tough. They are supposed to receive a government house but only one of the twelve staff has a house. The rest have to travel to the village each day. Like the children they suffer for the lack of a chair. There were 7 chairs for the 12 staff to share. If they want a chair in the classroom then they have to carry it from the staff room. Salaries are often delayed, although they said they always got paid eventually.
The teachers asked if we could bring them chalk. They are supposed to get chalk from the government stores but when they go there the shelves are empty. It is the same story elsewhere.
The school has a roll of 800, including the nursery class. Nursery is for children aged 4 to 6+ years. Families send their little ones to school when they think they are strong enough to walk there and remain all day without food. There is no food provided at the school. Little ones living near the school are allowed a break at 10am and the Mayega children return home briefly for breakfast of porridge.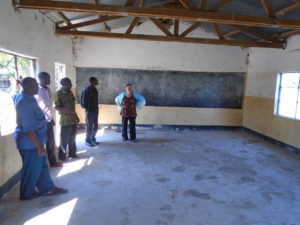 This is the nursery classroom. The 179 children sit on the concrete and dusty floor. The picture speaks for itself. The school has 8 classrooms in total and some lessons take place outside under the trees. We looked in other classes.
This one had desks but also a large hole in the floor where the concrete had broken up.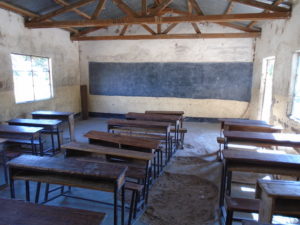 We asked the staff about books. They have very few. I saw three Kishwahili books in the staffroom during our visit.
In the Standard 7 class there were school jotters on the desk. When I looked at them I was pleasantly surprised. There was an English lesson on relationships. "What is your mother's brother called?  Answer: Uncle.  I tried out the question on the class and a few hands went up with the answer, after the teacher repeated the question in Kiswahili!  The handwriting was neat and there seemed to be a lot in the jotter. I did wonder if it was work copied down from a book rather than exercises that the children had done. There was no sign of any art work. The walls and blackboards were bare in each class.
Progression from one class to another is currently dependent on passing the end of year exams. I understand there are plans to change this in the future but don't know when the system is expected to change. In previous years each child has been asked to pay some money to sit the exams. We have been told this is to buy paper or to get the papers marked. I don't know what will happen this year.  From January 2016 school fees were abolished. Families still have to supply school jotters, pens etc. as well as uniforms and shoes.
There is currently a student teacher working on a one month placement at the school. I congratulated him on his chosen profession. He told me he was enjoying his placement but   spoke about the many challenges they faced and asked if we could help them get books. He said it is very hard without books or chalk. I thought it is impossible with no resources whatsoever! No wonder our Mayega children have an uphill struggle to succeed at school. He spoke about the nursery class.  "How can you learn to write, to form the letters, when you are sitting on the floor?" he said. I had no answer for him. I thought of the wonderful primary school in Scotland that my own children had attended and the contrast could not have been bigger.
Orphanage Security Fence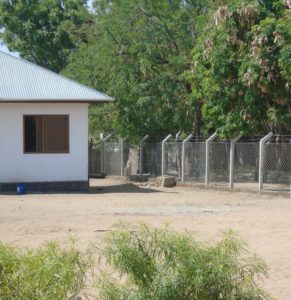 The Mayega Orphanage security fence is now in place and the children are delighted and feel safe with no more problems of drunken men bothering them. Tanzania has a big alcohol addiction problem not helped by cheap banana beer and local gin. We have witnessed the nuisance of drunks wandering on site. The contractors have done a good job.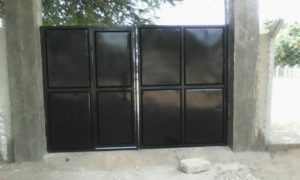 There are two gates. The one at the front allows vehicle access and also has a pedestrian door inset.
At the back there is a pedestrian gate. The children use this when carrying water directly from Lake Victoria. It takes them about 15 to 20 minutes to walk to the lake from here and more time to return when carrying heavy buckets of water.
However, we are hopeful that this chore will soon be consigned to history. John has been working hard with the Busega District Council Water Engineer to complete a Memorandum of Understanding (MoU) to govern the installation of a water supply. Mains water pipes have reached the Mayega area but are not yet in the vicinity of the school or Children's Centre as the council needs to replace a pipe lost during road construction. In essence, the MoU requires Busega District to get water close to the centre and Busega Scotland will meet the costs thereafter. We have worked on three options, from simple standpipes to a plumbed-in system, and what we will be able to do will depend on funding. In that regard, John and Christine have an appointment with potential funders in late August. Busega District Council has been very helpful in drawing up the plans, will project manage the installation and meet water bills and the cost of septic tank cleaning. We hope the work can start towards the end of this year or next.
Moving-on Project Mwanza Seminar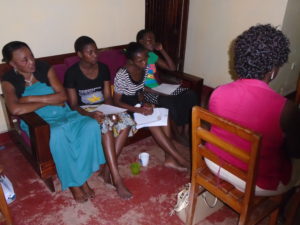 Busega Scotland hosted a seminar in June, to consider the challenges facing young people leaving orphanage care.  The keynote speaker was Julieth Godwin, Busega Scotland Apprentice, talking about her research into why orphanage leavers find it difficult to hold down jobs. Her conclusions point to five significant factors;
Orphans have a poor self-image
Preparation for leaving care is poor
Wages are low, leading to financial problems
There is no proper aftercare support
Society has a poor view of orphans
Christine Carney spoke about the first 2 years of operation of the Moving-on Project    and there was an open discussion, looking to develop an agenda for action. The main recommendations and priorities were as follows:
Orphanages should prepare young people for leaving their care
They should also provide post-orphanage support
Bridging finance should be available to counter low wages
Orphans should have a 'union' to provide mutual support The full conference report is available on the Busega Scotland website on the reports page.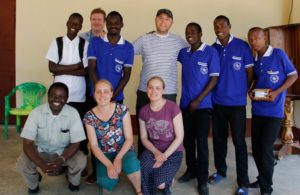 We met the 5 Kalwande students on the last day of the June term. It is always good to see them even when they put me on the spot! The boys asked for safety boots to use in the mechanics workshop. Although they were not included on the college list of essential items it is clear that their feet need protection. I told them I could not pluck the £150 needed from the money tree there and then but will try to solve this problem before the new term starts. The boys also requested tools to help them find garage work during college holidays in the future. I have spoken to the principal of the college and asked for a list of suggested tools they might need so that we can explore this further.
All the boys are doing well with published exam results showing 2 receiving "A" grades, 2 "B" grades and one with a "C" grade. Hasan came top of his year. Their mechanics tutor spoke highly of their behaviour and commitment to work hard.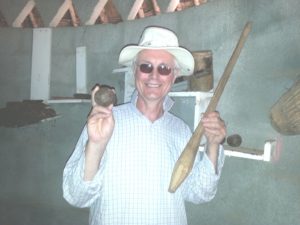 "Cricket lovely cricket"
Conventional cricket was introduced to Tanganyika around 1890 by British settlers and has been slow to catch on with Tanzanians themselves. However, it is estimated that there are now about 15,000 players in the country and a growing contingent of women players. How good is the Tanzanian team? You judge – they would be ranked well below Scotland in any world cricket rankings.
While this is a West Indian refrain, there may be a version in Swahili as we have discovered an indigenous form of the game in Sukumaland.
Sukuma means 'people of the north' and there is a superb open air cultural museum at Bujora. In one of the exhibits we found a bat and a ball used in Sukuma cricket. There were no details of the rules but we assume it was played a bit like rounders. We have not seen anyone playing.We did try and do something about that by having a taster session with the children at the Mayega Centre, using equipment donated by Fochabers Cricket Club. The difficulty is time, the sand and the lack of bounce but we will try again. The skills of the game are also a little difficult to master. The answer may be playing rounders or, if we can find out more, Sukuma cricket itself.
Busega Scotland Bank Account
We have been asked on many occasions if Busega Scotland has its own bank account. Supporters can't understand why our charity isn't organised financially, when other aspects of our operation seem to go so well. The answer is simple – we made an application for an account nearly a year ago, and even as late as 5th July we are still providing further information.
So what is the problem? There is an understandable concern, in this day and age, about money laundering, organised crime and terrorism, leading to more stringent banking regulations.
However, our bank seems chaotically disorganised in dealing with charity account applications. The evidence:
They published a process that they have (at their own admission) been changing as they go along – this means, in fact, as they have been dealing with our application.
They have punished themselves by granting us £100 compensation so far.
The application is dealt with by two bank departments and when one declares it's satisfied then the other makes further demands, without any apparent co-ordination. The whole process is one of mistrust, and is so ludicrous it seems to us that they have little or no chance of catching any criminals!
Joking apart, there is a serious downside for Busega Scotland. We have lost important income, due to cheques going out of date. We have not been able to accept new standing orders or start to maximise Gift Aid. We intend to make a formal complaint to the bank once the account is open (we remain optimistic!); due to the lack of proper process, inefficiency, loss of income and our reputational damage.
We have not mentioned the name of the bank, as they cannot answer back, but really we are being quite 'charitable' in what we have written!
Brexit
Without entering into the political debate, it is evident so far that Brexit is bad for Busega Scotland and our projects in Tanzania. We had recently been receiving around 3,200 Tanzanian Shillings (TS) per British Pound but since Brexit this has dropped to around 2,800TS. This is a fall of around 12% and adds to our fundraising challenge. The Tanzanian currency is normally quite volatile but the current reduction seems to be holding. Let's hope that Sterling recovers its value before too long.
Forthcoming Fundraising Events
We are planning a sponsored walk as a major summer fundraiser, using the route of the Moray Way. The total length is 95 miles and is being walked over eight days between Saturday 3rd and Sunday 11th September (Wednesday 7th will be a rest day).Jenny Wallen and John Carney are planning to walk the full distance and already we have other supporters planning to join us on individual days. Christine Carney will be our 'back-up', providing at least tea and sympathy!We'll be circulating details over the next couple of weeks, but please think about taking part as we would like to make the walk a great Busega Scotland social event while raising much needed funds.
Charity Shop
We are looking for volunteers to staff our charity shop in Lossiemouth, running from 24th September   to Friday   7th October   Please get in touch to offer your services, whether for a couple of hours or a couple of days! Not only do we raise significant funds but we also provide a local 'recycling' service. We are already collecting goods for sale so please get in touch to donate household items, books, clothes, jigsaws and children's toys. We can collect.
---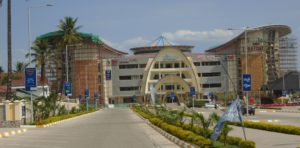 Tanzania 30     23.5.16
Dear Friends,
We are now into our third week of this Tanzanian work camp.  Life has been hectic gathering information about the various projects and people but it is now time to update you! Mwanza is growing, with signs of investment everywhere. There are many construction sites where workers are busy. Over the last 2.5 years we have watched the Rock City Shopping Mall being built. Although it is far from complete, there are now a few shops open. They include a pharmacy, 2 supermarkets, 2 clothes shops and at least 4 mobile phone/ technology shops.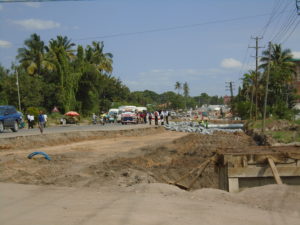 There are lots of notices saying different shops are "opening soon". What a contrast to the local markets. For the vast majority of people in Mwanza the mall will be out of their reach but it is a sign of growing prosperity.
It was built with Chinese construction workers who are also employed in improving the road
from the airport to Mwanza city centre. This is causing disruption to water and electricity supplies in the town but has created an upsurge in hotel business, which has helped Zabron. He, along with Zawadi, was studying hotel and tourism, sponsored by the Anglican Church Basle, when we first met him in January 2014.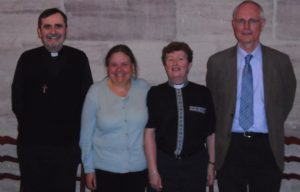 John and I were happy to travel to Switzerland just before leaving for Tanzania and were able to meet members of the congregation and thank them personally for their support to the children and young people of Busega.
It was Zabron's experiences and struggles that led to the creation of the Moving-on Project.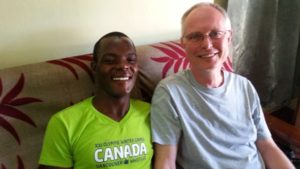 After many very short contracts I am happy to tell you that Zabron is now employed as a waiter in a Chinese-run hotel.  His situation appears secure with a one year contract.  We have not caught up with Zawadi yet but she still visits Matron and the children at the Mayega Centre. She is now mum to a three month old girl and is living with her husband's family near Mayega, and helping with the family charcoal re-sale business.
Visiting the students has been a great pleasure. The two older girls have settled into life with Jane, who joined them in Mwanza this year.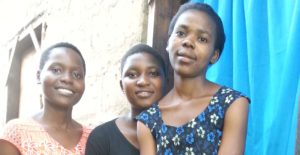 We are yet to meet Jane's college principal as he has been out of town.
Ester, Jane and Kabula are "student flat mates" but their "flat" is one room in a shared house. Ester's nickname is 'matron' as she is the one who sorts out the problems and acts as spokesperson when needed. She has learnt from Leah at Mayega, and is a natural leader. The girls all agree that Kabula is the hardest worker. She is always busy and makes sure the others get all their work done on time. Jane is establishing herself as the giggler of the group!  There was disagreement about who was the best cook, with each girl claiming it was herself.
Charcoal has gone up in price and there is no easy alternative. We thought a single plate electric cooker might help but the landlord would not allow them to use it because he was worried about the electricity costs. The girls pay a flat rate of about £3 per month for electricity. They have one light bulb and one electric socket, which is used to charge mobiles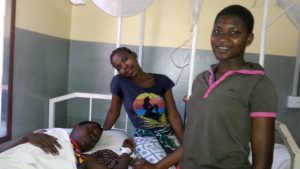 and run their laptop.
The girls are very close and this was evident when Ester was admitted to hospital with malaria and typhoid last week. The other two took turns looking after her. I am glad to report Ester is now well on the mend and was at church last Sunday (22.5.16). Busega Scotland paid the £50 medical bill.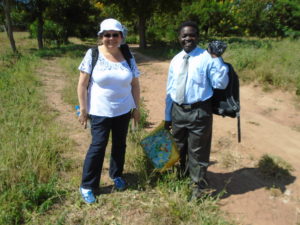 The trip to Kalwande College to visit the 5 boys was hard work. Travelling by 3 overcrowded dala dalas (minibuses) it was hard to know where to put your legs. Everyone gets up close and personal. There is no choice. At one point I had a large lady sitting on my knee! The journey was worth the effort. We met with principal, Fr Nyanda, Mr Cosmas, the auto-mechanics tutor and, of course, the five boys. They were about to be served their dinner when we arrived and announced they were hungry. There was plenty of food and they said they liked the meals at college. Their teacher gave a good report about their work in class and the principal said he would be happy to take more students from Mayega. That is good news as we already have Lukondika at Mayega asking if he can go there next year when he finishes Form 4.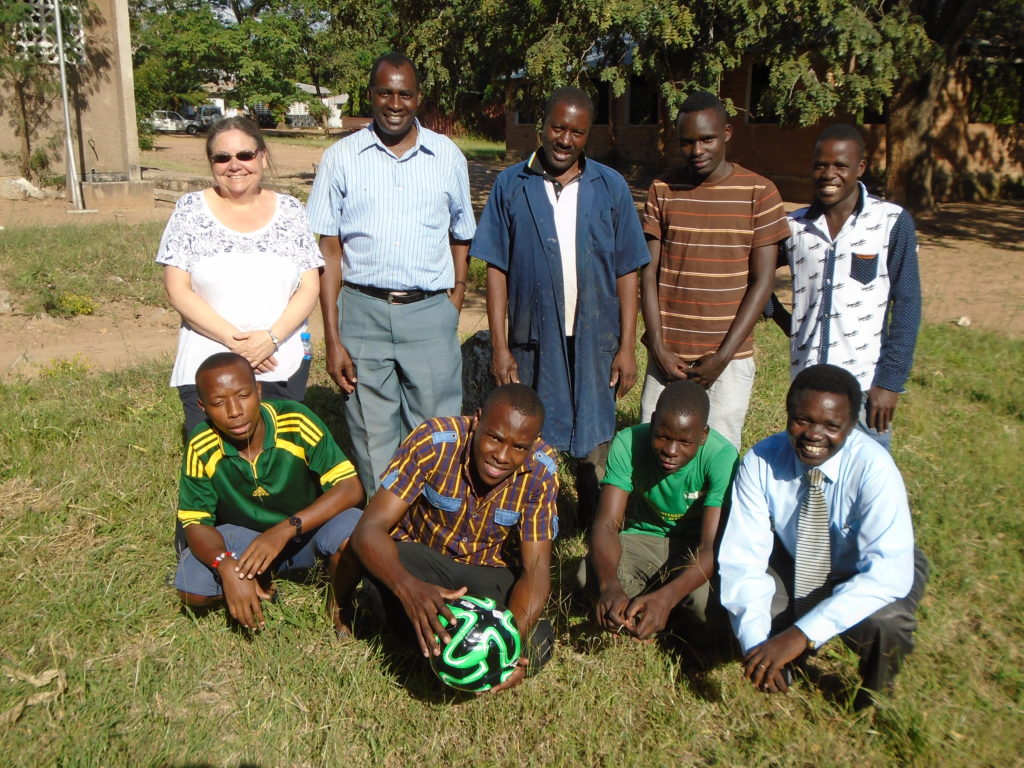 Back row: Christine, Fr Nyanda, Mr Cosmas, Enos, Hasan,
Front Row: George, Dotto , Geoffrey and Rev Deuli
We carried to Kalwande some sports clothing and equipment that had been
donated by a sports shop in Edinburgh and by other Busega Scotland
supporters. The boys were very happy. We were able to take them news and
show them photographs of their "sisters " in Mwanza and their "family"back at Mayega. The boys seemed more grown up and confident since they left Mayega, and said they were happy at Kalwande. There have been a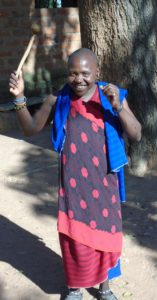 couple of sickness incidences but the college had acted quickly and the boys received appropriate medical care. Health insurance is included in the boys' college fees. The college employs two Masaai security guards. Mr Lazario was very friendly.
Snake in the bucket!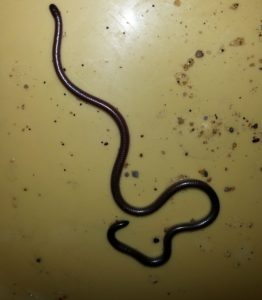 In Africa fact often outdoes fiction. Avid readers of these newsletters will remember 'frogs in the bog' and 'crocodile in the kitchen'. Well now we have 'snake in the bucket'! One recent warm and balmy evening was enlivened by the discovery, and the photograph provides the proof.
We discussed the finding with security man, Sebastian, who declared 'it is dangerous, we need to kill it!' But we pleaded 'how can a six inch long snake, about the thickness of an earthworm, be so much of a risk?' 'Ah' said Sebastian 'they grow!'
All we could do save our new found 'friend' was for Sebastian and ourselves to consult 'The Pocket Guide to Reptiles and Amphibians of East Africa'. Sebastian's English is excellent so amongst its deadly cousins – puff adders and cobras – we found worm snakes, and agreed that this is what we had in the bucket. Seemingly they eat eggs and larvae of ants and termites and the occasional flea (not the reason it was in our house) so not a great threat to humankind.
Reprieved, 'our primitive burrowing snake' was released into the garden. For understandable reasons, most Africans have the same view of snakes as Sebastian. We've had snakes in and around our houses before in Nigeria, Zambia and Tanzania and we are also wary but generally speaking they are more afraid of us than we are of them. How did our worm snake get into the bucket – who knows but then many things surprise us in Mwanza.
A gift From the Church of Scotland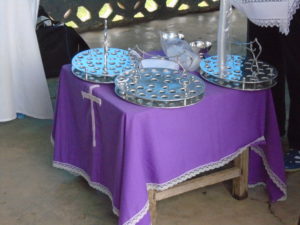 We often find ourselves in the privileged position to make presentations or pass on gifts. We received our usual very warm welcome from the Holy Trinity Parish Church, Mwanza (Charismatic Episcopal Church, Tanzania). Rev Deuli and the congregation were joyful for the gifts of communion trays, from the Mearns Coastal Parish of the Church of Scotland. Holy Trinity is a very poor congregation and people seemed overwhelmed by the gifts. Asante sana (thank you)! Only Rev Deuli knew that the gifts were coming so it was a lovely surprise for the congregation.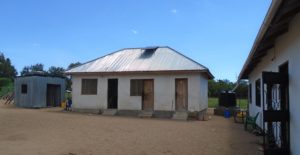 At Mayega Children's Centre we have not quite got to grips with technology yet but Sarah enjoyed using a donated tablet computer. We had some educational materials pre – loaded onto it.
We found the internet connection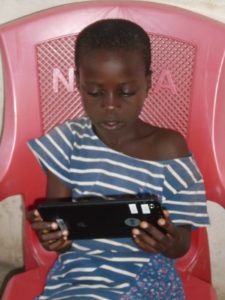 slow and unstable but it may just have been a bad day. Despite trying three different internet providers we are having difficulties getting a connection in the city of Mwanza never mind rural Busega. It's a work in progress. Our day at Mayega was spent in meetings with officials from local government and the village, and with the staff. The children were at school, so we only saw them for a short period of time. Matron had, as usual, organised a meal for us and we were able to inspect the hens and check all was well. The hens are losing feathers again, although they are laying well. A lack of calcium in the diet was blamed and so a supplement to put in their food has been ordered. More news of Mayega will need to wait till the next newsletter but progress has been made on resolving the long standing land dispute.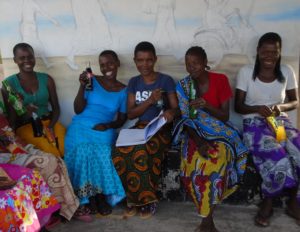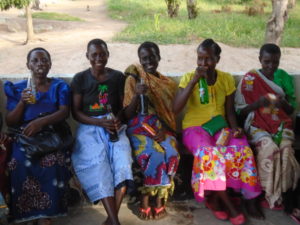 The Family Support Project (FSP) celebrated its second anniversary with a small party and an evaluation with members of its women's group
Igombe hasn't had its sorrows to seek over the last few months with bad weather and then cholera, which effectively quarantined the town. Despite this the women carried on with their businesses as best they could, and were pleased to report their successes and challenges.
The FSP provides small grants to women of about £50 to develop their enterprises. These are women, whose circumstances prevent access to conventional loan-based micro-credit, forming an effective 'underclass'. The ladies present as strong and resilient but still vulnerable, said they found good support in the group and, by having a better income, had more respect in the community.
The evaluation report will be on the Busega Scotland website in the next month or so but indications are that the three components of the FSP have been well received and effective; micro-grants, health insurance and the women's group. John will be back to see the ladies again as the 'what happens next' question is addressed.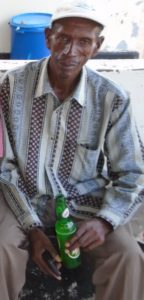 It is amazing to think what has been achieved with the help of two regular donors and one-off contributions. A little certainly goes a long way in Igombe – the premium for the Health Insurance Scheme (negotiated as special arrangement with the local hospital) has been about £6 pa. John was touched to learn that the health scheme is known by the women simply as 'John's project'! The Project Supervisor in Igombe is Mr Alphonce Kagezi , or as John calls him, the ' King of Igombe' .
John has been reviewing the progress of our Busega Scotland apprentice, Julieth Godwin. The apprentice scheme is a pilot to see if a young person with the aptitude for welfare work but without the formal qualifications can gain 'on the job' experience that improves employability.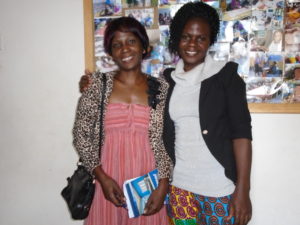 The photos are Julieth with her supervisors; Kisa at Chekasana Girl's Home and James at Shaloom Youth Project.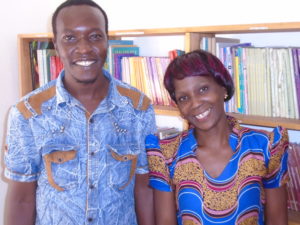 The reports from both placements have been positive and Julieth has also written-up a piece of research she undertook into why orphanage leavers have difficulty holding down jobs. The report will be on the website soon.
Many Busega Scotland supporters enquire of Julieth's two children, Lulu and Godwin. We are pleased to report both are at school and doing well. Lulu's English is coming on a treat and Godwin has overcome a recent bout of ill health.
We are in Tanzania until the end of June and will be producing a more detailed newsletter soon covering all the latest developments. Meanwhile don't forget to check out the website at https://busegascotland.co.uk/
If you have emailed us recently have not received a reply yet, please accept our apologies. As mentioned earlier we are working with a temperamental internet connection.  It has improved this week and we are trying to catch up. We love to hear from you and to receive any feedback on the newsletters or website so please keep writing!
With very best wishes to all Busega Scotland supporters,
John and Christine Carney
———————————————————————————-
6th March 2016
Dear Friends,
A lot has been happening in Tanzania since I last wrote to you in November. We have been regularly updating the website with short news items but we know that not all our supporters are regular web surfers and a number of groups like to have a newsletter to pin to the noticeboard or pass round for people without computers to read. The work of Busega Scotland is becoming more prominent with support from many sources and we have supporters in a number of countries.
Crocodile invasion!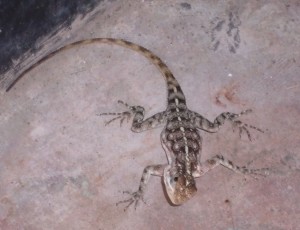 When we were in Mwanza during November and December it was wet, very wet and extremely wet indeed. Roads became rivers and rivers became lakes. Our sleep was interrupted by electric storms and by avocados falling off our tree and bouncing down the house tin roof. It always made us jump. If an avocado had hit Isaac Newton on the head there would be no theory of gravity!
Anyway, on one particularly rainy day we had an unexpected visitor in the kitchen. The photo shows unequivocal evidence that we were hosting a cocky and confident junior crocodile!! It was not very big but as you may imagine Christine took one step back, leaving John one step forward. Despite fearsome teeth crocky was captured in a box and shown the door. Even outside our new friend was not backing down until he/she decided discretion was the better part of valour and scuttled off. What a relief!
Keen herpetologists amongst you will have already realised some poetic licence in this little tale – was this really a crocodile?
Moving-on project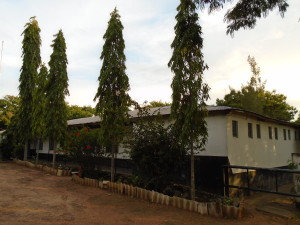 Five Mayega school leavers were enrolled at Kalwande College to study Motor Mechanics. The course lasts for three years and as well as practical skills the boys will follow a core curriculum including English, Maths and Technical Drawing. It was a busy and exciting time for them as they prepared to leave the care of the Mayega Children's Centre. Every family in the UK with a new student knows how expensive it can be. In Tanzania kids don't just take their clothes and bedding; also needed was a mattress, a mosquito net, a bucket, a hoe, a large blade for cutting grass, their own crockery and cutlery. Uniforms, shoes and overalls were purchased along with stationery, math sets and sports clothing. Each boy needed a suitcase to carry all their worldly goods.
I remembered my first trip to Mayega in January 2014 and being struck that the children had nothing to call their own. These young people were now setting off for adult life and although their possessions were few, they did have something.
Their course started on 19th January and they were accompanied to Kalwande by Leah, Mayega's Matron and Rev Deuli. Leah needed to know where "her" boys were going. She was sad that they were leaving her care but very proud to see them at college. In the last 7 weeks the boys have had three support visits to check how they are settling in.  Rev Deuli will continue to visit at least once a month and will take the boys a small allowance each of about £6 per month. This will enable them to buy toiletries and personal items. Food is provided with their accommodation so they do not need to cook.  Meetings took place with their tutor and college principal who confirmed that George, Geoffrey, Enosi, Dotto and Hasan were settling in and working well.
Valerie and Arnold Barrow, returning Busega Scotland volunteers, visited the boys twice during February and took them gifts of solar lamps, sports shorts and footballs, amongst other things. Although the college has electricity there are frequent power cuts, hence the need for standalone solar lamps for evenings in the dormitories. They treated the group to a soda at a rather swish café on the campus. This is very modern compared to the rest of the college which needs some investment.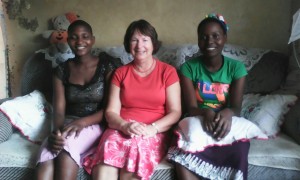 Our sixth school leaver is Jane, who has moved to Mwanza and is living with Ester and Kabula. She is currently having English and Science classes five days a week. She wanted to start a nursing attendant's course but this was not possible due to her disappointing exam results. We are still exploring other options and are hopeful that she will be able to train as a junior lab technician, and so still be involved in hospital work.
The three girls have moved into a larger, better room in another house close to Rev Deuli and his family. The girls are happy to be together and Valerie and Arnold helped them purchase some essential items for their home. We are grateful to the Barrows, their friends, family and neighbours as well as Stowmarket Salvation Army Corps for raising over £2000 to support Busega Scotland's work in Tanzania.
Ester is in her second year of primary teaching at Mwanza Polytechnic and Kabula is in the second year of her diploma course in secretarial studies. I am glad to say that Ester's health has improved and Valerie reports that she is looking well with shining eyes and has much more stamina.
We are still fundraising to cover the college fees and subsistence for the eight young people in the project. It is an investment in their future and we must succeed.
Mayega Children's Centre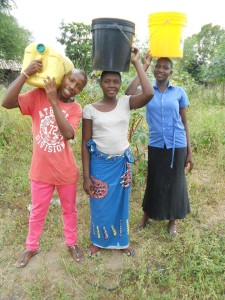 Sadly the test drilling of a bore hole at Mayega yielded poor results. The water contained a high concentration of mineral salts and its poor quality meant that this method of supplying water to the Children's Centre is not possible. Bore holes really are hit and miss. Sometimes good water becomes bad over time due to the leaching of minerals.
Busega Scotland has submitted a draft memorandum of understanding to Busega District Council to agree the responsibilities of the two organisations in bringing water to the Children's Centre. Our proposal is that the Tanzanian Government ensures a mains supply and we fund a spur into the orphanage connected to sinks, toilets and showers, some of which are already in place. Progress is likely to be slow but we remain optimistic of a positive outcome. Meanwhile, the children continue to carry water from the lake. March 22nd is World Water Day and we will be thinking of the struggle that the Mayega community have to access this most basic human need.
At last we have some books at Mayega! It's a small start but in December we were able to purchase some school textbooks, thanks to the generosity of people in Moray and Ruth's craft skills. Her Christmas Quilt Raffle provided the money for a visit to the main bookshop in Mwanza run by the Catholic Church.
Children grow! In December all the kids chose sandals at the market in Lamadi. They often go bare foot around the children's home but sandals are essential for visiting the latrine.
Christmas was celebrated in Traditional Mayega fashion with everyone attending the African Inland Church, followed by a special celebration meal of goat, rice and vegetables.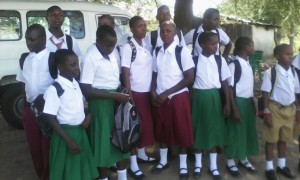 The New Year brings a new school year in Tanzania and thanks to the generosity of the Anglican Church in Basel the kids were provided with uniforms, school bags and essential school needs of pens, maths sets, paper and pencils. A seamstress came to the school and measured each child for their skirt/trousers. They all look very smart in their socks and new shoes.
With the older kids leaving for college we have a number of empty beds that could be filled. We are in discussion with the District Council about the concept of short term placements for children. We believe that whenever possible children should remain within their own community. Often poverty is the main factor in children being admitted to children's homes in Tanzania and across the world. Mayega Children's Centre is meant to be a drop-in facility, where children can receive support when a family is in crisis, perhaps due to the illness or death of a parent. The reality has been that once a child is placed at Mayega they stay until adulthood. It's a difficult situation. Outcomes for looked after children are often better than for those who remain in extended family care. At Mayega the children now have a bed to sleep in, go to school and receive medical treatment when they need it. Many communities are too poor to take on an extra child or provide the basics for their own children. Families often believe that orphaned children are better off in a children's home and will do all they can to get them admitted. Just as in Scotland, there are regulations concerning children being taken into care in Tanzania but there are few social workers to do the background checks and admittance systems are often bi-passed. We have said that we will not admit any new children without a full investigation of their circumstances by social workers and police as per the regulations.
We believe admittance has to be a last resort unless there is a clear plan for the kids to be returned to their community. We don't know if we will succeed in this but we have to try.
The orphanage debate continues!
A large lobby has grown up in the last decade dedicated to closing orphanages worldwide. Save the Children and an American agency, Better Care Network, is in the vanguard and Rwanda became the standard bearers in 2012, when the government decided to close all of its orphanages. The movement is based on the United Nations' declaration that every child has a right to grow up in a family. Maybe Rwanda signifies the conflict between principle and practicality.
A report in the Aljazeera newspaper of 21st January described some of the difficulties Rwanda has faced. It reported that 'many children have found themselves placed with relatives who either do not want them or cannot afford them' (and the closure programme is well behind schedule). Our first hand and anecdotal experience in Tanzania , backs this up and some academic opinion is now supportive of orphanages, or at least critical of family based programmes that are not properly supported.
So where do we stand? The United Nations is right, but with more than one million orphaned or destitute children in Tanzania, how can one of the poorest countries in the world support proper family care? What we are trying to do at Mayega at present is to provide the best care we can, and help our young people transition successfully to adulthood. We are where we are, if that is not necessarily where we would wish to be.
If you would like to read the Aljazeera article then please google 'Closure of Rwanda's genocide orphanages exacts a heavy toll', 21st January 2016.
Meanwhile progress is being made in the land dispute with Mayega village and we are hopeful that this will soon be resolved, allowing us to fence the area around the children's home. The fence is not only a requirement of the government but is also wanted by the children. Too often, men drunk on village brew, make a nuisance of themselves around the centre despite the presence of a security guard. It looks like a suitable fence will cost over £2500 and so we will have to get the fundraising hats on again! It is a necessary, if unglamorous, objective.
 Busega Scotland Apprentice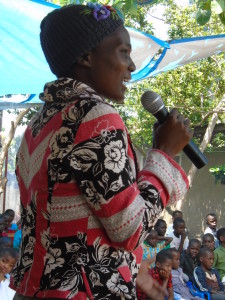 Julieth Godwin was appointed Busega Scotland apprentice in June 2015. She is a single mum and it is no easy matter for her to juggle family responsibilities with work experience placements. The apprenticeship idea is to offer young people who lack qualifications for social welfare work the opportunity to build up experience and a CV that will put them into the jobs market. This is predicated on the young person having an interest in social welfare and aptitude to take advantage of the opportunity.
Arnold and Valerie Barrow reviewed Julieth's progress and were impressed by the contribution she was making to the projects she attends. In one project she teaches English to vulnerable girls and the Barrows were decidedly positive, 'we were very impressed with Julieth's confidence, capability, enthusiasm and skill as an emerging teacher and for us this seemed to be an ideal placement'.
On Saturdays she attends another project for younger children who are also vulnerable.  The Barrows were again taken with what they saw, 'Julieth was inventive in the games she created for the children; she held their full attention and seemed to be a well-integrated member of the staff team.  Once again, her capabilities in front of a large group of children were fully demonstrated'.
We know that the Barrows are not easily impressed (!), so the reports from Tanzania were received very positively by the Busega Scotland Board of Trustees and Julieth must be commended for her efforts.
COSTO Community College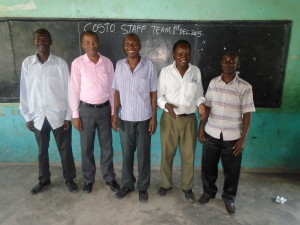 Michael Mashakas is a busy young man. He works as an English teacher in a Mwanza bible college and, when we are in Tanzania, he is our (long suffering) Swahili teacher. Michael also has a strong social conscience and a wish to provide educational opportunities for young people unable to fund a normal college education. COSTO stands for Community Solution Training Organization and runs Monday to Friday from 4pm, once pupils have left Nyanza Primary School.
Michael and four colleagues are COSTO, and teach a variety of subjects leading to qualifications in nursery teaching and hotel management and tourism. Fees are charged, but they are rock bottom and can be reduced if required. Currently COSTO has 37 students, 29 female and 8 male. Michael is nothing if not persuasive, and on our last visit John found himself teaching an impromptu lesson on customer care. As a 'grumpy old man' John has sounded off many times on his new specialist subject and so found the challenge less daunting than it may appear!
Many aspects of life in Tanzania are very different to Scotland and the unconventional is often a necessity. No college like COSTO would be possible here, as it has next to nothing, just teachers prepared to give of their time and students for whom the conventional is simply out of reach. Michael often talks about the 'challenges' in the lives of Tanzanians, and COSTO has many itself, but we wish it well and wonder what subjects we may be teaching on our next visit to Mwanza!
A real privilege
Families in Tanzania tend to be large and family meetings are held if couples do not produce enough children. Women in rural areas are still considered barren if they have less than 5 children.  Although infant mortality rates are improving children remain important in looking after their parents in old age. There are no state benefits to call on and pensions are rare.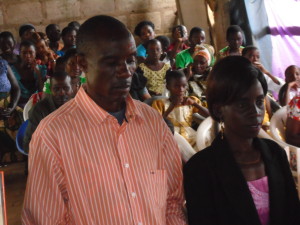 Tanzanians often have very elaborate weddings that could compete with any "Big Fat Wedding". We were privileged to be invited to a simple wedding and family celebration.  A groom must not look happy at the wedding ceremony as he is taking the bride away from her family. The bride was the daughter of a colleague.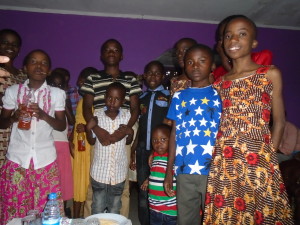 We had a little fun asking him to name all his grandchildren. He called upon his wife to help but between them they could not manage either. No surprise really as there were approximately 47 of them! No one was exactly sure.
Back in Scotland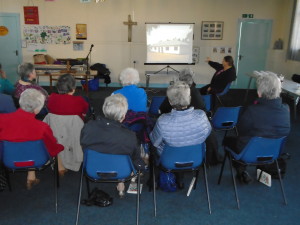 In February, the Lossiemouth Women's Guild, of the United Free Church of Scotland, invited John and Christine to talk about the work of Busega Scotland. John and Christine were delighted to meet Jean, who had spent time in Tanzania in 1982, living in Bagamoyo , north of Dar es Salaam.  Jean's husband was involved in training local fisherman.  The world really is a small community. The Speyside Belles also hosted John and Christine to one of their regular meeting in the Garmouth Hotel. The Belles showed their African knowledge in a Tanzanian trivia quiz that started off the evening.  We mentioned our appeal for jigsaw puzzles, to sell in the charity shop later in the year, and we have already had a good response.  Christine and John are available for talks to groups and organisations, so please put the word out on our behalf. The feedback on the talks so far has been good.
Trustees
The Busega Scotland trustees have been busy planning a series of fundraising events for the year and carrying out their statutory charity duties. Profiles of the trustees are now on the Busega Scotland website. The group consists of people with different skills in business, finance, housing and social work.  What they have in common is a commitment to make a difference by supporting people who have not had the kind of opportunities they and their families have had.
As well as the Quiz Night the trustees are planning a charity launch event in April, for which we will receive coverage by our local newspaper, the Northern Scot. There will be articles about these and other initiatives in our next newsletter, but as a taster –
MJD Systems, a local computer company in Spey Bay, are refurbishing laptops to be taken by Busega Scotland to Tanzania to use in our projects.
St James's Place Foundation has made a grant to our Moving –on Project of £2,500!
Mike McClafferty has successfully piloted a 'hairy bottle' at the Station Hotel in Burghead and raised £56.
I started this newsletter by saying that 'the work of Busega Scotland is becoming more prominent with support from many sources', and we hope our articles have illustrated that. We never know where the work of the organisation may take us – other than to Tanzania! Many ideas come, some work and some don't but what we need is the ideas to work on. So please, if you think of something, however wacky it may seem, please let us know as imagination is fast becoming the life blood of Busega Scotland.
Thank you for your continued support.
Christine and John Carney.
————————————————————-
Tanzania Newsletter 28 27.11.15
Registered Charity Number SCO46101
Yes its official! We are happy to announce Busega Scotland became a registered charity on 4th November. Our new status has meant a further delay with our new Busega Scotland bank account. We have had to start the application process from scratch as charity accounts come under a different branch of the Bank of Scotland. Hopefully we will soon have Gift Aid forms available for those of you who make donations.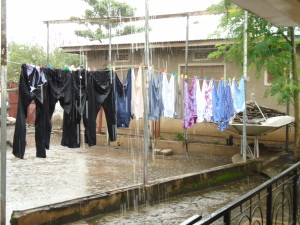 We arrived back in Tanzania on 12th November and it is the rainy season. We have been caught out in downpours several times. Apart from our minor inconvenience, the rain is most welcome.  The dams were empty and consequently all hydro power switched off.  We are experiencing daily power cuts, most lasting in excess of 12 hours.  Cooking was a problem as the house we are renting has a very nice electric cooker. John solved the problem by buying the "Bomb".  This very large primus stove is even colour coordinated with my kettle. Our living conditions are quite comfortable and due to a large water tank we have had an uninterrupted supply. You can live without electricity but water is essential.Tanzanian National Election
The closest fought election in the history of the United Republic of Tanzania saw the presidential candidate of the ruling CCM party elected with 58% of the vote. Dr John Magufuli, a chemical engineer by training, defeated the opposition Chadema coalition candidate, to continue CCM as the longest ruling political party on the continent. Local opinion is clearly divided. Some we speak to are Magufuli devotees, believing he will improve Tanzania's prospects and fight corruption. Others believe he is enough of a 'political insider' not to be able to challenge corruption and inefficiency at the highest level. However, as a minister he had a reputation for hard work and for getting things done – hence his nickname the 'bulldozer'.
The election results in the Zanzibar archipelago have been annulled for alleged voting irregularities, but the re-run of the election, in the semi-autonomous islands, will not affect the national result. Encouragingly, the national election was largely free of political violence, despite the close run campaign and we feel quite secure here, after having some concerns before we arrived. It seems Tanzanians pride themselves in their country's political stability – no coups or military takeovers since independence, some fifty years ago, and all the presidents have abided by the two-term constitution. After several weeks of concentrating on the election, central and local government are beginning to re-focus and get back to bread and butter issues.
Consequently, we were able to spend our first week meeting with various government officials as well as our Project Leader in Tanzania, Rev Gadlord Deuli. We have also been catching up with the Moving On kids.
Moving On Project
Ester and Kabula are now in the second year of their college courses. The rain has brought them some problems as their room was letting in water. They have moved into a smaller room just now but it is much too small. The girls are cheerful and enjoying being students. Rising prices in Tanzania are making it difficult for them to make ends meet as food and fuel are expensive. Kabula has now changed to a different college to continue studying to diploma level in Secretarial Studies. We are still seeking sponsorship for her.
Zabron is unemployed again. The hotel he was working in was not paying his wages. This is far too common a problem in Tanzania. Zabron is quite despondent. We are doing all we can to improve his chances of finding work but it is looking grim. We were able to pass on to him a donated mobile phone so he has a phone number to put on his CV. We have not caught up with Zawadi but know she has got married. Rev Deuli met with her, her husband and her mother in law to check on her situation and reported that all is well. They are staying in Mayega village and appear to be happy.
The main focus of our visit to Tanzania this time is to plan for our six school leavers. Their exams are now over and it is time for them to leave the orphanage at Mayega. It could be several months before they get the results of the Form 4 exams but college applications have to be made now.
We met up them at Mayega on 25.11.15.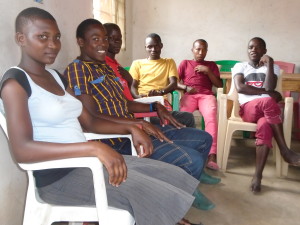 They all found the Form 4 exams difficult and it was clear that they were anxious about their results, which will not be available until February. Enosi and Hasan both want to continue to "A" level but they will only get a place in a Government Form 6 School if they do well.
Jane wants to become a nurse but does not have the right combination of subjects for entry, even if she passes. She sat Biology and Science but Chemistry is also needed for nursing. Kalemela Secondary School, which they attended, was also short of science teachers further diminishing her chances. We have found a college that will train Jane as a Health Care Technician and that can give an entry level qualification to nursing. The course starts in April 2016. Jane has only been to the outskirts of Mwanza once and that was over 4 years ago. She is used to rural village life so it will be a big step for her. As the only girl amongst this current batch of leavers we will look for accommodation that she can share with Ester and Kabula. Jane was asked if she would join the church choir in Mwanza, like Ester and Kabula. Could she sing? Her reply was that she could be a soloist!
We are considering Kalwende Church Service and Training Centre for some of the boys. Run by the Catholic Church this technical college has been in existence for over 20 years and teaches motor mechanics, metal working, carpentry and domestic electrical. It is registered with VETA , the national training body. Currently there are 120 students. It is in a rural location and so is self-contained, with student dormitories, workshops, a farm and classrooms. It was clear that they could do with some new equipment, especially in the motor mechanics workshop. However, they are receiving some international support from Germany and Holland and hope to have new equipment before the end of next year. The college is open to young people of all faiths and has as its ethos, 'service to the community'.
Three of the boys expressed an interest in studying motor mechanics there.
The diploma course lasts 3 years, and it will be quite a commitment from Busega Scotland to raise enough money to support them. The course starts in January and it will take approximately £700 per student for the first year alone.
Mayega Children's Centre
The discussion with Form 4 boys was long and involved, as it should be when discussing the future direction of any school leaver. Matron, Patron and Rev Deuli all contributed their opinions. Our role was mostly giving information, answering questions on what we had seen at the colleges we had visited and what options were available. We had to provide realism. Enosi would not be able to join the police with his current level of education and experience. The boys had many questions. We left promising to try to find answers.
By the time we met with staff, inspected the hens and the fabric of the building there was little time left to spend with the other kids, although we were able to teach them how to play dominoes and swing ball. Just for the record I thrashed John in our demonstration match!
The girls were very excited to receive earrings from a supporter in Scotland. On my last visit to Tanzania someone pointed out to me that the girls had folded grass in their pierced ears as they had no earrings. Like young girls everywhere they want to look good.
WATER AT MAYEGA – is the dream beginning to come true?
Regular readers of this newsletter will know that water for the Children's Centre is normally collected from a muddy inlet on Lake Victoria, with a walk for the children of over a kilometre each way. While children walking with buckets on their heads are something of an iconic image of Africa, it is time-consuming, hard work and not a little dangerous – crocodiles, hippopotami and bilharzia are prevalent in the lake.
Busega Scotland has been in discussion with Busega District Council and, in particular, the District Water Engineer, District Community Development Officer and District Executive Officer about the issue. At present there is a plan to bring piped water to Mayega; from the lake via a header tank in the hills above the village. The pump has been re-conditioned, the header tank is available and pipe leakages surveyed. However, work has now stopped, awaiting further central government funds.
At a meeting on 25th November Busega District and Busega Scotland considered an interim plan. The district has agreed to commit 3,000,000/- (approximately £950) to immediately survey and install a shallow well and hand pump, as near to the Children's Centre as possible. The water engineer will then travel to Mayega, with Christine and John, early next month to provide a specification on what is required to improve 'rainwater gathering' at the Centre. This means collecting rainwater off the roof and into a holding tank. Guttering is in place on the dormitory building but not on the dining room/kitchen/store. There is one holding tank already in place.
The collaboration at this stage is for the District to fund the well and pump and Busega Scotland the improved rainwater gathering. In the longer term the government intends bringing piped water into the village, and Busega Scotland is in discussion with a potential donor to supply the Children's Centre through a mains connection. If all three systems are in place then the children will have water security and the dream is realised, with no more hazardous visits to the lake!
The Nutrition Project
The hen house and run have been repaired, enlarged and redesigned, offering more shelter from the sun and rain. Some birds still make a break for freedom and several chicks greeted us in the dining room! They do not roam far as they know where the feed is. The local Community Development Officer again commented on how good it was that the kids were learning to take care of the poultry as when times are hard an income can always be found by raising a few hens. She confirmed how difficult it is for young people to find jobs. Tanzania has between 8 and 9 Million young people between the ages of 15 and 24 years.
FAMILY SUPPORT PROJECT – some successes and some issues.
The Family Support Project at Igombe is eighteen months old and twenty six families are currently participating. Igombe is a poor community, about fifteen miles from Mwanza, with many families suffering hardship and little prospect of improvement. The mainstay of the economy is fishing, but a transitory population of fisherman and lorry drivers has led to a very high prevalence of HIV and Aids. Many families have lost one or both parents, and often elderly grandparents look after the children.
In 2014 Busega Scotland realised that the traditional way of helping, through micro-credit, was beyond these families due to their personal circumstances and repayment conditions. Hence, the Family Support Project was devised to give very poor families a chance of developing small, sustainable businesses through micro-grants of about £50.
The project has developed along with the local community, to incorporate a Health Insurance Scheme and a women's self-help group. The health insurance is not as comprehensive as it might be due to the shortage of medicines at the local hospital, and the scheme will be coming up for renewal in the middle of next year. John will be meeting the responsible medical officer soon to consider progress and talk about subscription rates – at present Busega Scotland pays £6 per family for a year's cover.
The Women's Group has benefitted from health education and business advice, but its main focus has been on establishing a Vicoba, equivalent to our Credit Unions. This allows business development loans to be taken out and annual profits shared amongst participants, according to how much has been paid in. This could be used for school costs or pay for another year's health insurance.
Fourteen of the FSP women are currently enrolled in the Vicoba, with seven expected to join. The other five women are having particular difficulties. John has asked Alphonce Kagezi (the FSP co-ordinator) to report on what the problems are, with the possibility of 'special support', so the women can develop their businesses and join the Vicoba. One other issue has arisen in that group leaders (including Mr Kagezi and the local Community Development Officer, Matilda Mwita) are Vicoba members, which would seem to present a conflict of interest. John will explore this further with the group when he meets them, as the issue may less of a concern for the women and be a common practice in Tanzania.
One aspect of the Women's Group's agenda that has not developed is a plan for a co-operative business. This may be because Matilda Mwita was redeployed by the government for national election preparation. Initial ideas have included brick making and producing fortified flour. Busega Scotland is supportive of the idea, as a way of increasing incomes, but has been clear that any support must be based on a sound business plan.
The progress of the Family Support Project seems typical of most project work. The processes take a lot of time and effort and throw up many issues but the ultimate focus has to be on the outcomes and benefits for the Igombe families. It is difficult to work in a culture that is new and unfamiliar but principles of 'good practice' will transcend these differences, and are particularly important when Busega Scotland is responsible for its supporter's donations.
Wildlife
On route to Kalwende College we stopped off at Bukumbi Hospital to meet the director of the college, who happened to be donating blood there. While waiting for him we sat in the canteen and watched a troupe of Black-faced Vervet Monkeys. What a treat. They were totally unconcerned by our presence and came down from the trees and wandered past us.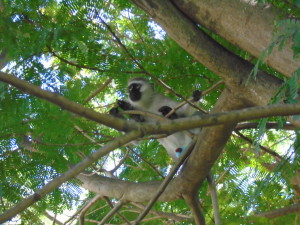 There were also a number of bright blue and red small birds, which we were unable to identify.
In our compound here in Mwanza we have Kites circling and landing in the garden on a daily basis. Bulbuls are frequent visitors. There are avocado, orange, lemon and guava trees .
We had a rather more unwelcome visitor to the garden this week but one of our two guard dogs dealt with it.
Another uninvited visitor was a drunk driver who crashed his car, flattening the gate and partially demolishing the compound wall. Just our luck! The gate has stood for over 10 years with no intrusions. It is now being rebuilt and should be back on its hinges next week. Meanwhile we have a good view of all that is going on in the street. It is very busy at 6am.
Despite this we feel safe in our Tanzanian home.
Don't forget to check out the Busega Scotland website for latest news on fundraising by our supporters. https://busegascotland.co.uk/
With Best wishes to you all,
John and Christine Carney
_________________________________________________________
Tanzania 27                         12.10.15
It has been a busy time for Busega Scotland, with a lot happening here and in Tanzania. We try to reach as many people as possible with news of our activities and a long newsletter does not suit everyone. For those of you who prefer more concise news updates, then please have a look at our website news page https://busegascotland.co.uk/
Mwanza
The people in Mwanza are facing hardships. A lack of rain in Tanzania means that both water and electricity supplies are cut. There is not enough water to run the hydroelectric power and, consequently, no electricity to run the water pumps that supply the city from Lake Victoria. The short rainy season is usually November and December and people are praying for the rains to start early.  In the HEPOAA office our project leader, Rev Deuli, has a small generator, provided by WABIA Network, to keep things going.
Mayega Children's Centre
At Mayega the solar power continues to work well but the children continue to draw water from the lake with no news on the water supply to the village.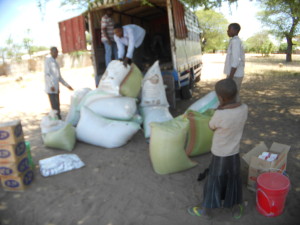 Rev Deuli was busy organising the bulk food shop for Mayega last week. It was more difficult than usual. Businesses have been closing down and there have been daily price rises. The lorry load of food cost about £100 more than usual but the orphanage now has all the basic supplies needed for the next 4 months. We are thankful to an individual donor who contributed generously towards this.
Traders have become nervous about the forthcoming general election on 25th October. Colleges and universities have been ordered to shut down from 16th October to 2nd November. Everyone seems to be busy with election campaigning and normal everyday life appears to be grinding to a halt. The elections are too close to call and the Chama Cha Mapinduzi political party could be ousted. Let's hope things pass peacefully for all in Tanzania.
John and I return to Tanzania on 11th November and we will update you on any changes.
Nutrition Project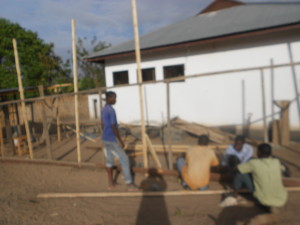 Repairs to the hen house and run took place at the beginning of October. Mr Dionez was again called in to complete the work at Mayega. The wood is soft and untreated, meaning that regular replacement is needed.
His other job was to repair a broken window in the boys' dormitory.
Moving-on Youngsters
For those of you following Zabron's story, I am happy to say that at last he has found employment as a chef in a hotel in Mwanza where he did his college placement. Busega Scotland provided the money needed to buy his work clothes. The hotel industry is particularly subject to market forces. No tourists mean a downturn in work. We hope the tourist industry flourishes for him to remain in employment.
Kabula has just completed a one year Introduction to Secretarial Skills and Rev Deuli is currently exploring options for her. It is likely she will not resume her studies until after the elections in November. She is still able to use the facilities at her college but with no electricity she has been working on a computer at the HEPOAA office using the generator.
Kabula travelled to Mayega last week to attend an induction ceremony, supporting Hasan who joined a student Christian organisation. The young people support each other as "family members" when there are no other relatives in that role.
Ester is in her second year at Mwanza Polytechnic training to be an Early Years Teacher and is particularly enjoying classes in Childhood Health and Community Care. Ester had her eyes tested last week as she was having problems reading the blackboard. Today she will be getting her first pair of glasses, as she is short sighted.  Many suffer in Tanzania with no spectacles because they cannot afford to pay for them. Her pair cost Busega Scotland about £32.
Our six Form 4 pupils will attend a school leaving celebration on 15th October.  Rev Deuli will be there to support them in place of a parent. This "graduation" celebration takes place before the National Form Four Leaving Exams, which have been re-scheduled for November.  These exams are very important for future life chances and we wish our pupils well. The Mayega children have not grown up in a culture of studying for success and many will be disappointed in their results. The young people were recently interviewed about what they wanted to do after school. One wants to continue studying through to Form 6 and we hope he achieves the grades to make this possible. One wants to be a policeman, one hopes to be a nurse or a secretary and the rest of the boys want to learn to drive and do motor mechanics. The big unanswered question is where can they find jobs?
Family Support Project: Health Education Training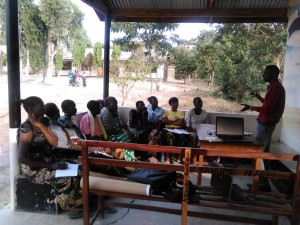 The women, who form our Family Support Project in Igombe, have teamed up with medical students from St Augustine University in Mwanza to receive much needed health education training. The students gave up their time, as volunteers, during the university vacation in September to deliver the course. They used DVDs in Swahili, produced by the UK based charity Thare Machi, as the basis for wide-ranging discussions on keeping families safe from a variety of health risks. The leader of the training, Felix Manyogote, said ' The trainings went on well and we were glad as we received great cooperation from the women group at Igombe. We firstly played the DVDs for them to watch and we later make some facilitation and more elaborations on the topic. At the end of the topic we then asked women some related questions to measure if they understood the topics. Good enough the women answered well the question. We also provided a chance for them to ask some questions related to the topics discussed and in relation to their health. We really received a lot of questions and tried to answer them professional in relation to health practices'. The women are enthusiastic about continuing the course and have asked if Busega Scotland can source material on urinary tract infections, cervical and breast cancer. We will do our best to meet this request.
The everyday work of the Family Support Project continues with four women receiving micro-grants, family payments and health insurance since August. The grants have been used to set up fish selling and vegetable businesses, and support another fifteen children. All four families have been affected by HIV/Aids.
Charitable Status
The beginning of October marked a significant milestone in the development of Busega Scotland. When John and I first went to Tanzania in 2014 our intention was to use our knowledge and experience to benefit local projects, but without taking responsibility for them. This was, after all, work in retirement! However, it soon became apparent that we could give, and get back, a lot more through a greater level of commitment. Establishing Busega Scotland saw us take more responsibility for the Tanzanian projects and their funding. The support we have received from home, and elsewhere, has encouraged us greatly and our current steering group have agreed to become trustees of Busega Scotland as a registered charity.
Yes, the milestone is that our application for charitable status has been submitted to the Office of the Scottish Charity Regulator (OSCR). It should take about three months for the application to be assessed, so we should be a charity in the New Year and plan to celebrate the achievement (watch this space!). Becoming a charity adds formality to Busega Scotland but, more importantly, pulls together a group of committed trustees dedicated to the charitable purposes of the organisation. The skills now available to us (and freely given by so many other people) bodes well for children and families in Tanzania, as we seek to do what we do in an ever more effective manner. For the record, the charitable purposes of Busega Scotland, as submitted to the OSCR, are as follow
The prevention or relief of poverty.
The relief of those in need by reason of age, ill-health, disability, financial hardship or other disadvantages.
The advancement of health.
The advancement of education
The advancement of citizenship or community development.
The purposes will be achieved by:
Setting-up and managing projects, schemes and activities in Tanzania, which will address the assessed needs of disadvantaged Tanzanian communities.
Making grants, and where appropriate loans, to individuals, or charitable associations, bodies and organisations in Tanzania
Volunteers Update
Over 60's meeting in Suffolk.
Valerie and Arnold Barrow spent last February in Tanzania, undertaking a programme of work at the Mayega orphanage and various other Busega Scotland projects. They belong to the Stowmarket Salvation Army Church in Suffolk, whose members have given generously to support our work with children, families and young people in Tanzania.
On 8 September 2015 the Barrows accepted an invitation to talk to their church's over 60's group, which meets weekly, and is attended by sixty or more members. During the meeting, in addition to giving a PowerPoint presentation on the work of Busega Scotland, Arnold and Valerie gave a live demonstration of a typical Tanzanian meal, comprised of rice, beans and a fish head.  Surprisingly none of the members requested the opportunity to sample the meal!  A further part of the meeting was devoted to a quiz, testing the members' knowledge of Tanzania and the countries surrounding it.  Finally, the members were each given a tube of smarties – into which 20p's conveniently fit.  They were shown a full tube, which contains around £12, and were invited to save a few 20p's, in the empty tube, over the next few months to further support the work of Busega Scotland.  On the day donations to the sum of £60 were received – a demonstration of the willingness of folk to support those for whom daily life in Africa is a struggle.
Fundraising
Thank you to the many people who quietly work away raising money for the projects in Tanzania. You know who you are! Thank you to the volunteers who give of their time and skills to support the work in many different ways. John and I are privileged to travel to Tanzania and see the difference that your efforts make.
The Moray Swing Band concert on 25th September raised the magnificant sum of £563.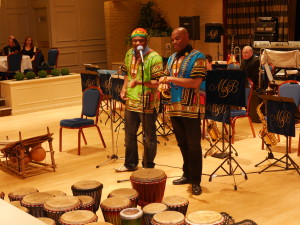 The charity shop in Lossiemouth has so far raised in excess of £1530 .
Andy is still counting his sponsorship money following his epic cycle around Royal Deeside.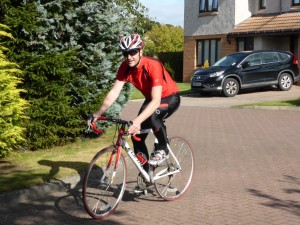 The raffle for the Christmas quilt, made by Ruth McIntosh, will be drawn on the 27th November, just in time to enjoy over the festive period. Raffle tickets are still available.
And finally……..
Don't forget tickets are now on sale for the next Quiz Night!
With Very Best Wishes,
Christine and John Carney
——————————————————————————————————–
Tanzania 26                        27.7.15
We started writing this from Hertford where we were cat and rabbit sitting for our daughter Ellen. We have had some time to reflect on the last few weeks of our latest visit to Tanzania. It was very busy, with some significant changes made in the way we are taking our projects forward.
PARTNERS IN TANZANIA
We were focussed on ensuring that Busega Scotland funds are as secure as they can be once they reach the country. In 2014 we worked very closely with Busega Children's and Development Services Assistance Tanzania (BCDSA TZ). However, it became apparent that the financial practices of BCDSA TZ were not up to the required standards. Busega Scotland insisted that money sent to Tanzania was used for its agreed purpose but it proved difficult to ensure that this was the case.
This difference in financial discipline was insurmountable and, with the help of Tanzanian officials, the Moving-on Project and Family Support Project are now partnered with Help Poverty Alleviation Assistance Tanzania (HEPOAA). The Mayega orphanage remains a registered BCDSA TZ project but an agreement is now in place that ensures the BCDSA TZ Managing Director 'will take no direct part in the management, operation, development or financial arrangements for the centre'.
In addition, BCDSA TZ now has no access to funds donated through Busega Scotland for any of our projects. A separate bank account has been opened with the help of HEPOAA and we are satisfied that our financial concerns have been properly addressed.
More information on HEPOAA can be found on the Busega Scotland website at https://busegascotland.co.uk/
MAYEGA CHILDREN'S CENTRE UPDATE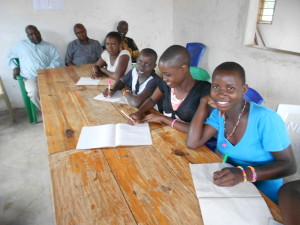 The children have been on exam study leave. Kids sit national exams at Standard 2 (Primary 2) Standard 7 (last year of primary school) and in secondary schools at Form 2 and Form 4. The new dining/community room is a good place to work.
During study leave extra tuition is provided at school for children due to sit exams. There is a fee for this – about £3 per child. Schools are under resourced and this looks like a way to get some extra income. I met with the local Ward Education Officer during my last visit to Mayega and was able to glean some information about the education system locally and the progress of the children.
He was able to confirm that the orphanage children had a good attendance record and he was happy that they were making good progress. He also commented on the handicrafts that the children had on display in the dormitory and said he would like his teachers to learn how to do cross stitch etc. I said he would have to ask the older children to teach them!
He was in Mayega delivering teachers' payslips. Tanzania is not up to date on data protection and he pulled them from an envelope to show me! They were dated March 2015 although it was now June. The government is often behind in paying salaries. A newly qualified primary school teacher was earning 350,000 Tanzanian shillings per month, although after deductions for health insurance, pensions and tax, the monthly take home pay was 190,000 /- or about £ 70.
He also showed me the latest statistics on classroom time for the nine teachers at the Mayega Primary School. It was very revealing, with most teachers spending less than 50% of their time in the classroom. I noticed one teacher was not there at all and asked about him. I was told that the local government office often seconded teachers to do government work due to their level of education. They can be pulled from the school with no notice. I suspected that these official statistics were probably not an accurate reflection of the time teachers spent teaching. Anecdotal evidence suggests that even when on the premises teachers spend little time in the classroom.
I was told there was no shortage of teachers in the Mayega area and if we wanted to employ someone to help with tuition at the centre we would have no problem recruiting. Most government workers try to supplement their income with a second job or small business venture. Add to that traditional family duties and it is not difficult to understand why teachers are often absent.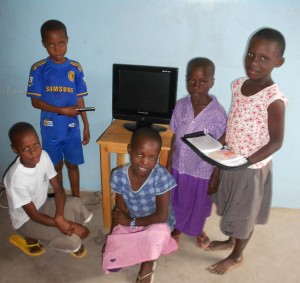 The children were delighted to receive a gift from the 2nd Elgin Scouts of a DVD player. This runs on solar power as there is no mains electricity at the village of Mayega. The hope is that exposure to films and other programs will encourage the children to speak English. We are looking for good quality second hand children's DVD's, so if you have any in your cupboards we would be delighted to receive them.
The boys have been very inventive constructing a sound system to listen to music in their dormitory. There is nothing hi-tech about it. They have two tiny speakers attached to a radio or mobile phone , placed on top of two empty plastic buckets. The buckets are very effective amplifiers. It is a solar radio, of course, with its own solar charge unit.
The children are for the most part in good health; Geoffrey is visiting the hospital for a recurrent ear problem. He has been treated at the local dispensary but the infection persists. Hasan did not have the eye operation we were expecting. He was very happy about that. The doctor decided to try another course of treatment and so far so good. It was thought best not to interfere with his sight while he is preparing for exams.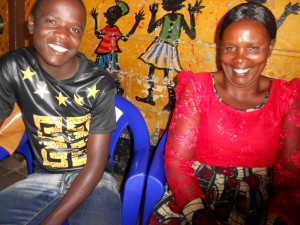 It was a long journey to the eye hospital and he and Matron had a three day trip. We met them for lunch in Mwanza, as they travelled back to the centre. Hasan had chips mayai, omelette with chips embedded in it, as a special treat.
We have made no progress yet on an estimate for the orphanage fence. We need to agree its location with the villagers. We are not sure how straightforward this will be due to the land dispute. However, the villagers seem keen on a fence. We have also been asked to supply a road sign pointing to the centre. Again the villagers, as well as our local government social worker, want this.
WATER FOR MAYEGA
While I was meeting with the Education Officer John was on safari in the Mayega area with the Busega District Water Engineer. There are some exciting developments here and we may be able to progress a water supply to the orphanage sooner than we thought.This is the stuff that dreams are made of – no more hazardous trips by the children to the lake to collect water but a safe, clean supply on tap at all times.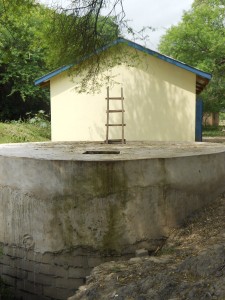 The water engineer is an enthusiastic, larger than life character who told us that in the 1970's water did reach Mayega from the lake via a storage tank in the hills above the village. He thought Italian aid had established the system that had subsequently fallen into disrepair.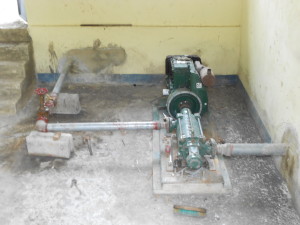 However, the government had commissioned contractors to recondition the system and he hoped the water supply would reach Mayega village again by the end of September. So off we went to inspect progress.
First stop was the lakeside, and sure enough a new pump house had been built and the old pump reconditioned.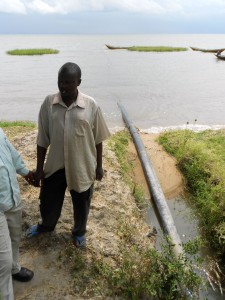 New pipes were in the lake and being positioned to gravity-feed a sump from which the water will be pumped to the storage tank high above Mayega.
It took a little while to find the tank but this was achieved with the help of some small boys herding cattle! We couldn't go too near as the structure had become home to African bees, who do not take kindly to being disturbed – they will have to be removed by government apiarists as the bees are a protected species. Nevertheless, the tank was there and looked ready to be filled.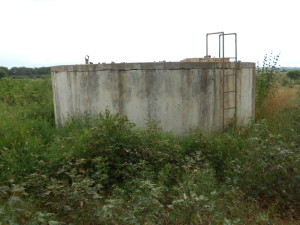 The engineer said that the contractors were now tracing and repairing leaks in the old pipes – nothing sophisticated here – just switching on the pump and looking for wet patches of ground! One branch of the pipework ends close to the orphanage and this is where a partnership between the government and Busega Scotland may commence.
The Executive Officer for Busega District said, in a meeting with John, that local government staff could help us design a water system for the orphanage and provide expertise and labour for its installation. The government is using its resources in getting water back to Mayega and so Busega Scotland's task is to generate funds to complete the system and bring piped water into the children's centre for the first time. That is the dream. So, please watch this space for what is now a major Busega Scotland priority.
NUTRITION PROJECT
The hen project has now been running for over a year and we have had our first losses. The virus that decimated the Mayega villagers' hens in early June also hit our flock a week later. Despite being vaccinated 33 hens died over a three day period. The majority were young birds. The remaining 53 hens appear healthy and continue to provide sufficient eggs for the children. This small scale initiative has won the admiration of government officials and local people, who see not only the obvious benefit of a supply of eggs but also the skills learnt by the kids in looking after poultry.
No trip to Mayega is complete without a stop at Nyashimo to buy fruit.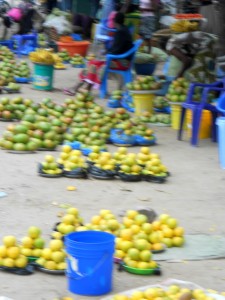 Nyashimo is the administrative centre of Busega District local government and about 12 miles from Mayega. The "wholesalers" are down by the lake, but on the roadside the woman sell fruit brought across the water, and by road, as well as grown locally. We heard that some oranges grown on islands in Lake Victoria are transported over twenty miles by open boat. You get what is in season at the time. Oranges were in abundance, but John was delighted it was the mango season. Bananas and pineapples were also plentiful. The children's diet has greatly improved over the last year but I fear it is still not good enough. Due to transport costs, the cook only buys what fresh fruit and vegetables are available in the immediate vicinity of the centre. The children reported receiving fruit about once a week. This needs to improve. Cabbage and other greens are the main vegetables in the village. Sweet potatoes are also grown beside the lake.
MOVING ON PROJECT
Zabron is having a hard time. It is demoralising looking for work and finding nothing. The downturn in tourist numbers seems to be the main problem. The Serengeti National Park officers keep in touch but it is unlikely this situation will improve in the immediate future. People are also nervous about the forthcoming national elections in October.
Things have not been straightforward for Zawadi either. She was laid off from the Star Max hotel due to the shortage of visitors but is now working in the hotel where she did her college placement.
Ester is waiting for exam results due on 18.8.15. We hope she will have done well. We are currently looking for sponsorship for her to continue her education beyond the basic grade infant teaching certificate. Unfortunately, she has been suffering some ill health and with her course finished has returned to the Mayega Children's Centre so that Matron can look after her. She was back at the hospital a few days ago and the news is that she is responding well to treatment. She has suffered a series of infections of water borne gastrointestinal amebiasis parasites and there have been some complications. Poor sanitation and compromised water supplies make this a common problem in Mwanza. She has been receiving injections and a course of medication. Her medical treatment in June and July has cost about £60.
Kabula has just two months remaining on her current basic secretarial duties course. Her exams start in early September and we wish her well. We spoke to her on Skype yesterday and she is fine and in good spirits. She also wishes to continue her education if we can find sponsorship.
Back at Mayega we have 6 young people who will finish school this year. Securing their future is a big challenge for Busega Scotland.
 FAMILY SUPPORT PROJECT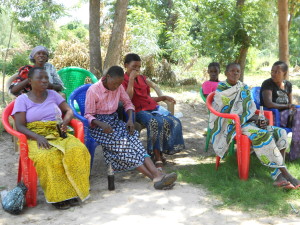 An llustrated progress report on our Family Support Project (FSP), based in Igombe, has been placed on our website. It is a positive story and well worth a read. https://busegascotland.co.uk/?page_id=11
The project has been operating for just over a year and currently supports twenty-two families. Many of the children are orphans, as parents have died through Aids and other causes. Plans, and funding, are in place to add another fourteen families over the next year.
The project now has three parts to it:
Micro-grant Scheme
Women's Group
Health Insurance Scheme
CARITAS, the catholic aid agency in Tanzania, is interested in replicating the FSP model in other locations. This reflects its success. Our project is maintained by donations received through four supporters and shows the difference that can be made by the small scale 'people to people' approach favoured by Busega Scotland.
RAISING FUNDS
Our enthusiastic Busega Scotland Steering Group is hard at work developing a plan to put the work in Tanzania on a firmer financial footing. The idea is to combine fundraising events with the promotion of regular giving. Events are great at addressing particular needs (such as the solar installation at Mayega), while regular donations help to cover ongoing costs, particularly the day to day expenditure at the orphanage.
Three major events are at different stages of organisation.
Etape Royale
On Sunday 27th September steering group member Andy Lees is tackling the 102 mile Etape Royale cycling event in the north of Scotland. The event website describes what is awaiting Andy:
The 102 mile circular route, starting in Ballater and takes you on a traffic-free journey via Dufftown, the Lecht and back to Ballater on the banks of the River Dee. The route has a real mix of scenic rolling roads, challenging ascents and alpinesque descents through a wild landscape scattered with iconic whisky distilleries. The King of the Mountain Climb over the mighty Lecht will see riders test themselves against the clock as they grind steeply upwards over a 1.5 mile stretch in the most testing climb of the day. The Etape Royale experience will leave a lasting impression on all the senses!
Details will be circulated closer to the time on how you will be able to sponsor Andy in this mammoth challenge!!
Moray Swing Band
If Andy needs to chill out before climbing into the saddle then what could be better than big band music at the 8 Acres Hotel, Elgin on Friday 25th September? Well known right across Moray, and with a large following, the Swing Band has agreed to headline our Busega Scotland concert. The band was formed in 1980 to promote jazz and swing music, and will be supported by Brother Suleiman (a solo drummer) and another local band.
Full details about the concert, including ticket information, will be available soon.
Charity Shop
Our busy September will be topped off with Busega Scotland's first foray into the world of retail. With the help of support group member Chris Petrie, the pop-up charity shop in Lossiemouth has been booked for two weeks between Saturday 26th September and Friday 9th October (excluding Sundays).
We will be selling the usual charity shop goods including clothes, toys, books and household items. Sadly we cannot take electrical items and don't have room for furniture. We will let you know shortly how you can make donations and/or help out in the shop. We are also looking for unwanted gifts you may have received. We can use these as raffle and "game" prizes. But if you have anything to donate that needs picking up just now then please contact John or Christine on busegascotland@gmail.com or call 07936 383800.
As ever, all the money raised through these events will be used for Busega Scotland projects in Tanzania. Busega Scotland has no local operating costs and all our volunteers are self-funding.
Thank you for your continued interest in the work of Busega Scotland.
With Best Wishes,
John and Christine
---
Tanzania 25 – 9.6.15
In Tanzania, just like anywhere else, some days are ordinary as you follow the routines of work and get on with your tasks. Some days are anything but ordinary. A couple of weeks ago we travelled to the orphanage at Mayega with the help of CARITAS , the Catholic relief agency in Tanzania. Their Mwanza field worker, Mr Mashimba, had offered us the use of an old Land Cruiser and a driver. The worst part of the journey is actually near our home in Mwanza and we are beginning to realise that we are not as hardy as we once were. Being thrown around a lurching vehicle on a road that resembles a river bed is no joke; however we soon hit the tarred road. Our first stop was the Tanzanian Red Cross in town. We had heard they were distributing free mosquito nets and we wanted to register the children's home to receive them. They also had 900 pairs of shoes to distribute.  Bureaucracy got in the way. The Mayega Children's Centre is in the new Simiyu region and so could not be part of the programme. The Red Cross said they would try to sort things out with our local office but we shall need to wait and see. Meanwhile we have purchased 10 mosquito nets in the market, marked "Free must not be sold", to replace the torn ones at Mayega and keep the children safe.
Our next stop was the Caritas office, where we were advised that the village leaders wanted to talk with us in Mayega . Our driver could act as interpreter. Mr Wana is an interesting man and works with a Caritas programme for orphans and street children in Mwanza. They have established a library and school support study centre. Their project is impressive and mostly funded from the Netherlands. Onwards to Mayega where we received our usual warm welcome and saw the progress on the second building. It was great to see the new ceiling in place and the solar power up and running. Staff reported that the system is working well and the dormitory modifications mean that there is light all night rather than just for a few hours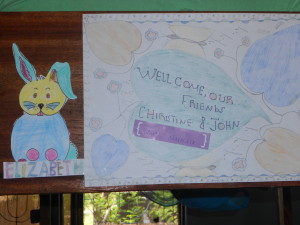 The village leader joined us for a meal and informed us that the villagers were unhappy. When they had released the land for the building of the Children's Centre over 10 years ago they were promised many things for the village, including construction of a village office and two schools but they had received nothing. They were looking for compensation to restore good relationships between the village and Children's Centre. John's powers of diplomacy had to go into overdrive to get reassurances from the village that there was no quarrel with the Centre, or its staff, but with the person who had made the original empty promises to them. John also made it clear that Busega Scotland did not have any liability for these issues. Violence was threatened against the Director of BCDSA who has been told he is not welcome at Mayega and should not show his face there. Negotiations in the villages are usually conducted by men so I kept quiet for once!  Land disputes, we have learned, are not uncommon in Tanzania and this is likely to run for a considerable period of time.  At a follow up meeting with about 40 village elders and government representatives, the village decided to sue the Director and asked for him to be removed from the organisation.
There is a lot of sand in sub Saharan Africa and during the last few weeks it has been, metaphorically speaking, hard for us to find solid ground. Our response to the BCDSA concerns has been to bring in government representatives at District and Regional levels.  The Regional Director of NGO's in Mwanza is currently investigating the situation and we are thankful for all the support we have been receiving from government and non-government agencies alike.  Meanwhile we continue our programme of work.
Mayega Children's Centre Update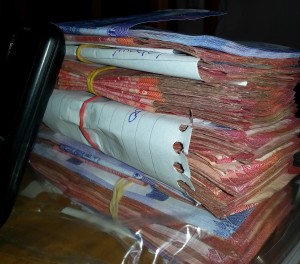 The largest currency note in Tanzania is 10,000 shillings.  This is what 4 million shillings looks like. It is quite a bundle to carry around. The accountant and I split it between us when we went to buy the solar system and roofing materials. The workmen worked well and the kids enjoyed having them around, while the work was ongoing. One of the best moments of this project was a donation of 40,000 shillings the workmen made towards the Children's Centre.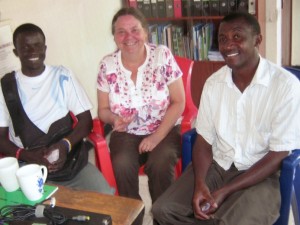 It is the first donation we have received from Tanzanians and it came from two ordinary men. One said, "I am a father of three children and I can see these children have a hard life".
Another improvement at the centre is the purchase of 6 benches to supplement the seating. The plastic chairs purchased last year are now in use in the dining room and more seating was needed for activities and visitors. Each bench cost about £13 and they were made by a carpenter in Mwanza. He did a really good job and they are quite solid.
They travelled to Mayega on the bulk food lorry last week which also took the supplies for the next 4 months. The benches were put to use immediately with two being placed under a large shady tree where we always congregate. The others went into the dormitories.
We travelled the same day and took with us Grace Mmasi , the social worker in whose patch the Mayega Centre sits and Matilda Mweta, a community development worker we know from our work in Igombe. The two ladies did some health and hygiene work with the older girls and it was an opportunity for me to talk to the girls through a female translator. This was very successful and it was good for the girls to have two professional Tanzanian women as role models to encourage them. The ladies also did some child protection interviewing to check all was well with the girls. Grace commented that the Children's Centre was just like a real home and not an orphanage. I thought this was a great compliment for the staff.  What they lack in education and training they make up for in the care they take of the children. Matilda commented on how clean and tidy everything was and the children's skin was in very good condition. She has visited many orphanages where this is not the case.
The Mayega children have  been on their second shopping trip this year to Lamadi. The first time it was to buy sports shoes. This time it was to buy clothes. Each one was given about £6 to spend. They were advised to buy sandals (about £1 each), underpants (£1 a pair) and spend what they had left on anything they needed. The children were very happy indeed. I understand that most of the boys bought a shirt. The younger children were helped by staff to choose their items, but the older ones were able to wander round the market to find what they wanted. Matron was also given some extra money to buy much needed bras for the older girls.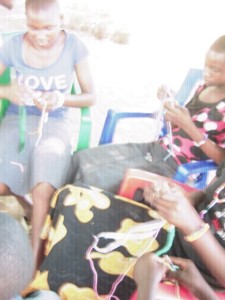 More recreational activities have been introduced at Mayega and the kids usually manage to work out how to do things themselves. The girls in the photograph were busy making bracelets with old fashioned knitting dollies. If you are too young to know what I am talking about I will describe them to you. They used to be made from wooden cotton reels. Four nails were hammered into the top of the bobbins to make a square and you wind the wool round them to "knit" a long tail which emerges through the centre. A joiner in Moray made them for us using a broom handle which he drilled and cut up! Each one was carefully varnished and the girls have loved using them. As usual the older girls taught the younger ones what to do.
The girls decorate the end of their bunk beds with their handiwork. It brightens up their surroundings as the paint work is drab.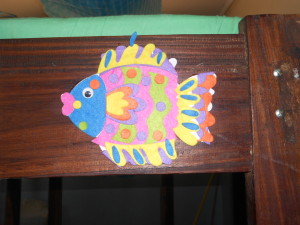 Everything needs a lick of paint  but the priority must be the new building, as we have bare ceiling boards and walls.  We continue to be pressed to erect a fence around the Children's Centre in order to safeguard the children and comply with Tanzanian Children's Home Regulations. I fear we are going to have to move this up the priority list despite the need for so many other things. We will try to find time to get a new quotation but I need someone to take this forward for funding. I think a letter campaign to construction firms in the UK to finance it might be needed.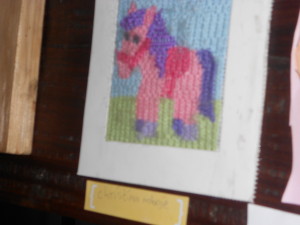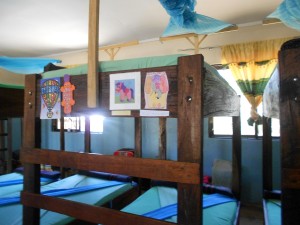 Wildlife Update
The landscape has been transformed by the rain and there is still a lot of standing water. The ponds by the side of the road are beautiful, covered in large lily pads.  As the rain has greatly diminished, the temperature and humidity have increased.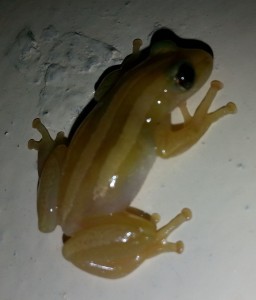 International rescue has been called into action less frequently at our temporary African home but there is still a plague of frogs. Having witnessed one escape round the U bend of the toilet we now believe this is their entrance route as well as the exit from our bathroom. They pose us no harm unless we were to lick their skin! The biggest problem is we could stand on one. We seem to be visited by at least three different varieties. In response to your feedback I photographed this one clinging to our bathroom wall. It is a striped leaf folding frog. He is about the size of a 50 pence piece. Tonight John rescued a small lizard that was clinging to the inside of the kettle rim. The kettle was on the gas at the time. We also had the excitement of a bird flying in through the window of our vehicle returning from Mayega. We had to stop and open all the doors for it to escape.
The Mayega children collect water at the lake and carry buckets back to the Centre. They have to be careful not to encounter hippos in the early evening when they come ashore to forage on the banks. John was advised, when there last week, that he should head for the sweet potato field if a hippo approached him. Being a low slung animal they do not like the deep ridges that sweet potatoes are grown in and tend not to follow you over that ground!
Our garden is wet and boggy and has attracted Sacred and Hadaba Ibis, Open Billed Storks, kites, fire birds, egrets, kingfishers  and many LBJ's (little brown jobs) that we cannot identify – sorry to the ornithologists among you.
Hen Project Update
The hens continue to do well. With the increase in temperature we are trying to provide more shade for them and have just bought two very large tarpaulins to do the job. We shall tie them to their enclosure to extend the covered areas as we noticed they were all seeking shade on our last visit.  We really could do with planting trees around but that is not on the agenda … yet!  The hens appear in good health and were recently vaccinated by visiting government workers. A lot of poultry had died in the village but up till now our flock has not been affected. This small scale project continues to be successful but still requires some financial support.
Currency in freefall
A recent headline in the Tanzanian Guardian was "Shilling's decline overpowers Bank of Tanzania". When we got 400,000 shillings from the cash machine on 18th April it costs us £142.40. The same transaction on 7th June cost us £120.47.  The Governor of the Bank of Tanzania has blamed the shilling's decline in value against hard currencies on a lack of foreign exchange at the treasury, as overseas donors are refusing to release promised funds due to a major corruption scandal. He also blamed the recent Al Shabaab terrorist attacks in Kenya as having a devastating effect on the tourist industry. Safari holidays at the Serengeti National Park are a major foreign exchange earner. In the short term donations to Busega Scotland are worth more than usual, however, prices in Tanzania are rising sharply. This is a disaster for the most vulnerable families who already struggle to buy the basics. Staple foods have already had a price hike. It was no surprise that the bulk food shop cost more than usual in Tanzanian shillings but was about the same when converted to pounds sterling.
Moving On Project
The lack of tourists is also making job hunting for Zabron and Zawadi in the tourist hotels more difficult.  Serengeti National Park staff returned to the Mayega Children's Centre on 30th April and promised Zabron a job when business picks up but that could be several weeks. The high volume of rain was also affecting the number of visitors to the Serengeti as many roads were still impassable and the increased vegetation makes it more difficult to photograph the animals. Zawadi has been promised a job and has already returned to Mwanza in the hope that she will start soon.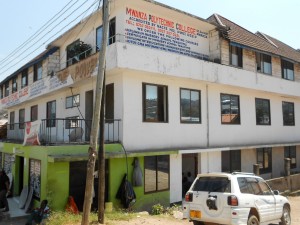 We visited Esther at Mwanza Polytechnic to check on her progress and met with the principal and academic advisor. They informed us that the Ministry of Education was improving training for early years and primary teachers and want all students to study for a further two years after completing the teaching certificate that Esther is currently doing. It is still possible to teach in English medium private schools with the teaching certificate but the polytechnic advised Ester to study for the Teaching Diploma. She has also got the learning bug now and wants to continue, if funding can be found. Teachers with the Diploma are currently guaranteed a government job.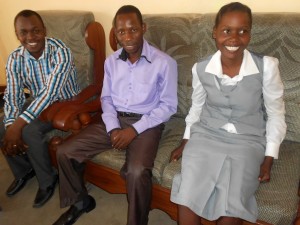 Ester is currently writing her placement report following a month of teaching practice. We visited the primary school where she did her placement. It was a private school so most classes had about 40 pupils but we understood the actual number per class is nearer 50. Many children had been sent home as their school fees were overdue.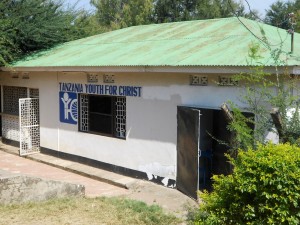 We also visited Kabula at the Youth for Christ Development Centre where she is undertaking a secretarial course. It was a similar story to Esther's, with Kabula advised to go on to further education. We were able to see the academic reports on both girls (who are progressing well) and look round the small colleges.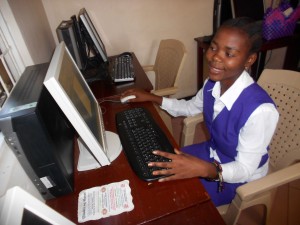 We have been looking for opportunities for the 6 young people at Mayega who will sit Form 4 exams later this year. We are not clear about the date yet as the upcoming election in October may mean a change to the usual schedule. Results will be available in January/February 2016 and most further education courses start in July or September. This means we have a few months to raise money to support them. We visited VETA, a government sponsored vocational training centre and were impressed by the orderly environment and industry of the students.  There are ten applicants for every place but we hope some of the Mayega kids will apply. It's a technical college teaching about a dozen  practical skills including welding , electrical installation, plumbing, motor mechanics, driving, computer skills, secretarial work etc. Anyone can set up a private college in Tanzania and it's difficult to get a sense of what is good and what is not.
Family Support Project in Igombe
The FSP has made some potentially large strides lately. Some extra donations have come in and John anticipates distributing 34 business start-up grants over the first two years of the scheme.
An agreement has been reached to start women's groups with FSP families. The groups will be run by the local Community Development Worker, with objectives around building larger businesses, establishing Vicoba schemes (equivalent to credit unions), providing business support, advice and guidance and with a health and wellbeing programme, delivered by local medical students.
We hope to sign an agreement this week with Karume Hospital for FSP families to get free medical treatment, as part of a Health Insurance Scheme we have been negotiating. We already have a budget for this and it will cost Busega Scotland about 6 UK pounds per family for a year.
These two initiatives came out top in a cost-benefit analysis exercise carried out with the FSP Steering Group.
Congratulations to our colleague, Felix Manyogote, on winning a National Award. He is one of the medical students delivering the FSP health programme.  'Tanzania young professional awards honour young people at age of 18-35 years who have demonstrated exceptional contributions in their communities and nation in developing solutions to problems that has received insufficient attentions.'
Felix won in the category (SAGE) Social Impact or Community Actions.
Church
John and I were invited to the Charismatic Episcopal Church of Tanzania Cathedral at Ibanda a couple of weeks ago. The building is a shell with about £6000 needed for construction. Churches are going up everywhere in Tanzania and people are flocking to them.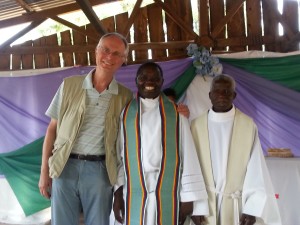 Canon Andrew, on the right is 76 years old, and very sprightly. He puts us to shame with his energy. The children sitting on the sand floor were very well behaved. I was given the honour of preaching at the service.  Rev Deuli, who acted as interpreter, said, "See – even a woman can preach here". He also suggested to the congregation that John knew the names of all the Liverpool players but doubted whether he could name all Jesus' disciples! John said that was probably right!
Volunteer Enquires
Following our article in the Professional Social Work Magazine we have had a couple more general enquiries about volunteering in Tanzania and will keep you posted of any developments.
Help Poverty Alleviation Assistant – Tanzania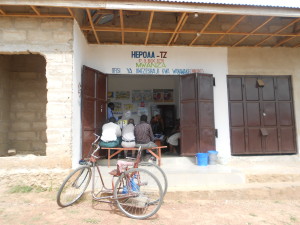 The BCDSA accountant Rev Deuli has established his own NGO called HEPOAA. It has similar aims to Busega Scotland and we are working hard to become closer partners with the new organisation. Importantly, John and I have been co-opted onto the HEPPOA Board of Directors. This will allow us to influence the development of HEPPOA into having good organisational disciplines.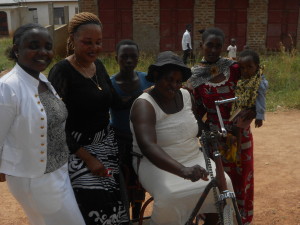 HEPPOA's sponsor is WABIA Network UK, which has provided capital for micro-credit loans. John and I were invited to the latest distribution ceremony. Women received loans to establish, or develop businesses, in retailing fish, cooked food, vegetables and clothes. The scheme is based in Kiseke, a small town bordering Mwanza.
A couple of anecdotes and return of 'Word of the Week'
John was completing the booking on Fastjet for our return journey to Dar es Salaam. He had reached the 'Book hold baggage' section when he noticed another service the airline was offering. For $5 you can 'Book a bucket of fish' in the hold, but rather sternly the website also commanded that this 'must be shrink wrapped at the airport'! What a relief!
The decline of Liverpool FC is evident in Mwanza by the disappearance of Liverpool paraphernalia off the local minibuses, known as 'dala dalas'. Last season Luis Suarez, Steven Gerrard etc were everywhere but alas not now.  Phillipe Coutinho can still be seen, as can 'Steven Gerard' (gone and almost forgotten!), but there is a dala dala back window featuring both Daniel Sturridge AND Nelson Mandela. The irreverent, but football minded cynics amongst you, will hope that Sturridge makes more appearances next season than Mr Mandela! And so does John!
You may not believe it but we have had a request to bring back 'word of the week' – so here it is.
We understand that there is a worldwide shortage of avocados but not here in Tanzania – they are everywhere and about three to five times bigger than the supermarket Hass variety in UK.  Even more good news – they taste great, cost about 20p and have the lovely Swahili name of 'parachichi'.
We have only two weeks left of this visit and much still to do. Life is never dull.
John and Christine Carney
---
28.4.15
Dear Friends,
The Frog in the Bog
International rescue swung into operation today to capture and then release a tiny frog from our toilet bowl! We had been aware of his presence throughout our first week back in Tanzania but until today he had evaded capture. John donned rubber gloves for fear of its threat to humanity, or was it just because it was in the toilet? The small snake at the front door did not fare so well and was killed by our Masaai guard. Christine had a rare sighting of a vervet monkey from the dala dala taking her and Rev Deuli into town last Friday. Of course, there were a number of cockroaches to greet our arrival at the Bwiru house in Mwanza. It was rather disconcerting to have two of them living in the toaster. As we turned up the heat they made a bid for freedom. I am a murderer. They did not make it. The toaster is now stored in a bucket with a tight fitting lid. Oh and bye the way…. we ate then toast!
STOP PRESS —- Frog number 2 just rescued from the same shower room! How are they getting in?
Support from Turkish Airlines and Fastjet
Our journey to Tanzania was eventful. We were booked to fly from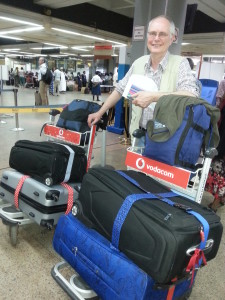 Edinburgh>Istanbul>Dar-es-Salaam> Mwanza. With the incoming flight late to Edinburgh it was impossible to make our connection in Istanbul. Turkish Airlines staff pulled out all the stops to re-route us. Our luggage was a problem as we had been given an extra allowance by Turkish Airlines to support our charity work, but it all worked out in the end. We were re-routed to London and then on Kenyan Airways to Nairobi, with an onward flight to Dar. The Dar flight was late and so we missed our Fastjet connection to Mwanza. The tickets were not changeable but we had previously won two return charity tickets from Fastjet, and an email to Gatwick asking if we could use them was responded to immediately. Fastjet Charity had helped us previously with extra baggage and acted superbly again. The Dar es Salaam staff were also full of smiles and did everything they could to help. Our difficult situation was made easy by the airline staff in Edinburgh, Gatwick and Tanzania. Hats-off to them!
It is raining with a vengeance.
As the plane approached Mwanza through the clouds we could see that the land was very green. There had been a lot of rain. The runway was flooded and the bus that took us to the terminal building made a large bow wave. It has rained every day since our arrival. The farmers who were desperate for rain are now finding that it is too much and crops are yellow and flattened. In Mayega village members of the CCM ruling political party were out seeking donations to help families whose dwellings had lost their roofs or they had been flooded out. Churches have also been badly damaged. Our roof is leaking and surroundings a quagmire, however our problems are minor in comparison to many rural people. The rain is reducing the temperature to around 24 degrees and that helps us to acclimatise. As I write this the sky is sparking in all directions, the curtains are blowing in the wind and the noise of the thunder is deafening. The rain has started and will no doubt continue for several hours.
Igombe
On Friday last week the government closed the road to Igombe due to safety fears. John travelled there by bus on Thursday and knew at first-hand how bad things were. He had not seen such a churned up road since our days in Zambia. The massively overcrowded bus travelled at walking pace and lurched from side to side to avoid the water. Anyone travelling to and from Igombe now has a much longer journey, along another dirt road that will inevitably deteriorate with further rain.
Igombe is the home of the Family Support Project/ Micro-grant Scheme, supported by Busega Scotland, and a school support project financed by WAZA Canada. The photographs show Bugogwa Secondary School pupils receiving uniforms and school materials.  John's remit was to report on the presentation for WAZA and on any improvements that can be made to the scheme.
 NGOs often help each other out and we have found the network very useful. The WAZA scheme also supports the children at Mayega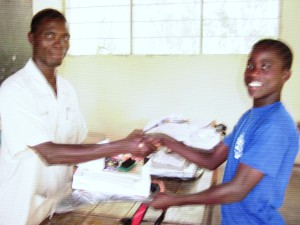 Family Support Project
John held a very productive meeting with Alphonce Kagezi and Matilda Mwita to plan the next
meeting of our FSP Steering Group. Mr Kagezi is the supervisor of the Micro-grant Scheme in Igombe
and Matilda a Community Development Officer. Previous evaluation work has been carried out on
the scheme, but this has not involved the opinions of the steering group members. The evaluation
questions were agreed and we moved on to discuss other priorities for the Family Support Project.
We have some money in the budget, apart from that designated for micro-grants, and need to agree
prioritised expenditure. We practised a cost-benefit analysis exercise, based on the risk assessment
grid (likelihood x impact). It seemed to work, and our colleagues said it should reduce the amount of
discussion through a bit more focus (sounds familiar)! For the record, the priorities identified in the
'dry run' were establishing self-help groups, enrolment of families in the government health
insurance scheme and obtaining birth certificates for those families involved in the FSP. It will be
interesting to see what the steering group comes up with.
Mayega Children's Centre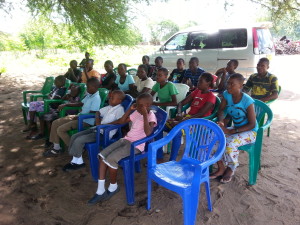 Everywhere we go we are warmly received and
it has been wonderful meeting up with 'old'
friends. As news of our arrival spread we
received phone calls and visitors. The children at Mayega were impatient to see us and we received numerous text messages and calls, asking us when we were going there. Sometimes the English was difficult to interpret but the message was clear, they could not wait to see us. They said they were crying and worrying that we would not come.
We really could not keep the children waiting and arranged transport last Saturday. What a welcome! Everyone greeted us. There were hugs and handshakes from even the shyest of children.I have to tell you how healthy and strong the children looked. Their improved diet and access to health care is reaping benefits. We were also delighted to hear that the bed bugs have been eradicated – a major step forward.
After a formal welcome and worship, including prayers of thanksgiving that we were all together again and call and response singing, we held meetings with the staff, the children's committee and the Form 4 students. We asked Hasani, one of the older children, to translate for us. This meant the kids could talk to us openly and without inhibition. They explained the difficulties they faced and complained about the cook. They said the biggest problem was a lack of clothes and asked for new sandals, cutlery to eat their food and some school books. Monica, their health and environment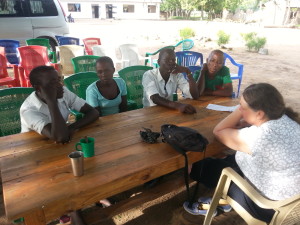 committee member told us that they needed
more mosquito nets as some older ones had
perished. She also asked about a water supply
for the centre as the children have to carry a lot
of water from the lake. Another problem was
the solar. It appears that the wrong lights were
fitted in the dormitories and so the power is not
lasting as long as it should. It will take about
£120 to put this right, as the fittings will need to
be changed as well as the lights.
We travelled to Mayega with two technicians to give us quotes to install solar in the new building and to construct a ceiling. We also asked for a quote to paint the building. We had some verbal negotiations with the starting labour charges ridiculously high. We told them so and are now waiting for their written quotations. It is important that a fair price is arrived at for the work, neither slave labour nor inflated 'muzungu prices'. It is clear, as always, that we will be short of money. The building has such great potential but will need basic furniture and equipment, educational materials and books. The staff asked if they could use the store room as an office but we negotiated multi-use of all the rooms.
Mayega has 6 young people due to complete Form 4 School Leaving Certificate and we met with them briefly to hear their aspirations for the future. We will spend more time with them on our next visit. A search of the Bwiru office was fruitful and we found the Leaving Care Plans that we started last year, including the individual interview records for the children. It will be interesting to see if their thinking has changed when we interview them again.
We took a couple of dictionaries and calculators to Mayega, as requested by the children, and one small suitcase of goodies. Thanks to the generosity of many people we had gifts of the calculators, crafts, table tennis supplies and shuttle cocks, simple English language story books and sewing materials. We do not wish to appear like Santa Clause and will introduce different activities over the coming weeks. We were delighted to see the first cross stitch pictures made with Valerie Barrow. The girls had them pinned up at the end of their bunk beds. The dormitories were neat and tidy and much more homely now with curtains covering the windows. We gave the children some loom bands to keep them occupied while we talked with the staff and everyone became busy making bracelets. We also had some small lego kits and without any instruction the young boys followed the pictures and made trucks, diggers etc. It was a hive of activity. There was a great deal of laughter when I demonstrated how to use a Kazoo and the natural music talent in the youngsters came to the fore. We have not told them about the television and DVD player yet. We will wait till the solar is upand running in the new building before introducing that to them.
We are facing an uphill struggle financing the orphanage this year. The micro-credit scheme of BCDSA Tz has collapsed with a loss of income for the centre. The Mayega Children's Centre was receiving about £125 per month from the scheme. It looks like financial mismanagement is the root of this problem and no quick solution is in sight. As our monthly spending already exceeds our monthly income we continue to rely on fundraising events to keep things going. If you have a good fundraising idea or would like to make a regular donation then please let us know.
Hen Project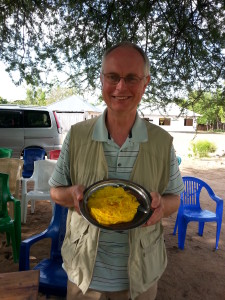 We enjoyed a simple meal at Mayega of rice, beans and cabbage.
We were also served an omelette made from Mayega eggs. They
were delicious. The hens appeared strong and healthy. Some had
lost condition, moulting, but this is normal and the feathers were
growing back. How many hens? I don't know. They are not easy to
count. The children confirmed they are receiving eggs twice a week, on Wednesdays and Sundays. They also confirmed they were receiving fruit and vegetables regularly.
There were 62 eggs in the store and this month 3 trays of eggs had been sold in Lamadi. Their sale helps to pay for the feed costs but the roosters have been busy and there are a lot of mouths to feed. This project is not fully self-sufficient yet and will require continued financial support. We alsomet Mr Ndogu, who advises the Mayega staff on keeping the hens. He was happy with how the project was going and explained his recent advice to staff. We also learned how talented he was when he led the singing at Rev Deuli's church.
Bethany Family
We visited the Bethany Family and met with David Borland, the UK treasurer, who was visiting their
orphanage. He and Eliadah, their local accountant, gave us some practical advice, and the support
and encouragement we receive is invaluable. As new kids on the block we need all the help we can
get in improving the lives of the children at Mayega. The Bethany orphanage and school is 5 times
the size of our children's centre. We discussed accounting systems and Eliadah is willing to train Rev
Deuli in the use of their system, if we decide to adopt it. We also had a long discussion on further
education and training opportunities for school leavers and food purchasing. John visited the
Bethany farm, which the children help with. The farm also has 35 cows and that is food for thought!!
Moving On Project
There is good news and bad news. Zabron and Zawadi have not been able to find jobs and we met
them at Mayega, where they had returned as they did not have money for food or accommodation
in Mwanza. They are too old to be at the orphanage now and we will need to find a quick solution to
this problem.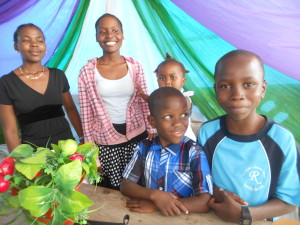 Ester and Kabula are blossoming into more confident young women. We caught up with them at church on Sunday. They were singing and dancing in the choir and after the service came and greeted us. Last year they kept their heads down respectfully and did not make eye contact. Like most of the Mayega girls they appeared very shy. This time they were laughing and initiating conversation. Ester was recovering from a nasty parasitic infection. She is now on teacher training placement and doing well. Kabula has had a good college report andher English is much better. She will also start a practical placement soon.
I was able to get a pupil perspective on how Ester was doing as she is teaching at the school attended by Lulu, the daughter of our young friend Julieth. Lulu is six years old and said Ester was a good teacher. For her part Ester reported that Lulu was a good student! Lulu has had some health problems lately but is receiving treatment.  We were delighted after our long and tiring trip to Mayega to find that Julieth had cooked supper for us and brought it to our house. What a wonderful gift. She cooked a vegetable stew of potatoes, green peas, carrots, peppers and an avocado salad.
Church
During Sunday's service we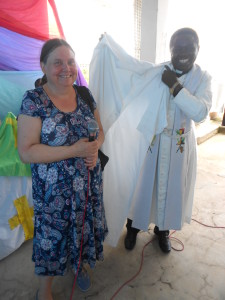 presented Rev Deuli with a robe, a giftfrom the priest at Gordon Chapel in Fochabers. He was very happy. The service is conducted in Swahili and there was an exchange between the congregation and their pastor and everyone was laughing. Rev Deuli translated for us. He said they were laughing at him; look how white the new robe is compared to the grey and shabbier robe he was wearing – it was true! Rev Deuli and his congregation pray for Gordon Chapel and are grateful for the prayers said in Fochabers. They are sad that we have so few children in attendance. Although very different the congregations have similar problems. The Tanzanian congregation does not have a building and meet on the top of an office block. They are trying to find money to buy land to build a church butthey are a small and very poor congregation. In Fochabers the building does not have a lift to help the older members get upstairs to church and the rectory needs costly repairs. This is also very hard for a small congregation.We were also warmly welcomed back to St Nicholas, the Anglican cathedral in Mwanza. The service there is in English.
Elections
In October there will be elections in Tanzania and everyone is talking about it. Making the right
choice was the subject of the sermons in both churches. The difference between here and the UK
elections is the very real possibility of civil unrest if the ruling party is unseated. There are tensions
with Muslims calling for Sharia courts and the Christian churches opposing this. Tanzania's economic
situation will not help matters. Although there is a great deal of wealth in the country the vast
majority of people live a hand to mouth existence.
Busega Scotland Steering Group
The steering group held its first meeting on 9 April and got off to a flying start! We provided our colleagues with a 'warts and all' description of BCDSA Tz, the Busega Scotland 'projects' and the challenges of working in Tanzania – mercifully nobody resigned!!
We worked hard on establishing the purposes of the group and agreeing the priorities for ourselves while in Tanzania. We are not sure yet how to report on the group's work but have included key information below. Please let us know if you have any comments on our 'purposes'.
1. To ensure that Busega Scotland acts in the best interests of vulnerable children and families in
Tanzania.
2. To allow Busega Scotland to be a constituted and charitable organisation.
3. To provide financial and operational accountability.
4. To generate funds and be a grant making body for project work in Tanzania.
5. To provide, and develop, project ideas and networking opportunities.
6. To promote and support Busega Scotland volunteers, and volunteering in Tanzania.
7. To undertake any other tasks that will further the aims of Busega Scotland.
John and I will be in Tanzania for a shorter period on this occasion, as we feel it will take less time to
get our work done, and we confirmed the following priorities with the Steering Group.
1. To progress the current plan for the Family Support Project in Igombe.
2. To complete the new building in Mayega.
3. To identify vocational and further education opportunities for the 2015 Mayega leavers,
consistent with their career interests.
4. To establish secure financial arrangements in Tanzania, for funds which are the responsibility
of Busega Scotland.
5. To establish links that can facilitate development projects at the children's centre and
Mayega village.
6. To confirm the staffing capacity required (and costs) in Tanzania to effectively take forward
Busega Scotland projects.
The group will meet again on 20 May. We are so pleased to have so many committed colleagues to help with some of the detailed Busega Scotland work. John was appointed Chairperson, Mike McClafferty as Secretary and Nicola Milne as Treasurer. The group has eleven members and a very good gender balance!
Some publicity
We were invited to contribute to another article for the April edition of the Professional Social WorkMagazine. This has not generated any further volunteer interest yet but who knows what the future might bring? Setting up volunteer placements takes time and there are many problems to solve, but the contribution made by volunteers is invaluable. They bring not only their knowledge and skills but also new perspectives on the way forward. For us there is a sense that we are not alone in what we are trying to do and we appreciate the continued interest of the two UK couples who have worked with us so far. It is very unlikely that we will have the use of the Bwiru house in future and one of our tasks this trip will be to investigate other accommodation options for ourselves. We all have different standards of what we can put up with. For me the 'luxury' of this trip is that I included a toilet seat fixing kit in my luggage. We already had the seat!
Fundraising
Thanks again to Christine Petrie, we have the Lossiemouth charity shop booked for two weeks from Monday 28 September. Later in the year we will be collecting goods to sell, so before you throw anything out please think of us! We will also be drawing up a volunteer rota and look forward to hearing from you if have some time to spare. Please email us on busegascotland@gmail.com
I am pleased to tell you that sponsors have been found to pay the rent for the shop. This means that all the money raised will be used to support the Busega Scotland projects in Tanzania.The Moray Swing Band has agreed to hold a benefit concert and 25 September has been pencilled in as the most likely date. It is hoped that the Eight Acres Hotel will be the venue. More information will follow.
Where do we go from here?
Within the formal constitution of Busega Scotland we are moving away from working with BCDSA Tz as staff members but will continue to support the projects we are currently involved in. This will get us away from the internal problems of BCDSA Tz and enable us to focus better on the work with vulnerable families and children. We are in the process of updating our website to reflect this. The transition might be difficult but we believe it is the best way forward. We have a vision of Busega Scotland being a grant making organisation in the Busega and surrounding districts of Tanzania. Our enthusiasm, commitment and optimism are as strong as ever but inevitably we have learned from our experiences. We are making changes to allow us to focus our time and energies more effectively.
———————————————————————————————————————————
Tanzania 23      6.4.15
A Very Happy Easter to you all and greetings from The New Peace Mayega Children's Centre and everyone in Tanzania supported by Busega Scotland.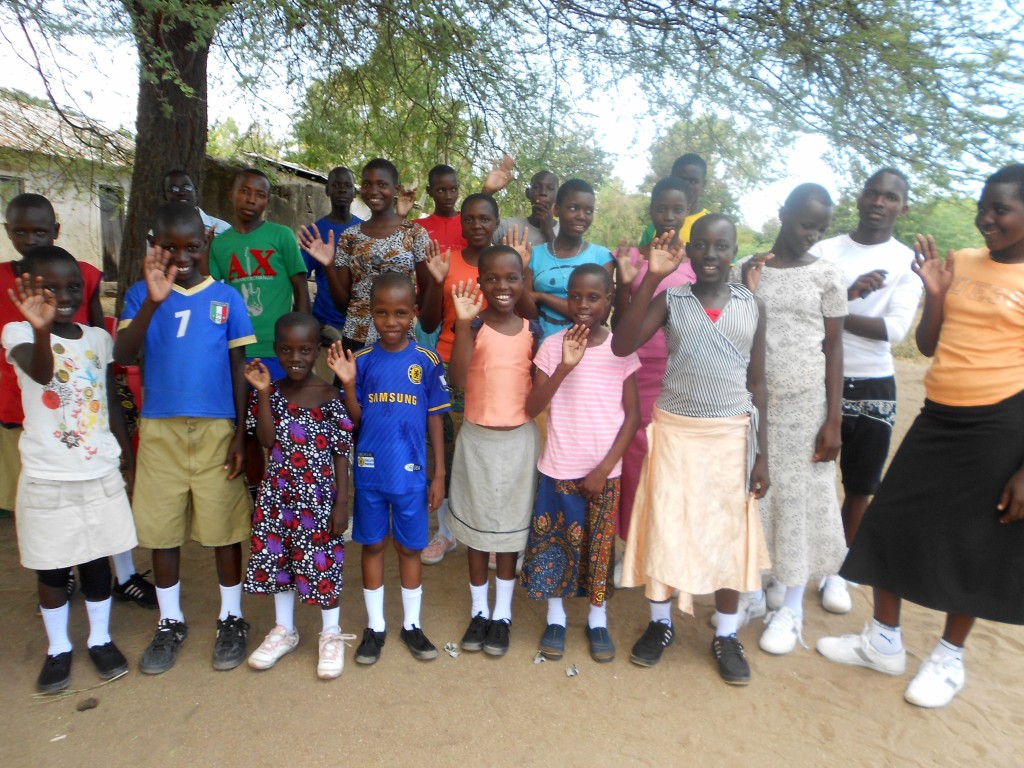 Easter is celebrated in Tanzania with much dancing and singing and the children at Mayega enjoyed a special meal. In Scotland, the sun shone and we dared to hope that the cold winter weather was behind us. John and I are busy preparing to return to Tanzania, arriving on 17th April. We are travelling with optimism despite the many difficulties we know we will face. The problems are huge and we can only achieve a small amount but the support of Busega Scotland makes a big difference in the lives of vulnerable women and children.
It has been a difficult start to 2015 for us both personally and in our work to support projects in Tanzania.  Busega Scotland lost a friend and we lost our brother, with the untimely death of dear Lawrence in February. He was always willing to help out in practical ways and did so spontaneously with no fuss or fanfare. His matter of fact approach to things kept our feet on the ground. It is hard to accept that he is gone.
Our Salvation Army volunteers, Valerie and Arnold Barrow, returned to the UK in March and have had time to reflect on their experiences.  Volunteering with BCDSA is not easy but despite the challenges they were able to draw on their previous experience and remain positive. They achieved an incredible amount in a short period of time. They are even considering a return visit!
Valerie and Arnold reported,
"Our visit to Tanzania has been the most challenging overseas experience in our lives. We were expecting to face a whole range of problems but they have far exceeded our expectations".
"The people of Tanzania seem naturally warm and friendly and we have had handshakes, hugs and cheerful smiles wherever we have been. Children greet us as muzungos and love to try out the few English words they know. BDCSA staff members have also been very welcoming and we have forged warm working relationships with some – although – we have also had many difficult situations to cope with".
Their visit started off with a bulk staple food purchase for the orphanage at Mayega. The Barrows were able do this through donations from their family, friends and church. It is more economic to bulk buy provisions in Mwanza and transport them by lorry.  Fresh food (fruit, vegetables, meat and fish) is bought locally by the orphanage staff.
Construction Work
Progress was also made with the new Mayega building, as Valerie and Arnold were able to help take forward rendering, plastering and concreting the floor.
Last June when we left Tanzania, it was no more than a roofless shell. When complete the facility will be used for educational and social activities, and the Barrows kicked these off by introducing some craft work to the children. The most popular seems to have been the ubiquitous loom bands!!Thanks to so many donations I have plenty more supplies in my suitcase to keep the creativity going.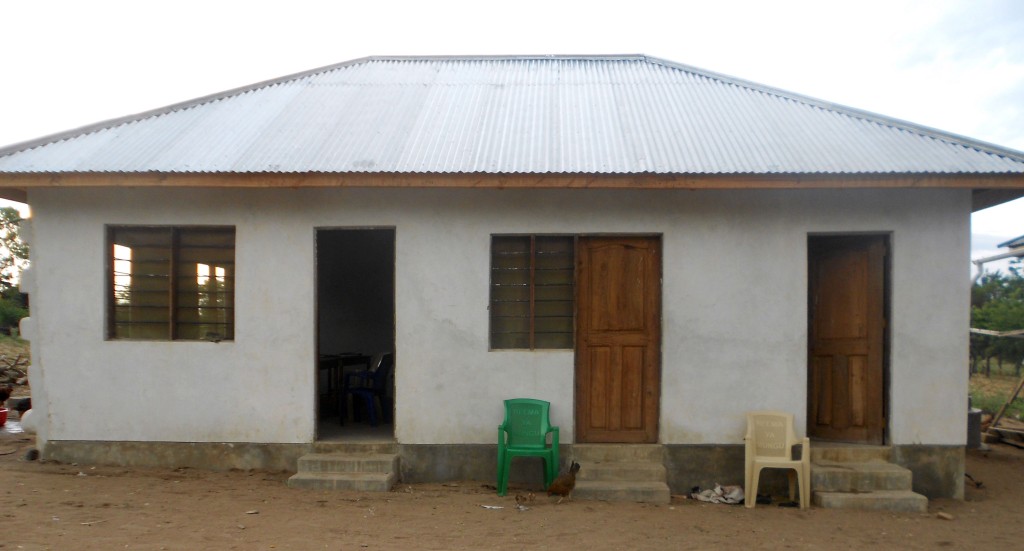 Building progress March 2015
One of our first tasks in Tanzania will be to organise the ceiling construction, needed to keep the building cool, and the installation of the solar panel.
Valerie and Arnold also visited the schools that the Mayega children attend and have drafted profiles on two of the children. We hope this information on the children's lives will help us engage with young people in the UK.
Moving-on Project News
The Barrows met, on several occasions, with the four Mayega 'graduates' in the Moving-on Project, who reside in Mwanza due to their college courses. Zabron and Zawadi have now completed their studies and been awarded their Certificates in International Hotels and Catering Management. They are facing hardships as they look for work in the tourist industry. There is hope of employment in the Serengeti National Park but we still await news of this.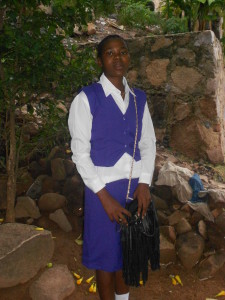 Ester and Kabula continue their studies and are being well supported in the community. BCDSA staff, Rev Gadlord Deuli and his wife, Jane, provide excellent ongoing care and the girls are doing well.  This is a photograph of Kabula in her uniform. She is studying to be a secretary and is learning to use a computer.
There is a major challenge facing the Moving-on Project at the end of this year  as six of the current Mayega young people will complete their secondary education and we will need to secure funding for further vocational training and living expenses. The fact that their contemporaries are in Mwanza gives the younger students hope for their future and we need to help them meet their aspirations.
Women and Children's Rights
The Barrows were able to visit some very rural parts of Tanzania with the Women and Children's Rights Projects, sponsored by the Tanzanian Foundation for Civil Society, and carried out by BCDSA Tanzania.  They were able to input to the seminars by talking about the safeguarding of children. We have written at length, in previous newsletters, about the projects and how impressed we were by the women and children's resolve to take forward the rights agenda.
Serengeti Game Viewing
Valerie and Arnold also managed a short trip to the Serengeti National Park, which they described as a 'stunning and wonderful experience'. It is important when in Tanzania for volunteers to take care of themselves, as the work is demanding – in an unfamiliar culture and environment.  We wonder if, in the future, Busega Scotland may be able to offer volunteering trips that combine our project work with other Tanzanian experiences, like the Serengeti. Our focus will always be on the needs of vulnerable people, and volunteers will be required to 'make a difference', but Tanzania is a wonderful country, that Tanzanians are rightly proud of and willing to share.
Political stability
One of the reasons why Tanzanians are proud of their land and its history is due to its political stability. For the first thirty years after independence Tanzania was a one-party state, with multi-party democracy established in 1992.  In the fifth general election, on October 25th, the current president will stand down, as the head of state is only eligible to serve two terms. The CCM party has won the previous four elections and is expected to do so again. However, its image has been tarnished by various corruption scandals involving government ministers. Despite this, it seems unlikely that the opposition will gather enough support to defeat CCM, as the current administration's history goes right back to independence and it is the longest ruling party in Africa, but we will see?
Some More Mayega News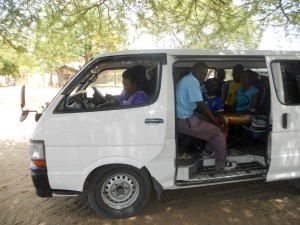 Thanks to a donation in February, from the Anglican Church Basle, the children from the New Peace Mayega Children's Centre went shopping for sports shoes and socks.  They travelled by dala dala (mini bus taxi) to Lamadi, about 10 miles from the children's centre. Staff Leah, Matron, Peter, Patron and Rev Gadlord Deuli, accompanied them. The children were very happy, as the shopping trip was an unexpected treat.
Apart from walking to school or church, the children rarely go anywhere and being able to buy something new was both unusual and exciting.  To have the experience of handling money, trying on the trainers and choosing the style that they liked was a great experience.
Football and volleyball are the most popular sports. The children play in school teams and at home in scratch games with the village kids.
In front of the orphanage two poles are in place for the badminton and volleyball net.  Inside the orphanage the kids play table tennis on a locally made table, which is also be used for other games and activities.
After visits to local and regional hospitals Hassan, one of the older boys now has glasses. Access to primary health care is a problem for most in Tanzania. Just finding enough money for the bus fare to a regional centre is a problem.
Hassan's glasses and bus fares came to about £50.  He had been experiencing problems with his eyes for a number of years, repeated infections and problems with his vision. Let us hope things settle down for him now. He is very happy that he is able to read without his eyes filling with tears. He will need to focus on his Form 4 examination papers!
In March Busega Scotland provided £200 to cover the cost of National Exam fees for the orphanage children. Six  kids will be sitting Form 4 leaving exams and five  kids sitting the Form 2 exams needed to progress in the school system.  Late payment of these fees meant that the children were temporarily excluded from school. This was a situation we could not allow to continue. The WAZA project in Canada again provided school tuition fees and uniforms in January for all the Mayega children.
Robin Hill has drafted child protection procedures for the Children's Centre and a Swahili version is being translated, so that discussions with non-English speaking Tanzanian staff can take place. A staff code of conduct was implemented in February 2015. Beating of children is the norm in Tanzanian culture but the government is leading on the rights of the child and the new regulations pertaining to orphanages forbid the use of physical punishment.
Nutrition Project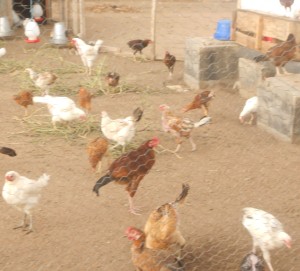 The hens are doing well, producing enough eggs for some to be sold to help with feed costs. Some hens had lost condition, losing feathers but it turns out that hens do moult. As a city girl I know nothing of such things! Anyway they have been receiving an additional vitamin, added to their water and they are recovering, as this photo taken at the end of March shows.
Family Support Project
In the last week we have received about 20 health education DVD's in Swahili, produced by Thare Machi Education (www.tme.org.uk). Many thanks go to Robin and Debbie Hill for sourcing these for us. They are destined for the Family Support Project in Igombe but a number of the courses are also suitable for educating the young people at Mayega too. Topics include, Basic Hygiene, HIV /Aids, TB, Diarrhoea, Looking after Your Teeth, Malaria, Becoming a Woman, Becoming a Man, Alcohol and Drug Use etc.
On our forthcoming visit to Tanzania there will be some concentration on the Family Support Project. The project has been designed with the input of local people, forming a very useful steering group. There are four components to the basic project – ensuring that participating families have birth certificates, have health promotion knowledge and health cover, can send their children to school and will be able to financially support their needs by establishing small businesses. This latter part of the project is best developed, and evaluated, with twelve families having so far received micro-grants (with nearly twice that number on a waiting list). In the longer term there is an aspiration to establish, and support, a women's group and maybe offer additional finance for larger and more profitable businesses  e.g. as a sewing co-operative. Debbie Hill has been investigating sources of equipment and skill training for the women.
One of the tasks in working with the steering group in the coming months is to arrive at a 'per family' grant figure, or range of figures, that will give the best opportunity for families to escape the daily grind of poverty. In the longer term the businesses hold out the best hope for family prosperity, but at this stage we need to decide how much money is needed at the outset to support families and so maximise the chances of success. Too little and the families may be condemned to failure, too much and limited resources are wasted. The project has been in receipt of one-off donations and monthly contributions, and is seen as a preventative strand to Busega Scotland's activities in keeping families together. In fact, many of the families are themselves reconstituted due children losing their parents through the Aids epidemic.
Busega Scotland
On the subject of steering groups we are delighted to announce the formation of the Busega Scotland Steering Group in Moray. The intention to establish a group was mentioned in our last newsletter and our 'volunteers' will meet for the first time on 9th April. We believe that the time has come for the fledgling organisation, Busega Scotland, to develop its capacity in order to fully realise its potential. A tremendous amount has been achieved over the last year for children and families in Tanzania, in a remarkably 'spontaneous' manner. We have been amazed at the willingness of our supporters to help in a wide variety of different ways.
In that context, it has been very important for us not to convey, in any way, a sense of expectation towards our friends and colleagues. However, a point has been reached when we need to work more closely with others as a steering group. This will allow us to establish Busega Scotland as a constituted organisation, open a separate bank account, be openly accountable and plan for the future in a more inclusive and effective way. An important aim would be to become a registered Scottish charity.  We're sure that the work of Busega Scotland will be challenging but also exciting, as we explore together what the organisation may achieve. If there is anyone else out there who may like to join the group then please let us know on busegascotland@gmail.com
John and I would like to thank you for all the support, love and care you have given us over the last year. We could not have managed without it.
Well the suitcases are packed with 100kg of luggage, the vast majority of which is destined for the projects! Our next instalment will come from Tanzania.
—————————————————————————————————————-
Tanzania 22         6.2.15
Dear Friends,
I am sorry this newsletter has been delayed. It has been a very busy time and family considerations meant that we decided to postpone our trip to Tanzania. We travelled to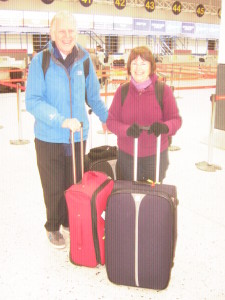 Manchester to see Valerie and Arnold off on their journey to Mwanza on 3rd February. They have not had an easy start, with no water and electricity at their house during the first two days. They are, however, very positive and have been to Mayega, having overseen the latest 4 monthly bulk food purchase, with thanks to their Salvation Army friends for donating the money.  We eagerly await more news from them and of the kids at the orphanage. They plan several trips to Mayega and to establish stronger links with the local schools attended by the children. We are still waiting for the end of year school reports and perhaps they will be able to find out something about this.
On our recent travels we met some very interesting people.
Bethany Family:
We spent a day in Lancashire at a town called Oswaldtwistle, with Graham and Sheila Pountain of the Bethany Family. They have been involved in Tanzania for over 20 years. The Bethany Family have developed a large and well-resourced orphanage and school, 10 miles down the road from Mayega. There are currently 120 children in residence and eight young Tanzanians from Bethany reside with Graham and Sheila at home in the UK. The young people are undertaking teacher training courses at a local college. We attended a meeting of the Bethany support group and the students entertained us with some beautiful singing. There are already two British trained teachers who have returned to Bethany to work in the school.
Our discussions with Graham and Sheila helped to put our work with BCDSA Tz in some perspective. It was heartening (if that is the right word) that the issues Bethany have faced, and still face, mirrored what we have experienced. We will keep in good contact with Graham and his colleagues and we are sure to learn from them as we move down a path that is more familiar to them than us. The most exciting possibility is supplementary English lessons for our Mayega children using older Bethany students and their teachers. Bethany is proud of the positive outcomes for young people leaving their care and see good education as crucial, particularly for girls. We will also get advice on the construction projects we are planning for Mayega.  Bethany has a very informative website at www.bethanyfamily.net/ .
It is good for Busega Scotland to become part of networks of support and it is fantastic the way people will share their time, knowledge and expertise.
Substitute Families For Abandoned Children:
Over lunch at Manchester Piccadilly Station we had a very positive and fruitful discussion with Mick Pease, who founded, along with his wife in 2002, the organisation, Substitute Families for Abandoned Children. SFAC helps with:
 training and consulting on the development of strategies for family based child care programmes such as prevention, reunification, kinship care, foster care, domestic adoption and upgrading residential care worker skills.
Our interest in meeting with Mick was to engage further in the debate about orphanage and family-based care in Africa, helping our thinking on the way forward for Busega and to discuss any role SFAC may have in improving our services.
The care provided by orphanages worldwide has been much criticised. Children placed when they are not orphans, abuse and poor standards of care, children becoming dissociated from their families and culture and the distasteful 'orphanage tourism', particularly in SE Asia. There is no doubt that family-based care is the best for children, when it is provided with the children's best interests as the paramount concern. However, it can be fraught with as many problems as orphanage care – poor standards, poverty, abuse and discrimination against the looked-after child.
With Mick's help we explored the issues, not least the issue of numbers of extremely vulnerable children in Tanzania and the need for structures, systems, family support and supervision in family- based care. Our conclusion, at this stage, is to consider the possibilities and practicalities of a twin-track approach around Mayega – continuing to improve the care at the orphanage while seeing if we could offer family-based alternatives to children. Mick is happy to help us in any way he can.
Mick's website is www.sfac.org.uk/ and if anyone is interested in exploring the 'orphanage debate' further we can provide additional links.
In Edinburgh we were able to join the Sunday service at St Anne's Parish Church and personally thank the Sunday school leaders for their interest and support.
Now for some updates –  Construction Project:
Work will soon start again on the Kitchen/ Store and Community Room. With money pledged by the Anglican Church in Basle and proceeds from fundraising, we can move to the next phase. Problem is I am not quite sure what the next phase should be! Do we put in the ceilings before we plaster the walls? Don't laugh! I know I am ignorant! A number of our estimates are also out of date and will need updating. Valerie and Arnold will do what they can to help and will seek advice along with our Tanzanian colleagues.  Getting estimates is a big job. You cannot pick up the phone and just ask for someone to call round and look at the building. You have to visit people where they are and negotiate. There is the added problem of inflated prices and people not being willing to give you a written quote. Corruption is a big problem in Tanzania and we have to do all we can to ensure money from donors is spent correctly.
Mayega Solar System Update:
We heard last week that the solar system in the Mayega dormitories had stopped working. Valerie and Arnold arranged for an electrician to look at it and it was sorted in 15 minutes! It was a relief to find out it was just a minor problem.
Thanks to 2nd Elgin Scouts, 2nd Elgin Cubs and other fundraising efforts we have enough money to install a solar panel on the roof of the new building and there shall be light!
Mayega Activities:
Arnold and Valerie were able to carry with them to Tanzania a selection of the donations received in response to Christine's appeal for arts and crafts items etc. I say a 'selection' as we have been astounded by the amount and quality of goods received. In an effort to improve the motor skills of the children, they will be tackling jigsaw puzzles, Lego and Meccano-type construction kits, making aeroplanes, cross stitch and tapestry, lacing cards, threading beads and the loom band craze is about to sweep Mayega! Valerie and Arnold have both been having "loom" lessons from their grandchildren and are ready to pass on their skills.  2nd Elgin Cubs have sent the children some loom band bracelets that they made for them, along with their donation of £100 towards the new solar system.
Thank you to staff at Trayport, Marks and Spencer in Chester, The Moray Branch of the Embroiderers Guild, Speyside Quilters and Calico Girls, and the many other individuals who donated items. We do not want to overwhelm the children and a range of activities will be slowly introduced to them.
Trayport Staff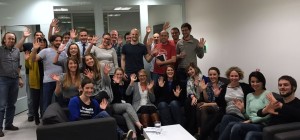 We are very happy to report some wonderfully helpful 'corporate sponsorship' from a local Moray business. The BCDSA Tz staff in Tanzania receive small allowances for the work they do, making them nearly as poor as the people they help. Our donor asked us about the allowances paid to the four staff members at the orphanage (matron, patron, cook and guard) and if an increase in their pay would be helpful. The offer of £360 (which we gratefully accepted on their behalf) was in recognition of the tremendous work the orphanage staff do in very demanding circumstances – we will make sure that this appreciation of their work is passed on personally by us when we next meet them. The staff and children at Mayega are heartened by the interest and support they receive – as they say – it gives them 'hope'.
Fundraising: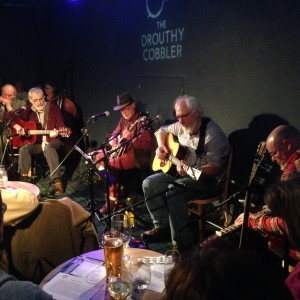 The Busega Boogie Band did Busega Scotland proud in our first fund raising event of 2015. The band, consisting of the Red Blues plus guests, played and sang 'Americana' – blues, bluegrass and 50's rock and roll. An amazing total of 64 tickets were sold and the small and intimate venue at the Drouthy Cobbler made the perfect setting, as the band and audience became as one in playing, singing and tapping the night away.
There were clear calls at the end of the evening for more boogie nights and the band are committed to the work of Busega Scotland and in playing for us again. We thank them, the helpers and audience who together made the event such a great success. On the financial side a tremendous total of £456 was raised for the construction project at the Mayega Orphanage.
While preparing for the evening Busega Scotland's greatest mystery was solved. At the Quiz Night, before Christmas, the raffle's star prize, a bottle of Aberlour single malt whisky, was not claimed. John kept the winning ticket, in the whisky presentation box, in the hope that someone would contact us, but to no avail. As he was about to re-raffle the bottle at the concert he realised the name of the winner was on the back of the ticket!! The whisky has now been passed to the rightful owner, Alison MacDonald, and we are sure she will enjoy her prize! Mystery solved.
The Family Support Project (FSP) in Igombe has received a significant cash injection through the efforts of Robin and Debbie Hill, who were themselves BCDSA Tz volunteers in Tanzania towards the end of last year. The project is designed to support extremely poor families (often affected by HIV and Aids) through the provision of micro-grants, to establish small businesses, and by transitional help with health and school costs. The aim is for the families to get back on their feet and to become self-sufficient. We are wondering how we can raise the profile of the project and are considering a dedicated fund raising activity. We have two regular donors to the FSP, and if you wish any further information then this is a project that John leads on.
The hen project also received an £80 cash injection in January thanks to a collecting box in "Sheila's Chiropody Clinic".
Charitable status:
Since our early days working for BCDSA Tz, we have been considering an application for charitable status on behalf of Busega Scotland. While BCDSA Tz is a registered non-governmental organisation in Tanzania, this has no status in the UK and so Busega Scotland, for us to become a charity, will have to be registered by the Office of the Scottish Charity Regulator (OSCR). The major benefits are having an organisational structure and scrutiny that will hold Busega Scotland to account, bringing more people on board to guide, develop and give direction to the organisation and also being able to claim Gift Aid.
We are amazed, heartened and encouraged everyday by the commitment and generosity of our supporters. We know the children at Mayega and some in Igombe personally, and have a direct relationship with them. Using newsletters, presentations and by other means, we try to portray the reality of people's lives in Tanzania and it is superb to have so many people on the safari (journey) with us. Our interest in charitable status seems the next logical, and beneficial, step but it will require an additional commitment from those supporters who (we hope) will become trustees.
We have made our first tentative steps towards registration by meeting with Angela Hinchcliffe at the Third Sector Interface (TSI) in Elgin. Angela will provide advice and guidance and we will soon be planning the steps we need to take in organising ourselves and in making the OSCR application.
One early action will be establishing Busega Scotland as a recognised organisation, with a constitution and office bearers. This will allow us to open a dedicated bank account, a bit like a sports club or playgroup and then to work towards becoming a charity. Mike McClafferty has offered his services as Secretary and we would be keen to find a Chairperson, Treasurer and committee members. If you are in anyway interested please email us – experience in committee work would be desirable but not essential, as we can access any training we need through the TSI. It is commitment and enthusiasm that we are looking for just now. We can guarantee a bit of fun and being part of growing something very worthwhile.
Charity Shop:
Thanks to Christine Petrie we have the Lossiemouth charity shop booked for two weeks from Monday 28th September. Later in the year we will be collecting goods to sell, so before you throw anything out please think of us! We will also be drawing up a volunteer rota and look forward to hearing from you if have some time to spare. Please email us on busegascotland@gmail.com .
We hope our next newsletter will contain photographs and stories from Valerie and Arnold 's great adventure! Communication issues this week have limited the news we have received from them and we eagerly await further contact.
Thank you again for your support and interest in Busega Scotland and, as ever, please pass this newsletter on to anybody who may be interested. Growing our network is very important to us. Don't forget to have a look at the Busega Scotland website  https://busegascotland.co.uk/
—————————————————————————————————————
Tanzania 21:     19.12.14
I am sure Valerie and Arnold Barrow are busy preparing for Christmas and I know they are also busy preparing to travel to Tanzania as BCDSA's latest volunteers. They have been able to chat with us and Robin and Debbie Hill to get a sense of the task that awaits them. They are bringing skills and insights which will help shape the organisation.  BCDSA is going through a period of change and as we all know change can be difficult but provides a marvellous opportunity to improve the services provided to vulnerable people in Tanzania. Valerie and Arnold are happy to introduce themselves to BCDSA supporters. Please see the volunteers page for more information.
John and I are also in preparation mode and have already acquired a ridiculous amount of luggage to take with us. We are still hoping that Turkish Airlines will allow us extra luggage on the plane. Keep your fingers and toes crossed! Planning to travel with a donated full size keyboard, as well as a TV/DVD player from the 2nd Elgin Scouts brings challenges, but it will be worth the hassle if we manage to pull it off. I have to say it has been fun gathering craft items, construction, sewing and maths sets, recorders etc. and I am sure the items will be much appreciated by the children at Mayega.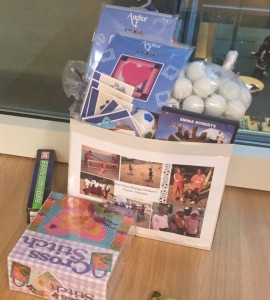 Trayport, a London based IT firm  have also been helping to fill the suitcases. The staff team have been collecting cross stitch kits, footballs, table tennis equipment and DVD's. Thank you to everyone who has donated items. I am only left wondering how we get our clothes in………?
The Scouts had a fun coffee morning on 29th November and donated £500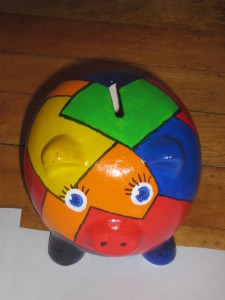 to help with the purchase of a solar system for the new community room/kitchen and store at the orphanage. I am sure the Mayega children will like seeing the photographs of youngsters of their own age, connecting with them in this way. Kids are the same the world over, despite the vast differences in their lives. The scouts held a silent auction of their painted piggy banks to raise even more money for a solar panel on the new build at Mayega. It was a wonderful effort by these young people.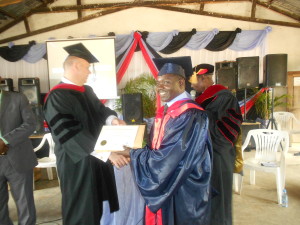 There was a party in Mwanza at the end of November. The Rev Gadlord Deuli, BCDSA's Accountant, graduated, BA Theological Studies from the Miami International Seminary (Mwanza Study Centre). It was not easy for him to continue with his BCDSA work, church commitments and study at the same time. There was a service of thanksgiving and a large cake, baked by Julieth as a gift. People with so little are very generous. The young people from the Moving-on Project joined the celebrations. I am sure Rev Deui being a (mature) student has helped him connect with and understand the challenges faced by our young ex-Mayega students. I have a plan to get the Moving-on kids together for a meal once a month and an informal support session with support staff. I have not worked out where the cash will come from yet, but I believe it will come from somewhere.
There has been a population explosion in the nutrition project. I have tried asking our Tanzanian colleagues where all the chicks are coming from but they are much too polite to give me a lesson about the birds and the bees! With the patter of tiny feet comes an increased feed and vaccination cost. We have not started selling any eggs yet but the kids are now each eating two eggs per week. I did suggest to Rev Deuli that the cockerel would need to be removed from the hen house but he just laughed.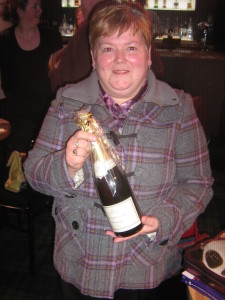 Thank you to the 50 people who attended the quiz night in the Drouthie Cobbler in Elgin on 12.12.14. Thanks once again to Moray Council staff for all their help in organising and running the event. A competition to name the Mayega Cockerel was won by one of the Cornerstone Teams (Christine's Cronies!). "Popcorn" or "Bisi" (BEESEE) in Swahili was the winning name. Tanzanian Tansies won the team name competition. The magnificent sum of £547 was raised to support the work in Mayega. The quiz master had to deal with some good natured heckling; however the rules of the night clearly stated that his answers were above challenge!
The quiz rounded off the fundraising events for 2014 but never fear. We will be back early in 2015 with a music night on 17th January. Again the Drouthie Cobbler will be the venue and the Busega Boogie Band will be playing Bluegrass, Blues and 50's Rock and Roll music. Tickets are priced at £5 and are limited to 60 people, so please book your tickets (from us or Moira Duncan at Moray Council) early.
We focus a lot on food when we think of the children's centre at Mayega. It is such a basic need. With your help the situation has been so much brighter in 2014. Recently a staff member reported, "The children are very fine. They are happy. They are on full rations, three meals per day". Thank you for all your fundraising and for the monthly contributions that many of you now make.
We have received a number of "Christmas" donations that will ensure there are "extras" for Christmas Dinner. The £61 proceeds from an African Cricket Mini-Quiz, held at Fochabers Cricket Club Annual Dinner, have also gone into the Christmas pot. The winner on the night was Arnav, a young, knowledgeable and talented cricketer. Thanks go to all club members who took part.
If anyone fancies trying the 6 cricket quiz questions below, John will be delighted to score it for you. No googling the answers!!
What animal forms the logo for the Kenyan national cricket team?
The disgraced South African cricket captain Hansie Cronje died in a plane crash. In which year did he die?
Which test playing nation did Kenya beat by 53 runs in the 2003 Cricket World Cup?
What is the nickname of the South African cricket team (named after a small African flowering plant)?
Name one of the two Zimbabwean cricketers who, during the 2003 Cricket World Cup, staged a 'black armband protest' at the 'death of democracy' in Zimbabwe?
Kingsmead in Durban was the venue, in 1939, for the famous 'timeless test' between South Africa and England. How many days did the match last?
It is the end of the school year in Tanzania and we will soon have the school reports. Let's hope they will be the best they can be. With a lack of teachers in key subjects the children are disadvantaged. In 2015 we will need to find ways to support the kids at school. We will need books and other resources. We will need expertise. The kids have asked for extra tuition during the school Christmas holidays and we are currently exploring possibilities for them.
We have recently received a copy of the new Tanzanian Children's Homes Regulations, thanks to contacts made by Robin and Debbie Hill. We applaud the Tanzanian Government for publishing these regulations and aspire to meet them at Mayega. We are under no illusions about how difficult this will be, as money is simply not available. The important thing for me is that the "rules" attempt to bring good practice into children's homes. We will do our best to comply with them, knowing that we will fall short. It is a journey towards progress.
There has also been a lot in the media recently about the UK Government backed campaign by, Hope for Homes for Children, to eradicate orphanages across the world. Again in principle we support this. It would be a joy to find families for the Mayega kids; however the reality in Tanzania, with an estimated 1.5million to 2 million orphans, is that the loving families able to take them are simply not there. Poor communities are already overwhelmed by the number of children requiring care. There is no one size fits all solution here. BCDSA supports vulnerable families through micro-grants and micro-credit loans, enabling families to stay together. Help with nutrition, school fees and medical expenses prevent children ending up in care. Work needs to be done to stem the flow of kids into orphanages upstream. Fostering and kinship care is the way forward but much planning and investment is needed at a national level to ensure a quality service. Without the Mayega Children's Centre the current residents would have a very uncertain future. Life there is not ideal but the alternatives are much worse. John has already begun exploring "fostering" options and we will be meeting with Mick Pease from the charity "Substitute Families for Abandoned Children" in late January. We hope that we can tap into their expertise, and learn from their experience of working in many different countries, including Uganda our close neighbour.
Christmas is fast approaching and families are on the move travelling home for Christmas. Two of the "Moving On" students travel back to the Mayega Children's Centre today for the Christmas holidays. We spoke to them on Skype last week and they were looking forward to going "home". The other two will be working over Christmas. The hotel business is busy at this time of year and they are still on work placement.
Wherever you are this time, we would like to wish you all a very happy peaceful Christmas. Thank you for your support.
Christine and John
14th November 2014
I was not there when the solar powered lights went on for the first time on 23rd October 2014 but I understand there was great excitement. There is no mains electricity in the village of Mayega. It is hard to imagine …… no power in the secondary school, no power in the primary school and until the solar panel was installed, no power at the New Peace Mayega Children's Dropping Centre. One little solar panel has made all the difference.
There is plenty of sunshine, even in the rainy season. This little solar panel provides power to 8 strip lights and 6 light bulbs. We also have the potential to run a CD player or such like, if we had one! The children have been asking about television and there is a good chance we can get a 21 inch TV/DVD player and have enough power to use it. On that basis can you please search your cupboards for children's DVDs. I am looking for "U" or "PG" rated programmes. Not only will it provide entertainment but exposure to English language media is important. If we receive more than we can carry to Tanzania then the surplus can be sold at a car boot sale or such like next year. Solar Power opens up so many possibilities. I am thinking of evenings spent on homework, reading books, recreation or extra tuition. John and I have booked our return trip to Tanzania, leaving the UK on 3rd February and we have already been gathering bits and pieces to take with us. I spent this afternoon learning how to create simple bracelets from loom bands! I am sure most 8 year olds would be quicker at it than me! I am delighted to tell you that Valerie and Arnold Barrow will be travelling with us to Tanzania to share their skills and expertise with the staff and children of BCDSA Tz. We look forward to working closely with them . We want to take a craft box with us for the Mayega kids and I am looking for light weight goods and ideas. I am sure some of the kids would like to try their hand at cross-stitch, for example, so I am looking for children's cross stitch kits, material, embroidery threads and hoops etc. If you have any lurking in your sewing box, I would be happy to take them off your hands. With an age range of 5 to 19 there is plenty of scope for creativity.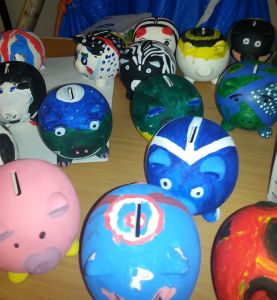 We found out how creative and inventive the 2nd Elgin Scouts are, when they invited us to their meeting last week to tell them about our work in Tanzania. They had been painting piggy banks before sending them "on holiday" to collect some money for the Mayega Children's Centre. I will give you an update on their journeys  after 29th November when the little creatures will have returned home and been auctioned off at the Scouts annual coffee morning, which will be held at Seafield Primary School, Bishopmill, Elgin.  John and I had a very enjoyable evening with the kids, who asked us many difficult questions! We were out for coffee at the Glen Moray Distillery in Elgin a few days later and were very happy to find one little pig collecting donations at the Visitors Centre. Christmas is coming and everyone is asking for money for one charity or another. I have been sitting on the fence about making a specific Christmas appeal. I know the children need many things all year round and I am not backwards in requesting donations.  One of the boys asked Robin and Debbie Hill, if they could help him get new shoes. If any of you have a Christmas Giving Tree in your workplace or church, and would like more information on the immediate needs of the children, or would like to buy virtual Christmas Gift Cards to give instead of presents, then please contact me for more information. I am very aware that the gift you have already given the children, through your support this year, is the gift of hope for a better future. Our new building at Mayega is taking shape.  The brickwork has been strengthened and the doors and window frames have been fitted.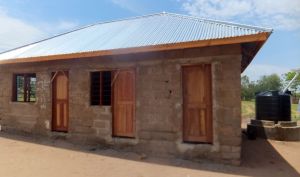 Despite being very incomplete, the children have already used the place to shelter from the rain and eat their dinner. The staff have met inside to discuss their training needs.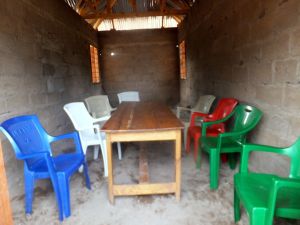 This is the store being used as a meeting room! We still need a ceiling, floor, plaster, paint and internal fittings.  We also need a solar system for this building and thank those who are trying to help us in one way or another to complete the construction phase. The nutrition project is bearing fruit with the children now eating two eggs per week. I had a Skype call from Tanzania this week and could not believe my ears when told the hens have now hatched 41 chicks! The hen run has been extended and new laying boxes are in the process of being made. Everything is low tech and a local 'fundi' has been commissioned to make the boxes; many thanks to the organisers of the golf tournament. Their fundraising efforts made this possible. We are also delighted that Gordon Chapel in Fochabers has supported the project by donating their Harvest Collection and Traidcraft surplus. This £200 boost will keep things going and get us closer to our goal of being self-sufficient in egg production. We have also received £50 from a collection box at "Sheila's Chiropody Clinic". A bulk food purchase was made since I last wrote to you, supplying the orphanage with 4 months' worth of staple foods. We are hoping that we can repeat this in February 2015! As well as solar power, further improvements in the dormitories include a new set of bunk beds and curtains on the windows. The new mosquito nets should also be in place now. Curtains moved up the priority list when the lights went on in the dormitories, and we are very grateful that yet again someone came forward to pay for them.  We still need £100 to buy another set of bunks for the boys' dormitory.   Robin and Debbie Hill had a very busy time with BCDSA TZ and as well as working with the staff and children at Mayega they took on the evaluation of the new Micro-grant Scheme which is part of the Family Support Project.  I will include their executive summary below. If anyone would like to read the full report, please email me for a copy.
INTERIM EVALUATION OF IGOMBE MICRO-GRANT SCHEME       EXECUTIVE SUMMARY
In October 2014 an interim evaluation of the seven families which were participating in the Igombe Micro-Grant Scheme was carried out by Debbie and Robin Hill, volunteers working for BCDSA Tz. The evaluation noted the following observations:
The seven families which had received a micro-grant between June and October 2014 included a total of 32 children aged 18 and under. All were led by either the mother or grandmother of the children. Five of the seven fathers had died, and the others had deserted their families.
All families were given 100,000 Tanzanian Shillings to set up businesses, together with 50,000 Tz Shillings to meet some of their immediate food, school and rent costs
All businesses were making profits, with weekly incomes now ranging from 5,000 to 25,000 Tz Shillings per week. The extra income had provided better food for the children, school equipment and medical treatment. The evaluation identified that health problems had reduced, and that more children were able to attend school regularly, following receipt of the grants. All of the female carers appreciated the grants, although they emphasised that further money would be desirable, as they were still living in very impoverished conditions.
The scheme offers excellent value for its investors. It is very cost-effective, and all of the grants were being used as intended.
The administration of the scheme is appropriately carried out, and there is a proper record of the participation of all grant recipients.
The following recommendations were made:
Prior to a micro-grant being issued a minimum database should be established for each family.
Alongside the provision of the micro-grant an ongoing programme of Family Support under the Health and Safety Well-Being Project should be made available.
Children and young people should be monitored through liaison with schools and health professionals, and by means of being weighed and measured periodically.
Participants should be encouraged to attend meetings regularly with peer educators and fellow carers, to support the empowerment of the women involved.
Any carer experiencing health or mobility difficulties must be referred for medical investigation, assessment and treatment.
The scheme should be re-evaluated in Spring/Summer 2015. October 2014
Robin and Debbie also wrote about their meeting with the young people of the moving on project.
Zabron, Ester and Kabula were all in good spirits this evening.  We again missed Zawadi, who was working, (on placement) as she has been on each occasion when we've arranged to meet the others.  Zabron is still on placement at his hotel; he hasn't got a job yet. His restaurant training seems to be O.K, but he has told us that he would really like to be a tour guide.  Ester said she's still enjoying her teacher training, and Kabula is likewise progressing well with her secretarial course.  We saw their shared room, which is really too small for their separate beds; however they will be moving into a larger one nearby shortly.  They are both very well-supported by the Deulis, and they each led part of the singing after tonight's meal.
John and I also had the pleasure of a Skype call with the young people. It was hardly a conversation as each of them burst out laughing when we tried to speak to them. Either we look very funny on Skype or the novelty of the situation got the better of them. They have little experience of computers, never mind a video call, but they all seemed well and happy and relaxed with the Deuli family supporting them.
I had hoped to bring news of support from the Foundation for Civil Society which funds BCDSA's Women and Children's Rights Clubs and pays our accountant but there still no information on the cause of the delay in payment. This means that the clubs are not running at the moment and the Rev Deuli has not received any salary since May.
You are now looking at the embryonic web site of Busega Scotland. We shall be working on this over the next few weeks and would welcome any feedback or help with it. This is a very steep learning curve for us in dealing with the technology and that is not really one of our strengths. Thanks to our friend Gavin for getting us going. The web address is https://busegascotland.co.uk/