Three from seven
Edinburgh is traditionally said to have been built on seven hills.
In his last climbing practice before Old Codgers, John decided to tackle Calton Hill (103m), Castle Rock (128m) and Arthur's Seat (251m) on the same day. Mistake. The first two were dealt with without too much difficulty but Arthur's Seat is another matter. At the top there was still snow and ice. In the sun this had melted into a steep and muddy giant slalom. John had no skis but brought his backside into play, using a technique normally perfected by 3 year olds.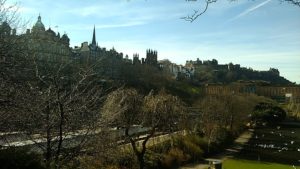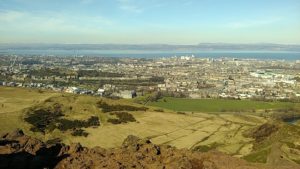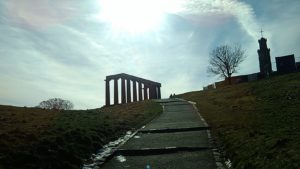 With a large slice of good fortune he made it down. Two conclusions reached; his knees really can't take such abuse and the ambition of a 35 year old in even an active pensioner is a dangerous mix.
In the evening John travelled to Uphall in West Lothian, to deliver a talk at the Face Group of Strathbrock Parish Church. This was a largely male audience and the work of Busega Scotland was well received. John was made very welcome and a generous donation of £120 was made by the group. Many thanks to energetic BS supporter Peter Hagenbuch and Face Group chairman Harry Macpherson, for arranging the talk.