On 19th March, after months of planning and several challenges Julieth and Judy were able to bring the first biosand water filter to Chole and install it at the home of one of the women from group 1 where the others will have the opportunity to see it in use.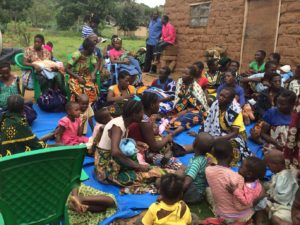 As part of an initiative to improve the health of the women in both groups and that of their families, Busega Scotland will make the filters available at a subsidised cost to any of the women who wish to purchase one. They may choose to share the cost with a neighbour as the filters can produce enough drinking water daily to serve two or three families.
Biosand filters are low maintenance and with correct use can go on producing clean water for many years without ongoing costs, making them an ideal choice for poor rural communities such as Chole.
Julieth and Judy were greeted with the usual enthusiasm by the group, some baby bundles were distributed and the afternoon was topped off by the usual song and dance routine – this time 'Kwaheri Judy' (Goodbye Judy)'