Our Sadio Mane article runs over four posts on the News page.
It was inspired by an email from California. Our great friend and former Mwanza resident, Susana Carpenter, sent us this message.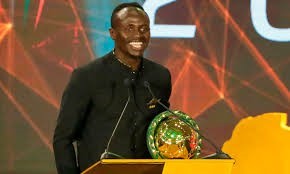 Sadio Mane, the Liverpool star footballer from Senegal, has given the world a lesson in modesty, compassion and love after some fans spotted him carrying a cracked iPhone. His response when questioned about the broken phone was legendary:
"Why would I want ten Ferraris, 20 diamond watches and two jet planes? What would that do for the world? I starved. I worked in the fields. I played barefoot, and I didn't go to school. Now I can help people. I prefer to build schools and give poor people food or clothing. I have built schools [and] a stadium; we provide clothes, shoes, and food for people in extreme poverty. In addition, I give 70 euros per month to all people from a very poor Senegalese region in order to contribute to their family economy. I do not need to display luxury cars, luxury homes, trips, and even planes. I prefer that my people receive a little of what life has given me."
Susana was the leader of a Tanzanian kindergarten for disadvantaged children. Christine and John introduced her to the joys of Liverpool Football Club, by watching matches together. Susana was very enthusiastic and even got out of the habit of using the word soccer!