Two days before John and Christine left for Tanzania, the Rotary Club of Elgin held a Gin and Prosecco Valentine's Night at Johnstons Woollen Mill Visitor Centre. This was a fundraiser for the Mayega Water Project, in which Elgin Rotary are partners.
The evening had a number of highlights – Callum and Angus (from Rotaract) providing superb musical entertainment and the auction, including a cashmere rug donated by Johnstons, a bottle of the Lord Lieutenant of Moray's cask strength whisky and a Mayega Shuka. However, 'the highlight' was a 'conga' around the visitor centre, to the rousing tune of '500 miles'. Unforgettable.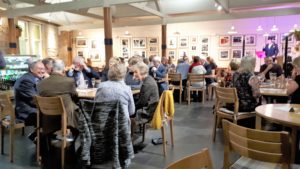 Busega Scotland and the Mayega Water Group in Tanzania, thank Elgin Rotary and the Mill for hosting the event, and the many Moray folk who supported the fundraising most generously.
The Chair of Elgin Rotary's International Committee, Ash Major, said 'it was by any measure a great evening, as evidenced by the reactions as people left, and on Facebook next morning. We don't yet know the final figures, but the Raffle and Auction raised over £1100, so we have already met our target.'
How good is that.
Footnotes
The Mill established in 1797 is the same mill which produces cashmere garments today.
A Mayega Shuka is an African blanket sold on behalf of Mayega Children's Centre.