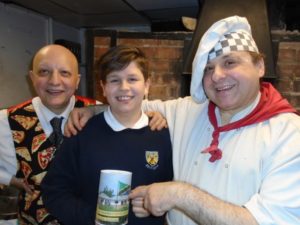 Many thanks to Vito.  John and Christine were in Edinburgh recently to meet Vito Longi, the proprietor of the Jolly Ristorante on Elm Row. The Jolly is the first restaurant to join Pizza Aid, whereby for every 'Jolly Pizza' sold Vito makes a donation to Mayega Children's Centre.
Vito selected the 'Jolly Pizza' as his best seller but it has recently been over taken by a peperoni pizza. While tempted to make a 'switch', John and Christine kept to their vegetarian principles and stuck with the Jolly, which is an onion pizza!
Vito presented Christine's great nephew, Sean, with a full Busega Scotland collecting can and was assisted by chef, Salvatore. Sean also learned some of the Jolly's pizza secrets. He helped to retrieve a Jolly Pizza from the wood fired oven and couldn't believe how hot the oven was.
Vito's Pizza Aid commitment has interested Edinburgh's principal newspaper, the Evening News. They sent a photographer along to the pizzeria and John and Christine were later interviewed by a reporter. We are hopeful of a near full page spread in the paper.
Many, many thanks must go to Vito for his generosity, as the donation in the can amounted to £74.80. Magnificent.
Vito repeated his straightforward motivation towards helping the Children's Centre – 'everyone needs a chance in life' and has now moved on to filling his second can.