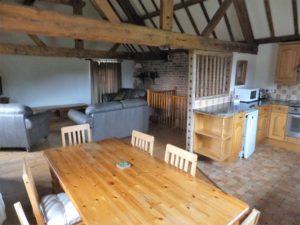 Debbie and Robin Hill, who made a return visit to Tanzania as Busega Scotland volunteers last summer, have a converted barn in Shropshire. When they aren't using it themselves they allow family, friends and former work colleagues to stay but don't make a charge. The Hills publicise the work of Busega Scotland and guests are delighted to make contributions towards its work.
Robin said folk using the barn are 'eager to support a charity without large administrative costs and salaries, and where they know that the use of the money in Africa is properly audited and accounted for'. Their generosity raised £1,155 for Busega Scotland (including Gift Aid) during the last financial year, as well as comparable amounts in the two previous years.
If that isn't enough, Robin and Debbie are busy planning a quiz night at Leamington Irish Club on Saturday 7th April. The facilities are free of charge, so all money raised will go to Busega Scotland. The Hills will be delighted to provide further details (01926-424332) to anyone able to attend or would be willing to provide a raffle prize. It is hoped that Christine and John will be able to link up with the quiz night via Skype; they've already sent some questions for the round on Africa.