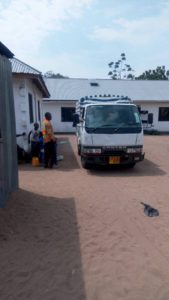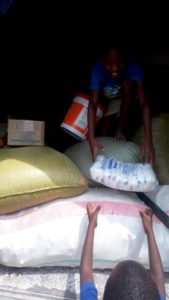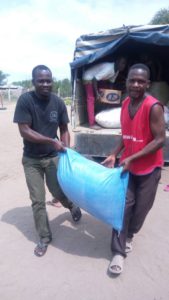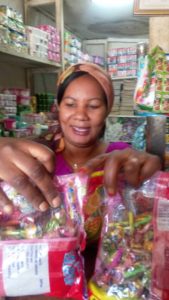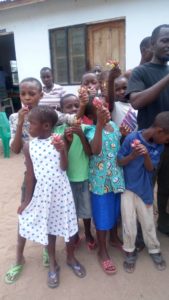 Treats for the children at Mayega Children's Centre are exactly that. Not goodies to be enjoyed every day or two but just every so often. The bulk food shop is a case in point. Food is transported the 85 miles from Mwanza to Mayega every four months. These are staples – rice, maize meal, cooking oil, sugar and wheat flour plus non-food items. However, one of our suppliers, Mama Lucy, always adds in sweets for the children and this time it was lollypops. A kind gesture, much enjoyed and appreciated by all at Mayega – young and old!
When the lorry arrives it is all hands on deck. Large or small there is something for everyone to offload and get safely into the storeroom. Having four months supply of food is a  great reassurance to the children, who have experienced hunger in their early lives. With the garden in production, eggs from our hens and other fresh food bought locally, the children are thriving.
Special mention must be made of volunteers Arnold and Valerie Barrow, their family, friends and supporters,  whose generosity has once again paid for the bulk food shop. How wonderful is that!