John and Christine made a visit to the Children's Centre on Saturday and received the usual kind reception. There is a very good family atmosphere, with the new children (they have been there quite a while now) having integrated well.
The youngsters are familiar with their Saturday routine and soon broke up into their school groups – the little ones with Julieth and the older ones with Seba. No children milling about and wasting time – all focused and engaged.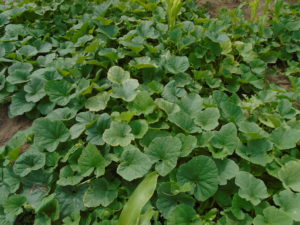 The most noticeable change at the Centre is the garden. Now fenced and in production. There are many types of vegetables in different stages of maturity. Mchicha is already being served at dinner – it is like spinach and much liked by the children. There are also cucumbers, tomatoes. aubergines, beans, maize and sugar cane on the way.
The soil has definitely benefited from planting leguminous jack beans and a top dressing of cow manure but, of course, the availability of piped water is the clincher. The next step is to get a hose pipe to make watering easier – the garden is 25 by 15m. Julieth made an interesting observation; how much taller, greener and healthier our maize looks compared to our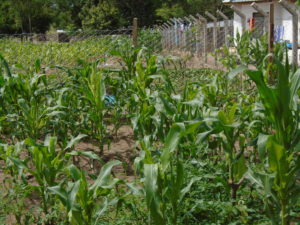 neighbours. Our garden soil is being regenerated, as the land in Mayega has generally been overworked.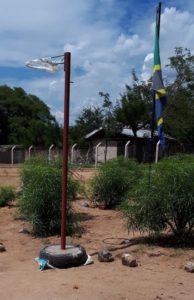 As well as working with the staff in the garden, the children will now have netball and volleyball to look forward to. Combined posts have been made locally, and are weighed down by cement in a car tyre!
Small steps are being taken at Mayega but progress is certainly being made.