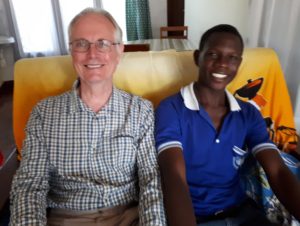 It is always good to see current and former Moving-on students. A visit and a chat is a real treat. One character in the Moving-on group is Lukondya, who is in his third year of motor mechanics at Kalwande College. His spoken English has come on leaps and bounds, and he is always keen to tell us that he is 'very serious' with his studies. His catchphrase rhetoric lives up to reality. He is number 1 in his class in mechanics, theory and practical. Lukondya's visits always brighten up the day.
One of our mechanics graduates, Hasan, visited the office for an 'old times sake' chat with our secretary, Kabula. Both lived at Mayega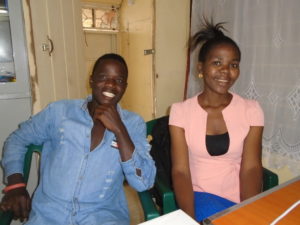 Children's Centre, and after passing through Moving-on are now in the world of work. Hasan is a driver for a family and he supplements this with casual work, making car seat covers and some garage work.
His main employment arose from a chance encounter in the street. A lady's car had broken down and Hasan offered to help. He got the car going and was asked to drive it home in case of further problems. So impressed was the lady, that she introduced Hasan to her husband and the rest, as they say, is history. Well done, Hasan.