Life is never dull at Mayega Children's Centre.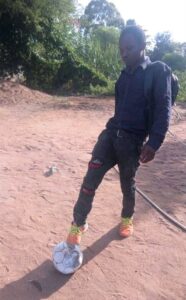 During lockdown, Mwalimu Reni and Patron Emma have been keeping the children going with schoolwork. Reni has been checking the learning with testing. He believes Mayega pupils have done poorly in the past because they were not familiar with examination conditions. He is committed to changing that and the extra teaching will also help.
In a recent storm, part of the fence was blown down. This really was Murphy's Law – anything that can go wrong will go wrong. The damaged section was holding up the passion fruit vine! It is so dense it acted like a 'sail' in the typically ferocious tropical wind.
Our project leader, Gadlord Deuli, travels monthly to the Centre (a reduced frequency due to Covid) and we hire a car to reduce infection risk. Public transport can be very crowded.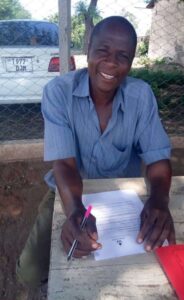 During his last visit, a contract was signed with Fundi (tradesman) Deus to repair the fence. Deus has become our 'go to man' for repair and maintenance tasks.
Work is going on now to review the Centre's menu. The children get a varied diet – rice, maize, cassava, wheat flour (as mandazi – like doughnuts), beans, meat, chicken, fish, vegetables, and fruit.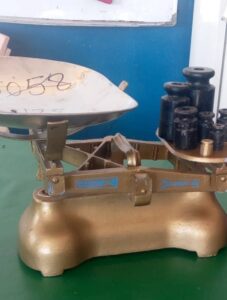 The children have preferences and we are trying hard to incorporate these. Scales have also been bought to help the cooks with portion size and to avoid any waste. As you might imagine, we get regular feedback on the diet from children and staff!