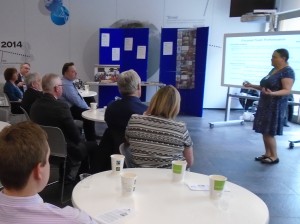 The registration of Busega Scotland as a Scottish Charitable Incorporated Organisation was celebrated at Moray College, Elgin on  8th April. Our trustees were joined by invitees from local business, the voluntary sector and political representatives.
Richard Lochhead, the MSP for Moray and Cabinet Secretary for Rural Affairs, Food and Environment took time out to attend and commended Busega Scotland for its work in Tanzania. The Convener of the Moray Council, Allan Wright, provided some useful advice on how we can extend our contacts. Links with the  community of Moray were explored.
The theme of the launch was 'discovering together' and  how individuals and organisations may collaborate with Busega Scotland. We are hoping to establish relationships that will have mutual benefit. We have two possibilities being worked on just now and would be happy to talk to anyone who may be interested in working with us.
A couple of thanks relating to the launch; trustee Colin Sanders for leading on the event and Moray College for providing a meeting room free of charge.