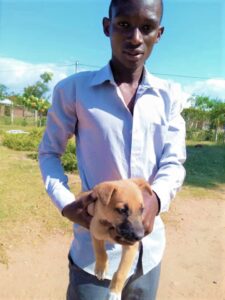 The Children's Centre was honoured recently by a visit from Mr Anderson Njiginya, the Executive Director of Busega District Council. He came to speak to the staff and children about Covid and reassure them about the situation in the district. The government of Tanzania has been reluctant to acknowledge the presence of the virus in the country but is now urging caution. There is no lockdown but mask wearing is being encouraged. In Mayega  the use of a mask is being misinterpreted by some village children. They run away in panic thinking it is the sign of an infected person!
We have revised our Covid Action Plan in line with the national situation. This is a subtle process. The measures put in place have to be in concert with government and community expectations. The revisions are discussed and agreed with Tanzanian colleagues and cover travel and personal protection measures. The Children's Centre has full PPE but thankfully nobody at all connected with Busega Scotland has been affected by the virus so far.
Several months ago our first Mayega dog, Simba, was knocked down and killed on the road outside the Children's Centre. This was a great loss as Simba was very friendly and loved by everyone.  Floppy has now arrived as his replacement. He will be looked after by Paschal. There is a kennel and the perimeter fence has been repaired, so we hope our new friend will be with us for a long time. Karibu Floppy. He has been described to us as being 'very polite'!