Unfortunately not! The very healthy looking mahindi crop is in Letchworth Garden City in Hertfordshire. Christine and John are visiting family. English maize is used for cattle feed. In Tanzania, the grain is ground and used as ugi (a thin breakfast porridge) or ugari (a thicker paste served as a main meal with meat, fish and vegetables). Mahindi, wali (rice) and cassava are staples in the diet.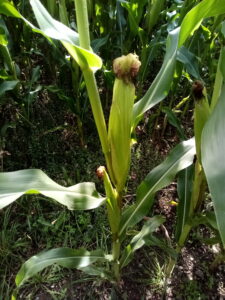 There was good news at the beginning of July when the World Bank declared Tanzania a 'lower middle-income nation'. This move up from the 'least developed' category has come five years ahead of a schedule set-out in the National Development Vision.
This does not mean that Tanzanians are rich by any stretch of the imagination. Gross National Income is at $1,080 per capita (in UK it is $42,370). As with everywhere, there are great income disparities. Agriculture provides livelihoods for about 55% of the population and about 75% of poorest Tanzanians subsist in that sector.
Although economic growth has slowed due to the pandemic, the middle income classification will help with international economic credibility in attracting inward investment. The increased wealth allows additional spending on health, education, water and infrastructure projects.
There is further information in a Forbes Africa article 'Tanzania Is Ahead Of Schedule'.
https://www.forbesafrica.com/brand-voice/2020/08/19/tanzania-is-ahead-of-schedule-under-magufuli/#:~:text=Despite%20the%20global%20COVID%2D19,%24622%20in%20the%20previous%20administration.