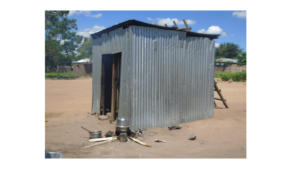 The kitchen project at Mayega Children's Centre is well underway. The foundations are in and walls being built. The kitchen will be straightforward – sink, work surface and stove. It will replace the old 'kitchen' – a corrugated iron shed with open fire. This is simply unacceptable and our cook, Victoria, said, understandably, that her back wasn't coping well with cooking for everyone on the floor!
The stove is being made in Mwanza at Madame Fausta's metal fabricating workshop. It is a large steel cylinder with a firebox at the base. It is lined with fire bricks, and the pan fits snuggly into it. The cooker burns wood more efficiently than an open fire, and the pans can cook rice or maize porridge for about 30 people. Victoria is looking forward to a little easier life!
The photograph shows Busega Scotland volunteer, Valerie Barrow, and Project Leader, Rev Canon Gadlord Deuli, inspecting progress with the stove. It will have a chimney attached to when it is installed at the Centre.