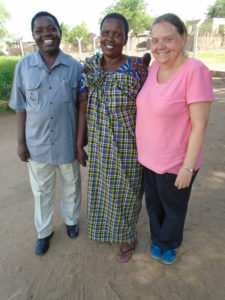 Question: What came from  the fusion of the creativity of children in a Tanzanian orphanage, with the skills passed down over the centuries in a small Scottish woolen mill? The answer – the Mayega Shuka. If that isn't enough, the design came from children who had never used paint and paintbrushes before and, to the best of our knowledge, there are no other woollen shukas produced anywhere else in the world.
The project arose from the generosity of two Busega Scotland trustees who underwrote the production costs,  so presenting no risk to the charity. The shukas are £95 each but made of pure new wool, are top quality and only 4O have been made . All profits from their sale will go towards caring for the children at Mayega Children's Centre.
What can a shuka be used for? Thought of going to a fancy dress party as a Masaai or, more mundanely, use one as a bedspread, car or picnic blanket or even a table cloth. They are large The (197 x 158cm) and the most unusual of presents.
Shukas are available from the Knockando Woolmill online shop, by looking for Busega Scotland Shukas at https://www.kwc.co.uk/
or for local customers, John and Christine have a stock.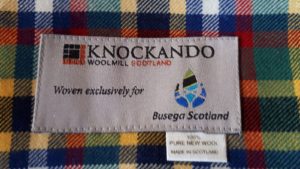 THE MAYEGA SHUKA – YOUR FOREVER MEMORY OF MAYEGA CHILDREN'S CENTRE.