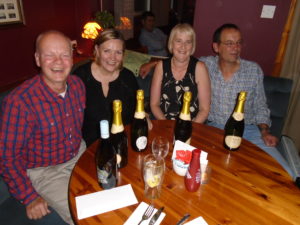 Busega Scotland held its first event in John and Christine's home village of Garmouth, when the Garmouth Hotel, http://garmouthhotel.co.uk/ hosted a Quiz Night on 17th September.  How well we were supported, and how well Busega Scotland was rewarded.  Sixty quizzers took part and the event raised £311. Superb.  Thanks must also go to Grant and Jody at the hotel, who staged the event for us free of charge and organised the PA system.
A familiar face was in the winning team (oh, why did he not look at the camera!) – Colin Sanders, a Busega Scotland trustee, and previous winner of 'heads and tails' at the Drouthy. We are thinking we may need to ban him from the next Quiz Night, to avoid Busega Scotland being accused of 'favouring their own'. Congratulations to Mike, Hilly and Jill who made up the 'Unreserved' team and I'm sure answered most of the questions!
Finally, thanks to Jenny and Rob Wallen for their sterling work in staging the event and to Lewis Wiles, our Question Master. All three are Garmouth residents.