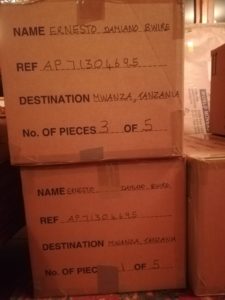 We are delighted to report that a consignment of books from Lhanbryde Primary School in Moray has reached Mayega Primary School in Busega District. It consists of two full primary reading schemes, that are still used widely in Scotland.
The journey took the books from Moray to London and then by air freight to Belgium and Kenya, and finally arriving in Mwanza. The customs clearance at the airport took just 24h, and a very low customs levy of less than £5 was charged. Also, the clearing and handling agents reduced their fees, as a donation to Mayega Children's Centre.
The books were collected by Ernest Damiano, Headteacher of Mayega Primary School, using a vehicle provided by Busega District Council. Ernest wants to use the reading schemes to start a school library and is seeking a budget for shelves, tables and chairs. He is determined that the resources will improve the educational attainment of his pupils.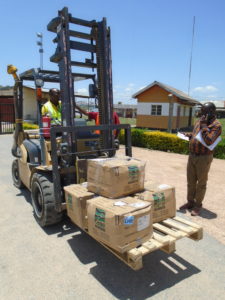 Thanks must go to Lhanbryde Primary School, its Tanzania committee, and Busega Scotland trustee Jenny Wallen, who organised the shipment. The transport costs were met by individual donations and through a small contribution from Busega Scotland funds.