Sod's law says that when something can go wrong it will go wrong. Well, Mayega has had a run of bad luck and it has been in a three.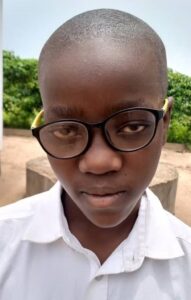 Firstly, dear Susi broke the frame of her glasses. In double quick time they were sent to Mwanza for repair. We know the optician well and he knows Susi. His name is Mr Huruma, which is the Swahili word for 'compassion'. Living up to his name, and with great generosity, he made a spare pair of glasses for Susi free of charge. Thank you, Mr Huruma.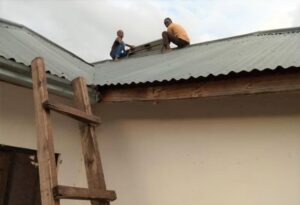 Shortly afterwards, a very violent storm hit the Children's Centre and damaged the supports for the solar panel on the school room roof along with the iron sheeting. There could be no delay in sorting this out as we feared water damage to the plasterboard ceiling panels. In the same storm the roof or the woodstore was all but ripped off.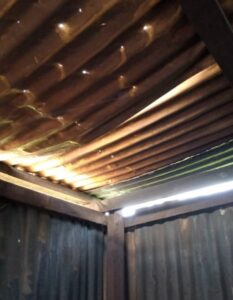 We have a good system for responding to the unexpected. We receive a payment request, along with an estimate, from Tanzania colleagues and this is then authorised before funds are removed from our Mwanza bank. As the city is 80 miles from the Children's Centre cash is sent through mobile phones in a system generally called Mpesa. It is cheap and efficient and equivalent to our bank to bank transfer and ideal for rural locations. We have a very good fundi (tradesman), Mr Deus, who we can call upon to do much of our maintenance work. Through this system emergencies call be dealt with very quickly despite the distances involved.