Busega Scotland is delighted to announce a partnership with the prominent Mwanza-based safari company, Shrike Safaris. This is our first such arrangement with a Tanzanian company, and will result in donations made to the benefit of Mayega Children's Centre.
John and Christine and family travelled to the Serengeti and Ngorongoro Crater with Shrike Safaris last year and had a wonderful time. Since then discussions have taken place with Mark James, the founder and CEO of Shrike, who has been wonderfully enthusiastic and encouraging about the partnership.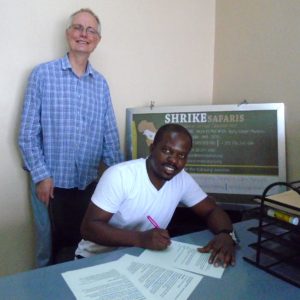 The company is about to launch a new website and Busega Scotland will have its own dedicated page. Mark hopes that this will encourage his clients to support Mayega themselves. It also provides further worldwide exposure of the work of Busega Scotland.
It is the hope of our charity to host further volunteers in Tanzania. We think the combination of work with us and a trip to the Serengeti, is an unbeatable combination for our adventurous supporters. John and Christine would certainly recommend Shrike to fulfil the second part of the dream.
Finally, many thanks go to Mark and his team for their generous support of Mayega.